Three More Shots
by
Nikki Belaire
Purchase link:
Amazon
My rating:
Heat rating: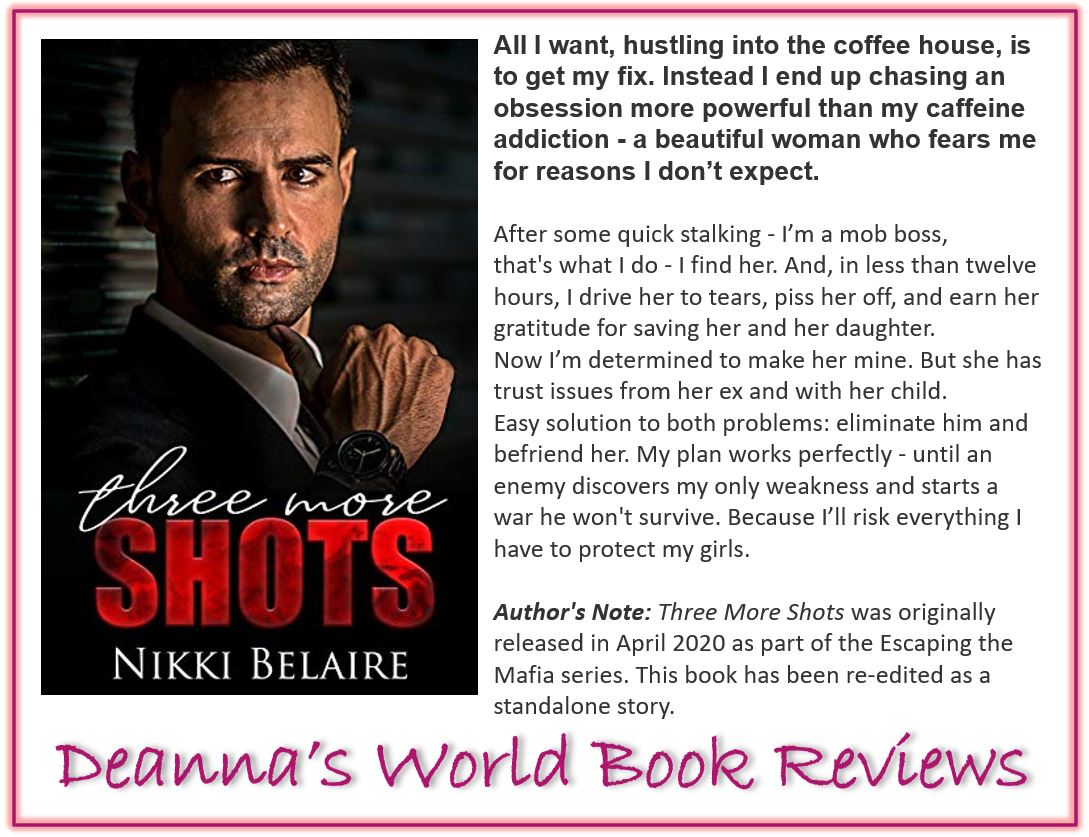 Three More Shots is magnificent. From Steele's dominance to Corinne's independence and their unwavering love and care for Ainsley. It's difficult to express the emotions coursing through me as I read this book. It's breathtaking, heart-stopping, and charming all at once.
From the moment I got into Steele's head as he reacted (or didn't) to Ainsley's antics and to Corinne's quiet strength, I fell madly for him. I loved being in his head and knowing what he thought and how he felt every step of the way in his pursuit of Corinne. He took Ainsley and her autism in stride and did everything he could to be caring and gentle with her. He loved them enough to be patient even when he was roaring to have Corinne and Ainsley safely with him rather letting things unfold at a pace that was comfortable for Ainsley. Despite having to be patient, I loved the way he insisted on becoming a part of their lives and protecting them without their knowledge. That from the moment he saw them, his entire focus was about providing for them, caring for them, and loving them. Even knowing he's probably not a good man with his mafia ties and the violence he so easily inflicts on those who cross him, I find him magnificent. I can't get enough of him.
Corinne is incredible. She's so strong and so resilient. I loved that she's a little bit broken, she's a damsel in distress who refuses to be rescued at first, and won't accept charity. She's insecure about herself given her past but she's fiercely protective of Ainsley and she's an awesome mother. She could have easily been resentful or bitter, but instead she's sweet, loving, and devoted. She deserves all the love and care that Steele wants to lavish on her and more. Kudos too to Ms Belaire for handling Ainsley's autism so well. She made Ainsley real, treated her autism with respect, and shone a light on the challenges and struggles faced by not only the child but also parents and caregivers.
Even though this is a mafia romance, the mafia references are subtle. There's some outright violence and an incident that is rather brutal and ugly but none of it is graphic and it's not a dark romance. This is the level of mafia romance I can handle which I affectionately call mafia-lite. For those with a stronger constitution than I have, this might seem rather mild on the mafia-ness to them.
This book is part of a multi-author series and can be read as a standalone. I'm unlikely to read the other books in the series but I might take a peek to see if any catch my interest.
I'm loving the recent novellas that Ms Belaire has released recently. I enjoyed this one tremendously and look forward to her future books.
View all my reviews
Ab

out the author




Nikki Belaire:
Facebook
-
Twitter
-
Goodreads
-
Amazon
Find Deanna around SOCIAL MEDIA: