I can't tell you how excited I am to welcome Helen to the team. She's an awesome romance reader and a huge supporter of the genre. I've known Helen for years, she's quite a figure in the romance community round this here parts. I'm delighted that she's joined the Deanna's World team as a reviewer and she's agreed to give of her time and share her reading love with us. Helen is going to be reviewing romance novels she's read once a fortnight for us. If I can sneak in an extra review from her now and then, I will but Helen is in high demand when it comes to her reviewing prowess so I'm grateful for what she gives me. Here she is with her first Deanna's World team review. Please give her a very warm welcome and show her plenty of love. You can read more about Helen in her bio below.
Seduced by the Heart Surgeon (The Hollywood Hills Clinic #1)
by
Carol Marinelli
Purchase link:
Amazon
Helen's rating:
Heat rating: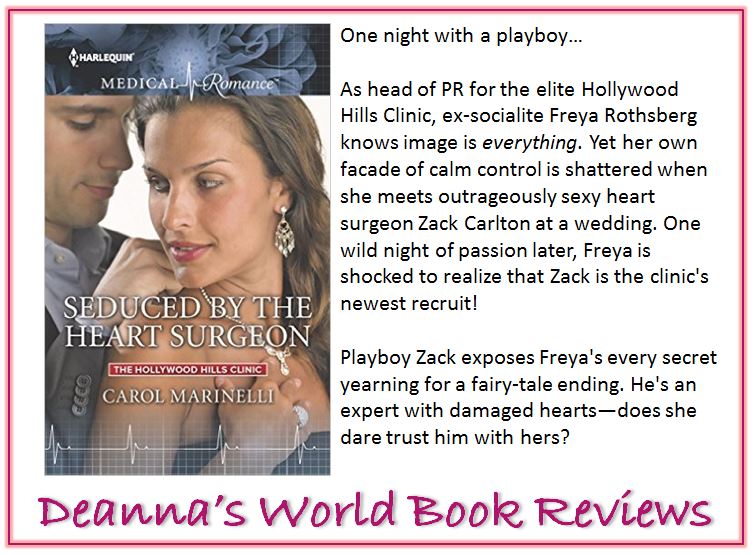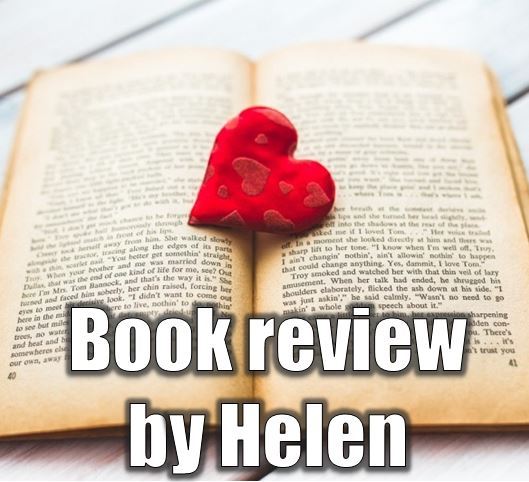 What a fabulous story this one is! This is the first book in The Hollywood Hills Clinic series and Australian paediatric heart surgeon Zach Carlton's story. He is known as a drifter and has no intention of settling down marrying or making his parents grandparents. He has left the outback town where he grew up in after losing his brother in an accident and has not looked back. He is a great surgeon and he travels the world helping out where he can, but when he takes a three month stint in Hollywood his life changes dramatically for the better.
Freya Rothsberg has been through so much in her life as the daughter of famous actors. As a result, her younger life was a disaster and she went through many changes that caused medical problems for her. With her health back now, she is heading up the PR department at the clinic in Hollywood her brother James has started. With the start of a charity in conjunction with the Bright Hope Clinic, Zach is there to help with pro bono work with seriously ill children they meet at a hotel where Freya is attending a wedding. The chemistry is too strong to ignore and one passionate night with a stranger leads to a journey that will have you turning the pages.
This is an emotional, very steamy sensual story of love and the joy that it can bring two people who really deserve to have each other. The characters are so real and so alive, the chemistry sparks the pages up and with Freya's brother James and his ex, Mila thrown into the mix, this is one story that sizzles with feeling hope and joy. This is truly a fabulous story that bought a smile to my face as Zach and Freya journeyed on a very sizzling and emotional path to a blissful HEA. I look forward to the other 7 books in this series, thank you Ms Marinelli for a fabulously fast paced story that I loved and can highly recommend.
View all my reviews



About the author


Carol Marinelli was born in England to Scottish parents, then emigrated to Australia, where there are loads of Scottish and English people who did exactly the same, so she's very at home there.
She lives in the outer suburbs of Melbourne—pretty much in her car, driving her three children to their various commitments.
Carol first tried to write for Harlequin Mills & Boon while doing her nursing training in London. It was merrily rejected and she was devastated. Rejection became a regular friend over the next few years and she amassed quite a collection. Still, as the years moved on the rejections became more detailed and instead of weeping over them and scorning them, she finally read them. Properly.
In 2000 her first romance was accepted for the Medical Romance line and she lived happily ever after. Well, that's what she thought would happen but actually, no, it was then that the hard work really began!
Once published she discovered the Romance Writers of Australia—it would, she now knows, have been far easier on this journey to have discovered them earlier. Attending her first conference she realized that she wasn't the only person who lived with a constant cinema happening in her head—in fact they were all THE SAME! Different but the same and many wonderful friendships were made.
Carol now writes for both the Medical Romance and Presents lines and loves them both.
One of her goals is to attend the Romance Writers of America conference with a few Romance Writers of Australia, which is a very nice goal to have.
Author Links:
Harlequin
|
Goodreads
About the reviewer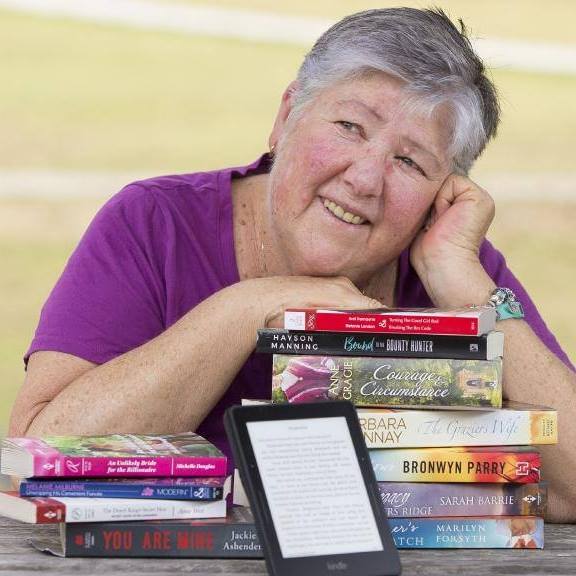 Hello, I am Helen. I am a romance reading addict and love it. I have read for as long as I can remember and this was encouraged by my mother who also always read. We shared a love of the romance genre specifically historical and Mills & Boon back then. Sadly, mum has left me to read for both of us and these days I read across all of the romance genres. They give me great pleasure as I get to I travel the world, go back in time, and dream of billionaires. I have lots of fun doing so.
I have been happily married for 39 years. We have 4 grown up children and 7 grandchildren whom I love dearly. After working in the hospitality industry for 25 years, I am now happily retired which gives me more reading time but it never seems to be enough. I am a member of the Australian Romance Readers Association (ARRA) and have met many romance authors and made many new friends who share the love of romance reading with me. Since I joined in 2009 this group has opened up a whole new world for me which I love.
Reviewer Links:
Facebook
-
Goodreads
Find Deanna around SOCIAL MEDIA: