Forever You (Connor Brothers #12)
by
Leah Busboom
Purchase link:
Amazon
My rating:
Heat rating: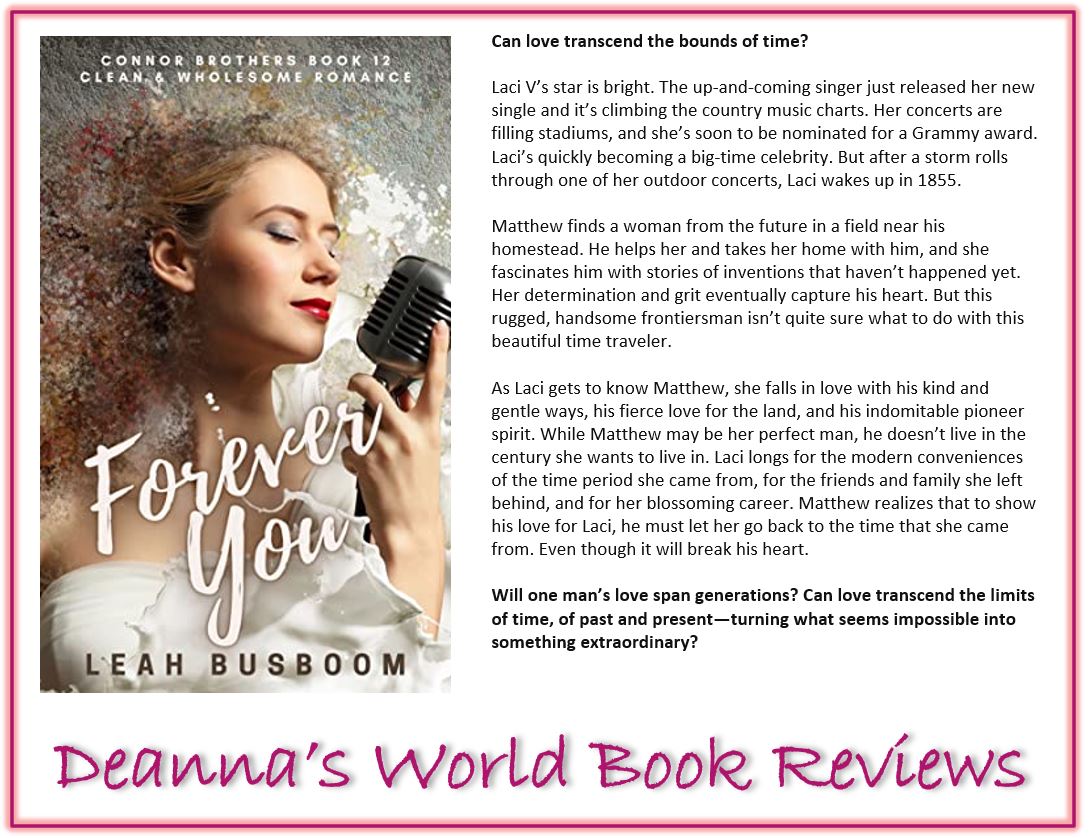 ** This book can be read as a standalone. You do not need to read the previous books in the series first. **
Forever You is a moving, emotional story that will break your heart, mend it, and bring you to tears. It's love across the distance of time and finding it again after loss.
When I started reading this book, I picked it up purely because I love time travel romance and this one intrigued me. There's something about time travel and the conflict of being in a time outside of one's own which amps up the tension and emotion, especially when it seems like the two characters cannot be together. This conflict chokes my heart every time with the "will they, won't they". This story was particularly poignant because Ms Busboom changed the narrative and she didn't find a way for the time traveling couple to be together. A little spoiler, there are actually two heroes in this story.
What I didn't realise reading this book is that's it's a clean romance. It's not branded as a clean romance on its Amazon listing which is probably a good thing or I would not have picked it up to read. It does say so on the cover though but let's face it, with those teeny tiny thumbnails, it's hard to read the small print on the cover. I wondered about the sexy times while reading and thought that maybe it was a really slow burn. There was some kissing and really, there's only kissing. It wasn't until I finished the book and read the author's note that I realised it was a clean romance. I guess it's a good thing I didn't know because this book was wonderful and beautiful. It's was poignant, moving, and romantic, and it broke my heart. If you're not normally a reader of clean romance, don't let the label put you off. This book is worth reading. It will touch your heart.
I grew to love Laci, Matthew, and Jeremy as I read this book and these characters will not let me go. After reading the book, I went back and reread the last chapter from Matthew's point of view. Cried buckets for the second time. Why did I do that to myself? Oh my word, all the feels!!! And then I went and reread the chapter where Jeremy and Laci meet for the first time. Another bucket. I was a weepy mess with this book. It hit me right in the heart.
Laci is wonderful. She's sweet, talented, and lovely. She's also ambitious and wanting her career to soar but she's tired of being managed and manipulated. Being thrown back into the 1800s was on the cards for her while she was performing her hit song at an outdoor concert. Getting struck by lightening will do things to a person. I love the person she was back in the 1800s as she struggled to be a pioneer woman and had to endure the hardships of living without all the modern conveniences she was used to. Bless her, she tried. She tried so hard.
Matthew has my heart in this book. Look, Jeremy is wonderful too, but Matthew with his kindness, his work ethic, and his sense of humor made me fall head over heels for him. He's such a lovely combination of tough frontiersman and gentleman. It hurt me to see what Matthew had to go through, his loss, and his plan to find his way back to Laci through the ages. Even thinking about it now as I write this brings tears to my eyes. I wanted so much for Matthew to get his happy ever after, and in a way he did. Matthew had a good life even though it wasn't the life I wanted for him. I applaud Ms Busboom for making this time travel romance different when it comes to having the couple ending up together. This was not an easy thing to do and I think it could piss off a lot of readers who would have gotten very invested in Matthew. Me, me! I'm one of those who was very invested in Matthew, but I understood why Ms Busboom did what she did given who Laci was.
You're going to wonder about Jeremy and where he fits in. I'm not going to give too much away but suffice it to say, it was all part of Matthew's plan. My word, that plan. It gives me tingles. It's so romantic. And again, tears in eyes. Like I said, this book made me a weepy mess. Jeremy is wonderful in his own way. Kind, patient, sweet. And he deserves happiness as much as Laci and Matthew do. Everything comes full circle with Jeremy.
This is such a beautiful book and such a beautiful story. Again, I urge you, don't let the clean romance label put you off. Read it because it's one of the most beautiful, romantic stories I've read in a long time and I'm going to be singing it from the rooftops. Also I've got the mother of all book hangovers and no clue what to read next.
View all my reviews
Ab

out the author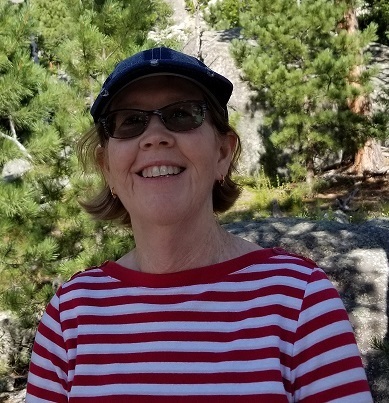 Leah Busboom:
Website
-
Facebook
-
Goodreads
-
Amazon
Find Deanna around SOCIAL MEDIA: