My rating:
Heat rating: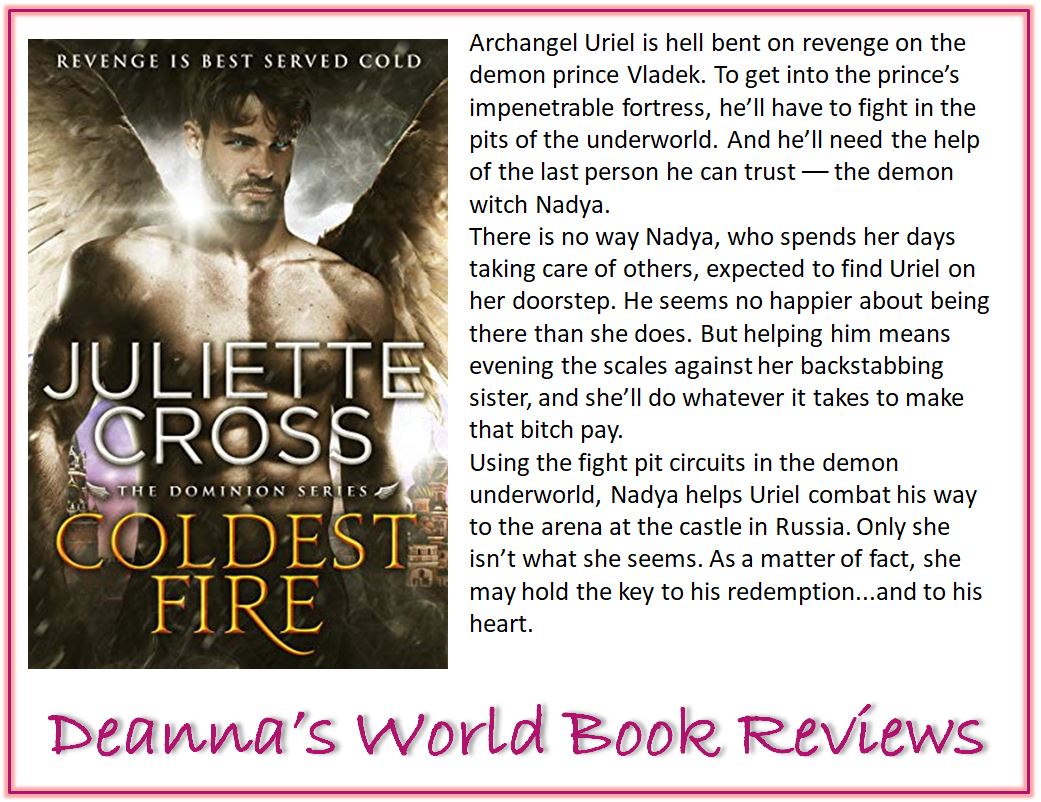 Coldest Fire is the culmination of a series that is close to my heart. I have loved Uriel for so long and waited years for his story. This is everything I wanted it to be. Uriel's tale blazed across the pages and straight into my heart. This will live within me for a long, long time and I will savor every memory of it.
Reading Uriel's story is like coming to the end of a long journey. It was a long time coming but worth every minute of the wait. I adore Uriel. Loved him from the moment I met him and knew what he did for humanity and for his hunters. Loved his sacrifice and his compassion. It was with trepidation and excitement that I read his story because I desperately wanted Ms Cross to do him justice. And she did. Uriel is magnificent. He burns with such intensity and fire. I loved every moment of him on the page, from his pain and need for revenge to his transformation and his growing understanding of Nadya as he fell for her. A mission of revenge for what happened to himself becomes so much more as he gets to know Nadya. Love. Love. Love.
Nadya is a sweetheart. She has so much goodness and kindness and heart in her. She's also perfect for Uriel because they have both suffered horribly and understand each other's pain. In that, they are kindred spirits. I loved seeing Nadya growing stronger and more confident, and being willing to set aside of her own fear for Uriel and his mission.
As with all of Ms Cross's books, this one is filled with her signature intensity and emotion that will clutch at your throat and heart. Be prepared for lighter moments that will lift you up and make you smile, deep intense moments that will make your breath stop, and highly emotional moments that will move you to tears.
Uriel's story is everything I hoped it would be and more. I'm sad it's the end of the series but what a way to end it. The ending itself was perfect. I couldn't have asked for a better one.
I read a lot of authors I enjoy and go back to but few of them write stories and characters that linger in my mind and in my heart the way Ms Cross's work does.
View all my reviews


Ab

out the author




Juliette Cross:
Website
-
Amazon Author Page
-
Facebook
-
Twitter
-
Pinterest
-
Goodreads
-
Newsletter
-
Amazon
Find Deanna around SOCIAL MEDIA: