Greetings! Can you believe we are well and truly into the second half of the year now? Whoosh! There went 2019!!
I'm happy to report my eyes are healing nicely. I've reverted back to an almost normal sized font. Things are still a little blurry but it's manageable. There were times when things were so blurry and I couldn't even see to read a phone number that I was ready to cry from frustration. Can't tell you the number of times I had to ask Steve to read something for me because I couldn't see. But yay! My distance vision is near perfect and it's just my close vision that needs some adjustment.
From a reading perspective, I think I did pretty well. My Kindle has a Reading Insights feature and I am trying to keep my reading streak up. I'm making an effort to read daily and even on days when I'm busy and don't have much time to read, I try to squeeze in five minutes just to maintain my reading streak. Do you read on a Kindle? What do your reading insights look like?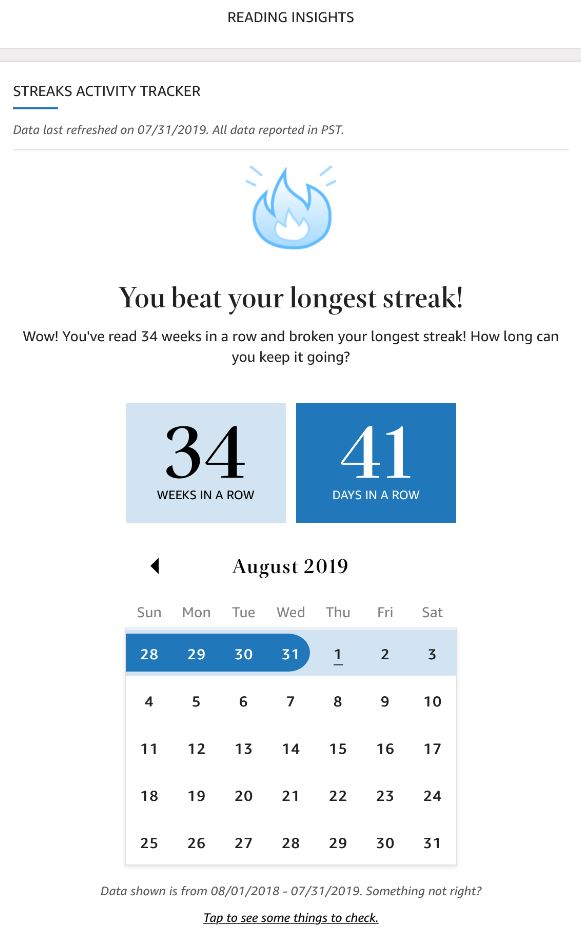 Here's what I read for the month.
I did a big binge read of my favorite Anna Hackett series,
Galactic Gladiators
in anticipation of the new series coming out.
Imperator
the last of the Galactic Gladiator series was fantastic, as was the start of the House of Rone series with
Sentinel
l. What can I say? I just freaking love cyborgs.
Serena Akeroyd put out another spectacular book with
The Professor
. This one is intense. Nicholas is an asshole. There's no other way to describe him. He's not very nice to Phoebe but he's obsessed with her and it's breathtaking. He's not my usual type of hero but I fell madly in love with him and the story was spectacular. This might be one of my favorite books by Ms Akeroyd.
One of my favorite romantic suspense authors, Julie Rowe had a new book out.
Search and Destroy
was fast-paced, action-packed. Lots of boom. She writes such realistic, terrifying stories of domestic bio-terrorism.
And finally, I dipped my toe into Ruby Dixon with
Pretty Human
. It was a short story but very sweet and certainly a good taster into her writing. I think I'll check out her
Ice Planet Barbarians
books when time permits.
Oh! One last thing. I shouldn't leave out the funniest book I read this month. This was recommended by a friend and it's a hoot.
Beth's Stable
was such a funny book. Lots of hijinks, pranks, and shenanigans.
That's it from me. What did you read for this last month? Do leave a comment and let me know.
Stay tuned for Helen's books next.
Find Deanna around SOCIAL MEDIA: