Prisoner of the Crown
Chronicles of Darnaria #1
By: Jeffe Kennedy
Releasing June 12, 2018
Rebel Base Books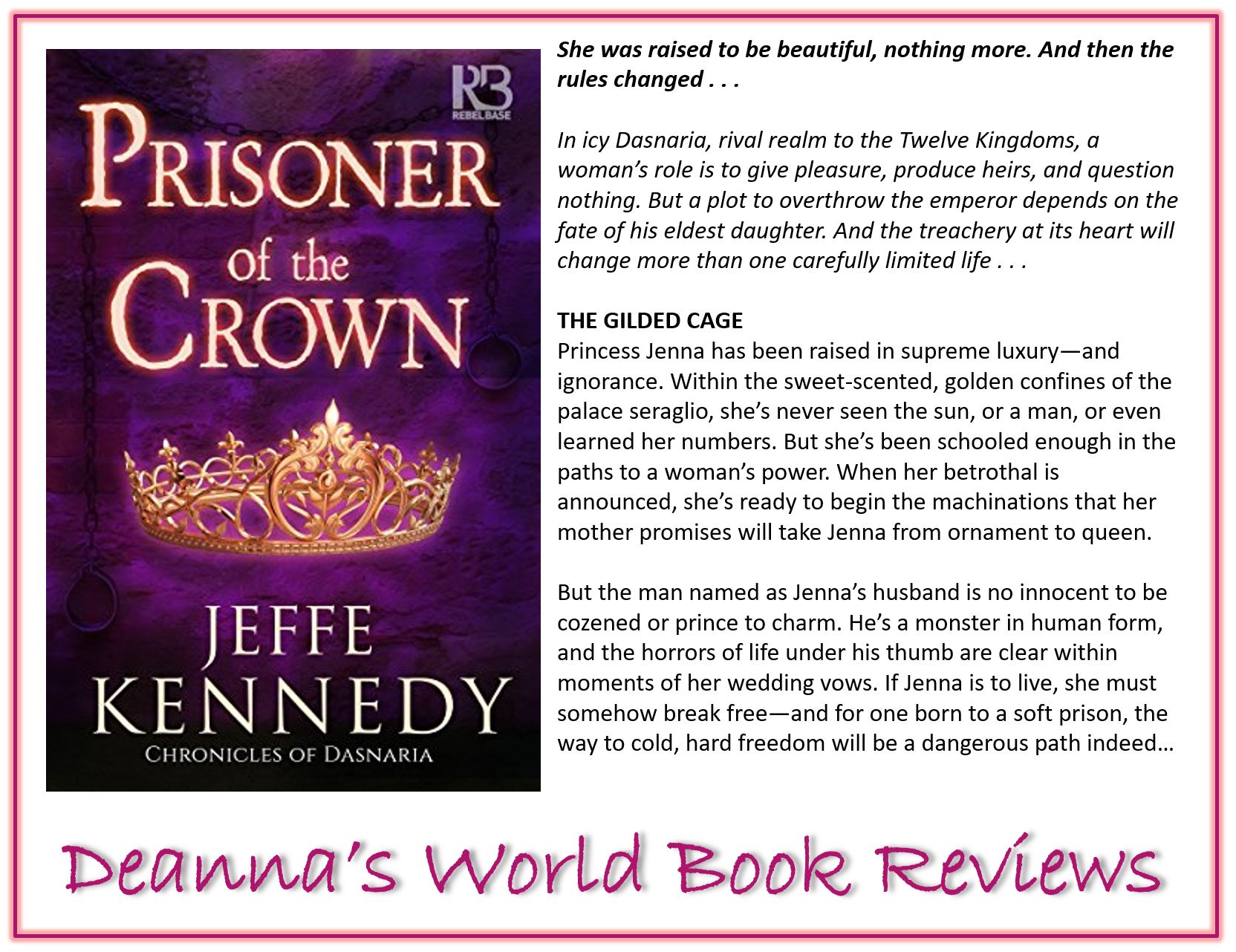 ---
Excerpt
Kaia wrapped my hair in a towel, then rubbed me all over with jasmine-scented unguent. She worked as thoroughly as always, but wouldn't answer any more questions, simply saying that I could ask my mother momentarily. She pulled my nightgown over my head and had me put on a robe, too, which wasn't usual. And we went with my hair still damp, not carefully combed dry before the fire while she told me stories.
I didn't want to miss my stories and I began to be afraid I'd said something terribly wrong. I'd known this was an important secret. How could I have been so careless? It was the elephant. "Let's not go see Mother," I said.
Kaia shook her head, pressing her lips together. "I apologize, Princess, but I'm afraid we must."
"I don't want to. Tell me my stories. My hair is still wet."
But she didn't bend, which scared me even more. Kaia always did what I told her. Almost always. She took my hand in a grip so firm it nearly hurt and practically dragged me to Mother's private salon. I resisted, and would have thrown a fit, but Mother wouldn't like that. An imperial princess gives commands in a firm and gentle voice, never shrill, and tears are unacceptable.
Still, when Kaia called out through the closed yellow silk curtains, and my mother snapped out a reply, I nearly did cry. And Kaia didn't relent in her grip, which made me think she was angry with me and Kaia was never angry, even when I refused to eat my supper and demanded dessert instead.
She parted the curtains and slipped me inside, kneeling beside me and bowing her head to the plush tapestried carpet. I lowered my eyes, too, though I didn't have to kneel.
"Well?" the empress demanded in a cold tone. "What is the meaning of this, child?"
"My humble apologies, Your Imperial Majesty," Kaia said, though Mother had clearly asked me. Her voice shook and her hand had gone all cold and sweaty. I yanked mine away and she let me. "Her Imperial Highness Princess Jenna has asked me questions I cannot answer. I thought it best to bring her to you immediately."
"It's not your responsibility to think," Mother replied. A hissing sound as she breathed in her relaxing smoke. "You are to keep the princess well groomed, as she most certainly is not at the moment. Your hair is wet, Jenna."
A tear slipped down my cheek, making me glad that I was to keep my eyes averted unless given permission. Maybe she wouldn't see. "I'm sorry, Mother," I whispered.
"As well you should be. Interrupting my quiet time. Going about like a rekjabrel with wild hair. Are you a princess of Dasnaria?"
"Yes, Your Imperial Majesty."
She hmphed in derision. "You don't look like one. What question did you ask to upset your nurse so?"
Kaia had gone silent, quaking on the carpet beside me. No help at all. I considered lying, saying Kaia had made it up. But Mother wouldn't believe that. Kaia would never so recklessly attract punishment. I happened to know she hadn't snuck the tea—one of the rekjabrel had taken it for her sister, but Kaia had never said.
"Jenna," Mother said, voice like ice. "Look at me."
I did, feeling defiant, for no good reason. Mother reclined on her pillows, her embroidered silk gown a river of blues over their ruby reds. Her unbound hair flowed over it all, a pale blond almost ivory, like mine. In contrast, her eyes looked black as ebony, darker even than the artful shadows outlining them. She'd removed most of her jewelry, wearing only the wedding bracelets that never came off. She held her glass pipe in her jeweled nails. The scarlet of her lip paint left a waxy mark on the end of it, scented smoke coiling from the bowl.
"Tears?" Her voice dripped contempt and disbelief. "What could you possibly have said to have your nurse in a puddle and an imperial princess in tears, simply in anticipation?"
"I didn't say anything!" I answered.
"Your nurse is lying then," the empress cooed. "I shall have to punish her."
Kaia let out this noise, like the one Inga's kitten had made when Ban kicked it. The ladies had taken it to a better home and Inga had cried for days until they gave her five new kittens just like it.
"I only asked about the elephants," I said, very quietly.
"Excuse me?" The arch of her darkened brows perfectly echoed her tone.
"Elephants!" I yelled at her, and burst into full-fledged sobbing. If you'd asked me then, what made me break all those rules, raising my voice, defying my mother, losing the composure expected of an imperial princess, firstborn daughter of Emperor Einarr, I likely could only have explained that I wanted to know about elephants so badly that it felt like a physical ache. Something extraordinary for a girl who'd rarely experienced pain of any sort.
Once I'd had a pet, an emerald lizard with bright yellow eyes. Its scales felt like cool water against my skin, and it would wrap its tail tightly around my wrist. I'd only had it a day when it bit me. Astonished by the bright pain, the blood flowing from my finger, I'd barely registered that I'd been hurt before the servants descended, wrapping the wound in bandages soaked in sweet smelling salve that took sensation away.
They also took the lizard away and wouldn't give it back, despite my demands and pleas. When the salve wore off, my finger throbbed. And when they took the bandages off, the skin around the bite had turned a fascinating purple and gray. They tried to keep me from looking, but I caught glimpses before they made it numb again, then wrapped it up and I couldn't see it anymore. I'd tap my finger against things, trying to feel it again. My finger and the lizard, both gone.
I felt like that, full of purple bruising and soft pain, as if I'd been bitten inside, and somehow numb on the outside. I wondered what might disappear this time.
"Elephants," my mother pronounced the word softly, almost in wonder. Then she laughed, not at all nicely. "Leave us," she snapped, making Kaia scurry backwards. "It's apparently time for me to have a conversation about life with my daughter."
---
Goodreads
|
Goodreads series

Author Info
Author Links:
Website
|
Facebook
|
Twitter
|
Goodreads
|
Amazon
Find Deanna around SOCIAL MEDIA: