My rating:
Heat rating: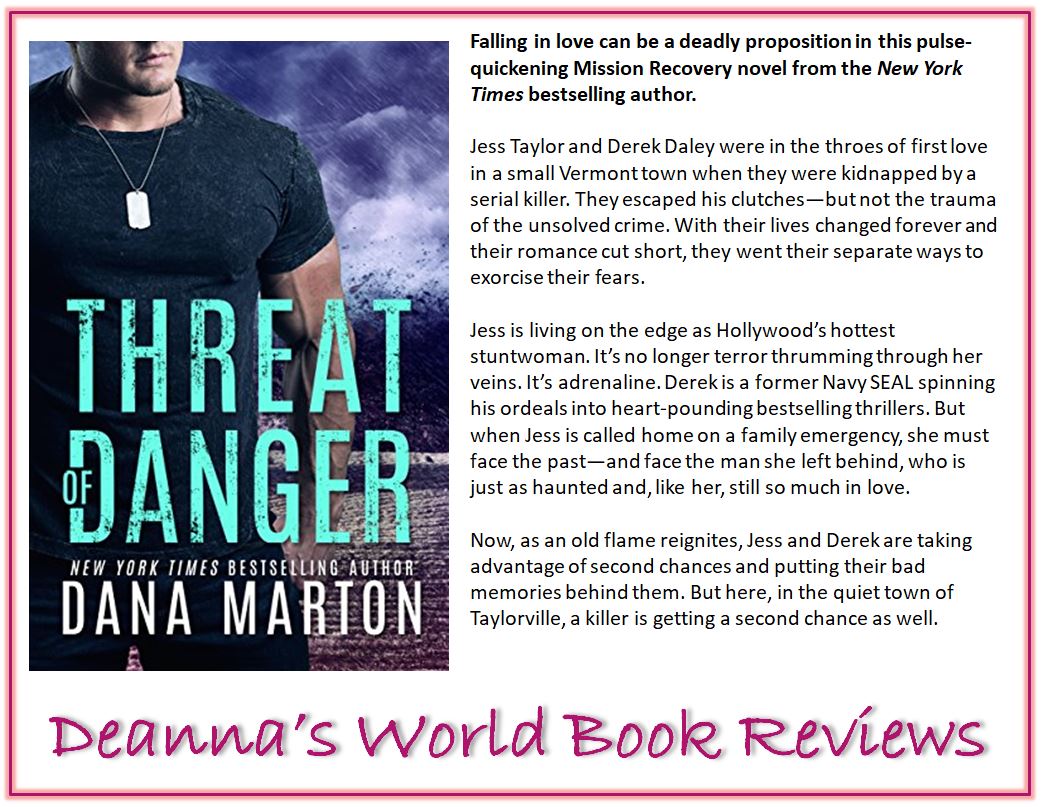 Threat of Danger is a dark, suspenseful story filled with pain, hurt, and hope. Pain and hurt on Jess's part from never quite overcoming the trauma of her youth, and hope for Derek as he tries to make amends and reconnect with Jess.
This is a difficult review for me to write because honestly, I read didn't read all of the book. I skipped a few chapters between chapters seventeen and twenty-four. It got to a point where I had a hard time with Jess, skipped towards the end, and read the last two chapters and epilogue to see how Jess and Derek ended up. I wanted to know who the bad guy was too because I was suspicious of everyone who crossed my path as I read. That was it. I tried and I tried, but Jess was a struggle to endure. And yet I still gave it four stars, why? Because despite my difficulty with the book, it's stunningly well written, and it's compelling. As much as I didn't want to keep reading at some points, I was sucked into it. I felt pulled along by Ms Marton's excellent writing until I finally snapped because I couldn't take anymore of Jess's negativity. Ms Marton writes phenomenal suspense.
Let me break it all down for you. For starters, this is a second chance romance, and I'm not a fan of that particular trope. It's probably one of my least favorite tropes in the entire romance genre. And it had a serial killer in it which my weak constitution couldn't handle. I skipped all the bits that focused on the serial killer and what was happening to his latest victim. But I picked the book up anyway, why? Because I'm a huge fan of Ms Marton's writing and I knew she'd spin an awesome tale. I thought, since external factors caused Jess and Derek's separation, perhaps it would not be as bitter and antagonistic as if they actually had a relationship that broke up, and all the things that come along with a bad break-up that I do not like. Only I underestimated Jess and the pain and hurt she still carried around.
After escaping captivity and torture by a serial killer, Jess ran from her childhood home and town. It's totally understandable to want to put the past as far behind as possible. Jess has reinvented herself as a kickasc stunt woman - strong, competent, capable. Only, she's never really put her past behind her. It lurks there waiting to rear its ugly head. It does so at the very first opportunity when she's called home to care for her mother. All the trauma, all the pain, all the hurt, the feeling of helplessness comes rushing back at Jess, and it's too much to deal with. Even as she is back home helping out, a part of her is running away again. What frustrated me was each time I thought Jess was making progress, there'd be a setback. It happened over and over again. She'd run. She'd shut people out. She'd shut Derek out. When Derek does something she considers unforgivable, she refuses to listen to his explanation, and she shuts him out. I got tired of the emotional and denial cycle that was Jess. I understood her and her motivations, but I didn't have to like it. I wanted to be sympathetic towards her because of what she had suffered, but she didn't make it easy for me. For a supposedly strong woman, I felt she stuck her head in the sand a lot. I lost count the number of times she pushed Derek away or thought about running again. After it happened one too many times, I'd had it. I felt it was time for Jess and I to part ways.
She hated when she felt this tense. She was never like this anymore. Except, coming back, she felt like a helpless girl once again, broken, either pitied or blamed or both—a victim.
She didn't even fully understand what had gotten to her this badly, enough so once again she felt the overwhelming urge to run. Maybe the little voice in her head was right, and she was overreacting. But she didn't seem to be able to stop herself. In LA, she was a strong and confident woman. Yet by coming back here, she'd lost her footing. She felt as if she'd been smacked right back into the past. She felt as if all her fears and insecurities and pain had hung around Taylorville, preserved, waiting for her return. The urge to flee was just as strong as it had been a decade ago.
"I know who I am in LA. I don't know who I am here." Derek held her gaze. "You're the strongest woman I know. Wherever you go, that goes with you, Jess." God, she wanted to believe him. But the trip home had knocked her sideways in more ways than one. The past still lived here.
Derek is a survivor too. He was kidnapped by the serial killer along with Jess, but he didn't suffer as badly as Jess did. Nonetheless, he was equally traumatised. After their escape, he left town and became a Navy SEAL. The biggest, baddest, toughest Navy SEAL he could be, and he was. For many, many years, until an injury ended his career. And now he's home as a successful, bestselling author. Where Jess ran from her past, Derek decided to embrace it. He reconnected with his roots and made a life for himself. He carries a tremendous amount of guilt around for what happened to him and Jess, and in his own way (I won't spoil it) he's trying to make amends. I admired the way Derek integrated back into life in his hometown, helping his neighbours, caring for the people who meant something for him, and getting on with his life. I didn't feel as though the past had as strong a hold on him as it did Jess. Perhaps it's because he didn't suffer as much. Perhaps it's because he's a guy and he processes things differently. I don't really know. What I do know is that Derek has his eye on the future and was intent on making a life for himself. And he wanted Jess in that life. I admired him for it.
He'd been an overeager college boy. He was a man now. And he knew what he wanted. He wanted Jess safe, and he wanted her back in his arms. Nothing had ever felt as right as having her there. He was going to work on making that happen again.
Derek was ... He took care of everyone without expecting anything in return. He was willing to defend her with his life.
While this is the second book in the Mission Recovery series, it can be read entirely as a standalone. Apart from Derek being mentioned in passing in the first book, none of the characters from the first book appear in Threat of Danger. A word of warning though. This book is a lot darker than the first one.
If you have a strong stomach and icky serial killers don't phase you, and can handle a heroine like Jess, I think you might enjoy this book because it is a stellar piece of writing. I'm definitely going to read the next book in the series and will cross my fingers that it's not a second chance romance and it doesn't have a serial killer in it.
View all my reviews
Ab

out the author




Dana Marton:
Website
-
Facebook
-
Twitter
-
Goodreads
-
Amazon

Find Deanna around SOCIAL MEDIA: