As you may know, Amazon has recently changed the purchasing process for customers in Australia. Starting July 1, 2018, customers in Australia will no longer be able to purchase physical products that need to be delivered into the country from Amazon.com, the main Amazon US site. Instead, customers will be directed to Amazon.com.au to complete their purchase. This is due to the implementation of new laws around the payment of Goods and Services Tax (GST) by foreign companies for products purchased overseas and delivered into Australia. The Australian government now requires companies like Amazon to pay GST on those transactions.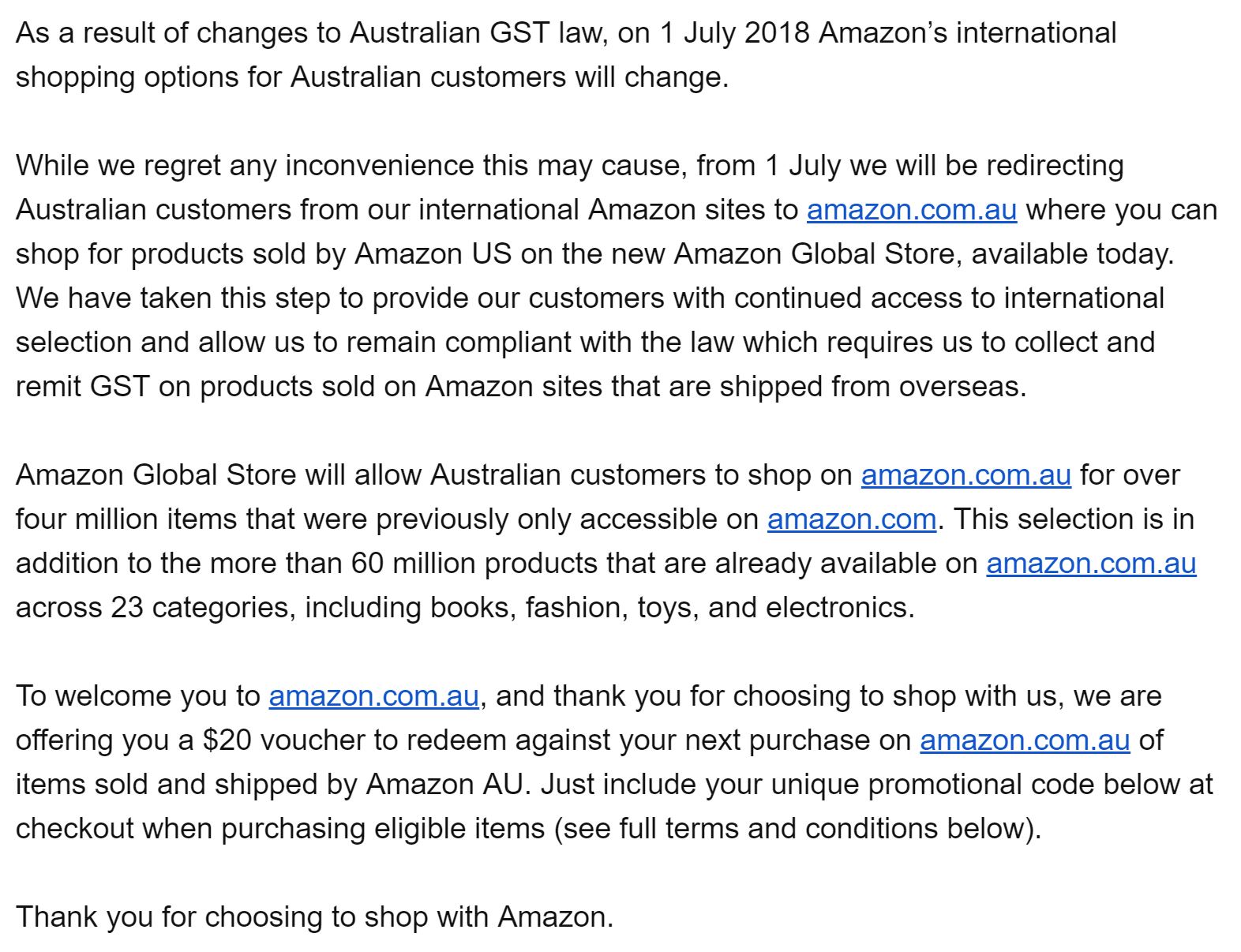 Many people are very upset by this change because they feel Amazon and the Australian government are taking away their choice as a consumer by being forced from the Amazon.com site to the Amazon.com.au site. And many people are affected because they do a lot of their shopping on Amazon. One person posted on Facebook that a journal she buys from Amazon.com is $9 and even including shipping to Australia is cheaper than the $74 it is being listed at on the Amazon.com.au site. Yes, prices are a lot higher on the Australian site. And even though Amazon say they are making the products of the entire Amazon.com site available on Amazon.com.au, the prices are not competitive. This is a major issue for a lot of people, myself included, if I were to shop on Amazon.
Personally, this does not affect me that much because I do not buy many physical products from Amazon. The odd physical cookbook or paperback if I want a hard copy of a romance for a book signing. The only time I really shop a lot more on Amazon is when I am in the US and I can take advantage of free shipping. When I'm in the US, my purchases are delivered to a US address. But that's neither here nor there.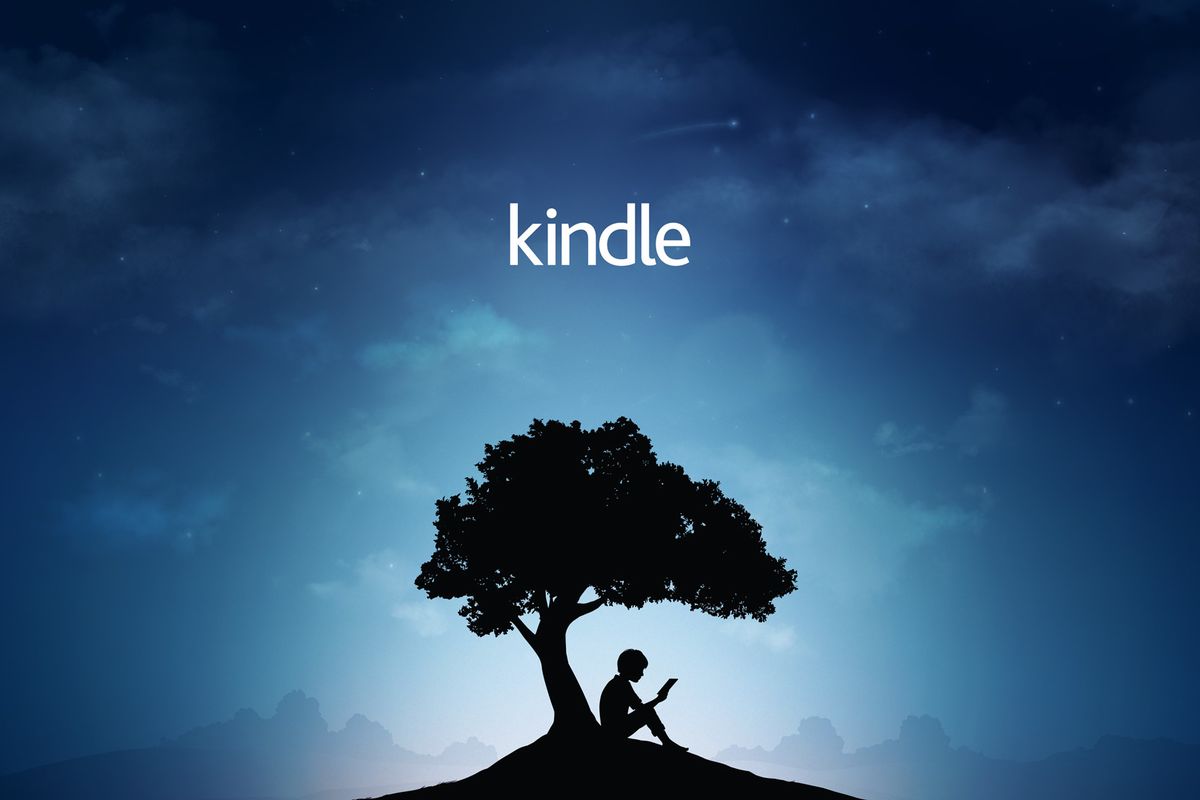 My main concern and why I am writing about this is Kindle e-books and posting reviews. For starters, if people are being forced from Amazon.com to Amazon.com.au, what happens to their Kindle libraries? I have thousands of books in my Kindle library purchased over the years. And I like purchasing my e-books from Amazon.com because I get a much wider choice and the prices are better. Amazon has stated that the move to Amazon.com.au is for
physical products only
and does not affect digital products like Kindle e-books, but if we are geo-locked out of the Amazon.com site, will we even be able to access the Kindle Store or our books?
Being concerned, I contacted Amazon several times. Not entirely trusting what the Amazon customer service (CS) rep told me the first time, I contact them two more times, each time getting a different rep via chat. While the answers differed slightly from rep to rep, the responses were consistent. The change to Amazon.com.au were for physical products only. This did not affect digital products.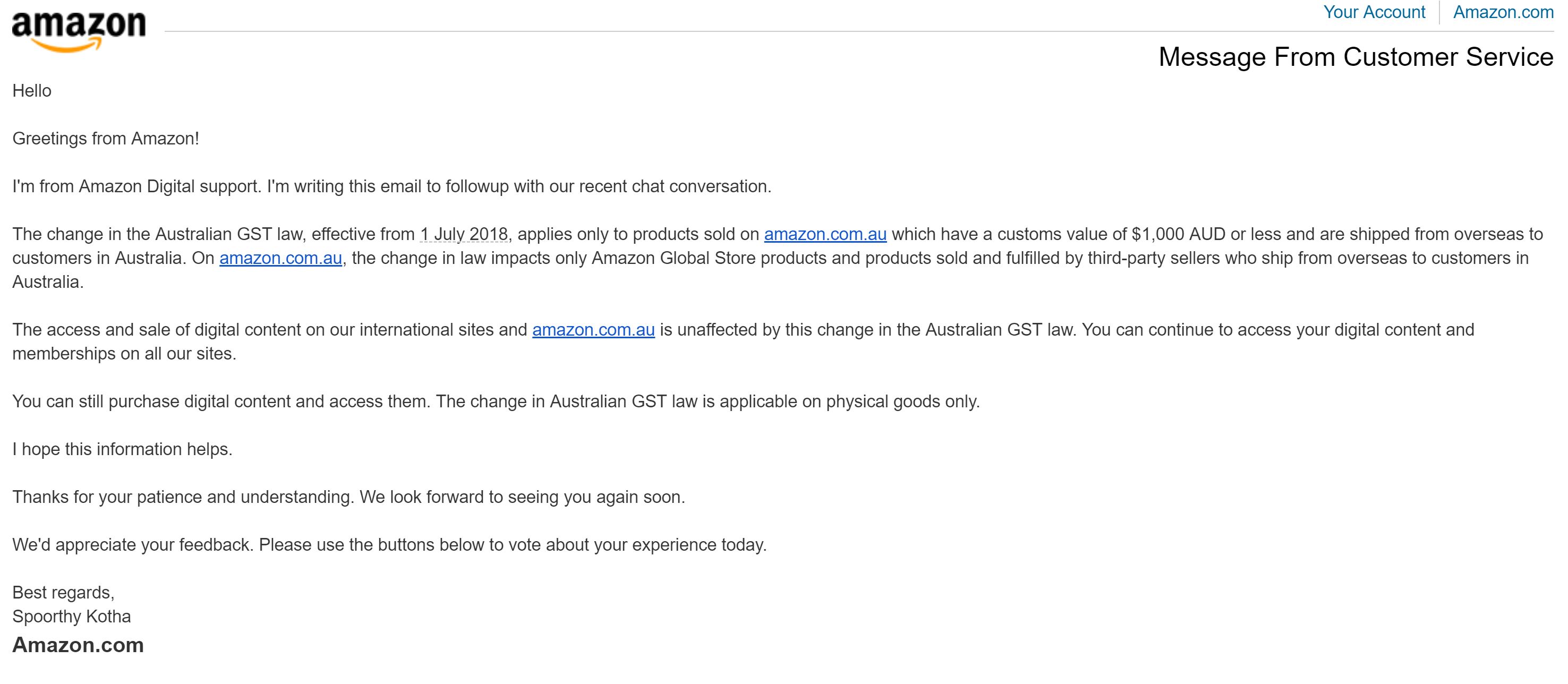 When I asked what would happen to my Kindle library, I was told I'd still have access to it and I can transfer my entire library to Amazon.com.au (which I don't want to) by changing the "Country Settings" under "Manage Your Content and Devices" on the Amazon.com site. If I change my Country Settings from US (which is what it's currently set at, has been for years) to Australia, then everything will transfer across. Of course, I do not want to transfer my Kindle library across and change my settings. It does not benefit me to do so.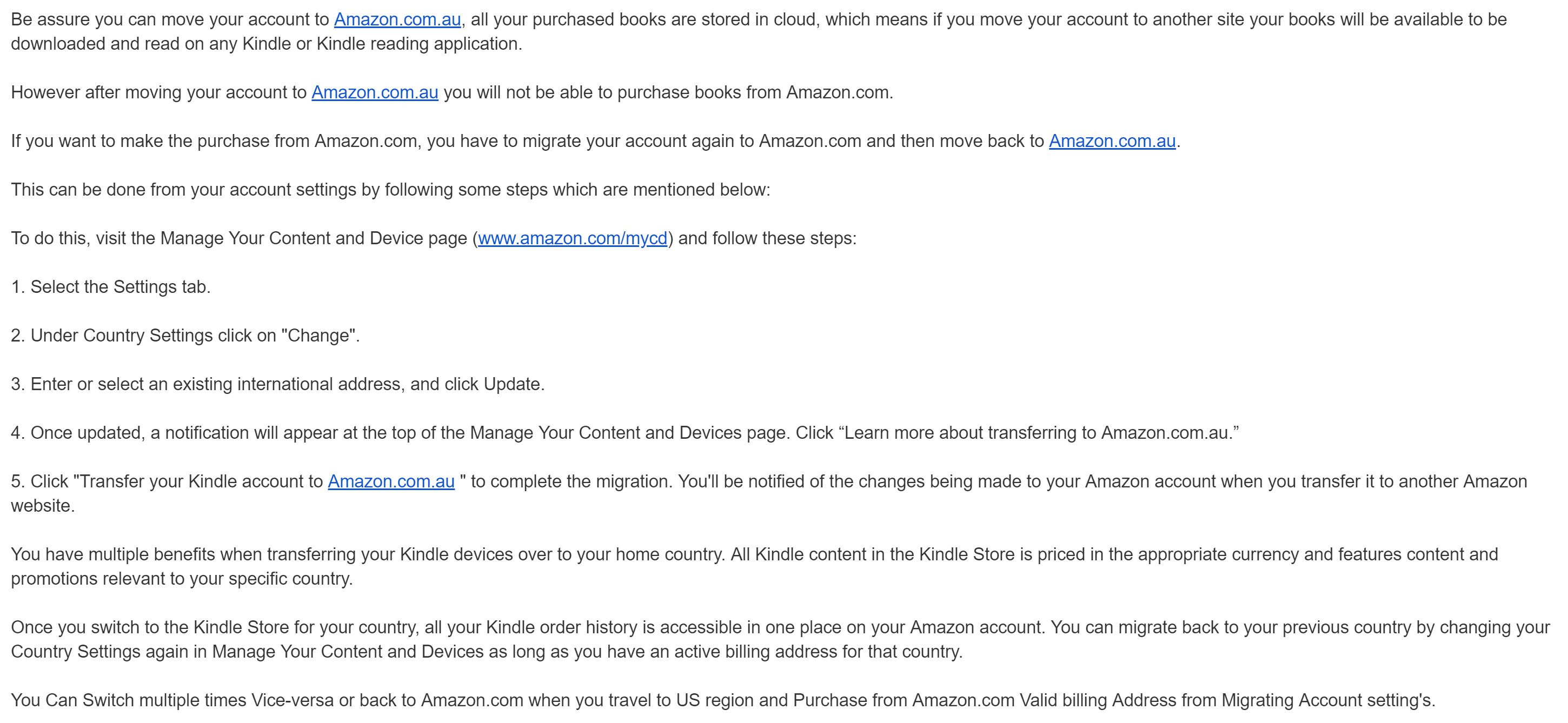 Then I contacted Amazon again and asked the same question. This time I was told that I would still be able to purchase e-books from the Amazon.com Kindle Store. You'd think that this response from the Amazon CS rep would reassure me, but it doesn't. What if I'm geo-locked out of the Amazon.com store? And one of my Facebook friends have been arbitrarily transferred from the US store to the Australian store without her knowledge and found out when she went to buy an e-book. She has not been able to buy e-books from the Amazon.com site which she has been doing all along, and she no longer has access to her Kindle e-book library.

This affects not only the purchase of e-books but also the posting of reviews. For book bloggers and reviewers in Australia who currently post book reviews to Amazon.com, they may no longer be able to do that. I have heard from people in some reader groups I'm in that they have been prevented from posting reviews to Amazon.com if they are domiciled in the UK, Canada, or other countries. They are only able to post reviews to their local Amazon sites, like Amazon.ca or Amazon.co.uk. Most authors and publishers are very understanding and say you can post your review to whatever Amazon site you are able to in these situations, but let's face it, Amazon.com is the biggest site. It has the biggest audience, and therefore, reviews posted there have the biggest impact.
It is likely that Australian bloggers and reviewers may no longer be able to post reviews to Amazon.com regardless of what the Amazon CS rep says about the change not affecting digital products. Again, this has to do with geo-locking. If you are locked out of the site and cannot access it, you cannot post to it, let alone buy books from it.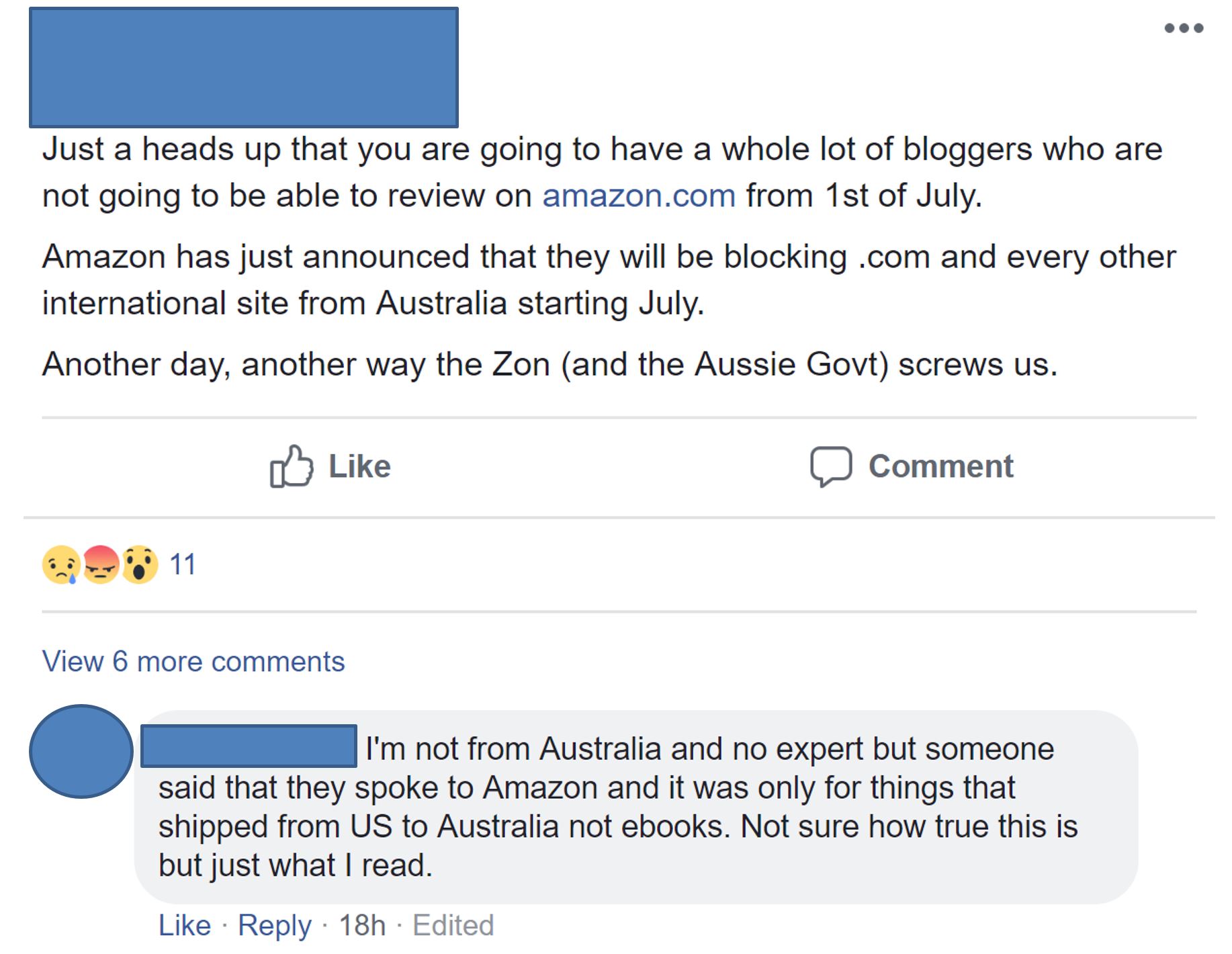 The only way I can think to get around it is to use a Virtual Private Network (VPN) which masks your IP address and physical location when using the internet and accessing a particular website. You may have to use a VPN to get onto the Amazon.com site, but having to do that every time you wanted to get on the site is a pain in the behind. Personally, I hate using a VPN. It's inconvenient and it slows everything down too.
For me, I think it's a wait and see thing. I've heard what the Amazon CS reps have had to say to me. I have emails from them and transcripts of our chat sessions. But I'm also skeptical because I've seen real-life examples that counter what they said. I don't think anyone will really know what's going to happen until July 1st. On that day, those of us logging into the site would either get a rude shock or sigh in relief. My Amazon account has a US credit card attached to it as a default payment method. My Kindle Country Settings is set to the US. Will Amazon lock me out of Amazon.com? Will I be able to purchase e-books from Amazon.com? Will Amazon change my Country Settings without me knowing to Australia from US? I guess I'll just have to find out.
There you go. Those are my thoughts on the subject. What about you? Are you affected by this change?
Find Deanna around SOCIAL MEDIA: