Book:
The Violet Widow?
Series:
The Shattered Heart Series? #1
Author: K E Osborn


Publisher:

Amazon Digital Services


Publish date:

18 February 2015


Length:

300 pages

Genre:
Contemporary romance
What would you do if the life you lived, the life you loved, was ripped from you tragically? How could life possibly go on? The only way to function and to continue living is to become someone else. Someone completely different to who you were.
When life breaks you the only thing you can do is fight back. But at what cost? If you become someone else, the polar opposite to everything you stand for, does becoming The Violet Widow make anything better? Or will it make everything a hundred times worse?
Finding love is something The Violet Widow never thought possible, but when an unknown man shows up on the five-year anniversary of her life changing, how can she resist the handsome stranger?
Her walls are up. She is guarded.
So how can one possibly love again after losing so much?
The answer is simple - choose to live!
What path will she take? The path to fade into the darkness, or the path to live?
Add to Goodreads

Excerpt
The bartender brings me another Cosmo and I pay him with a fifty. He brings my change back and I leave it on the bar. I'll just have to get it out for my next few drinks again anyway. I start to sip on my cocktail as Danny's face flashes through my mind. I wince, sigh and close my eyes tight to try to rid myself of the image. The music in here is nice, soothing, gentle, soft music, not too loud, and nothing like the stupid music they play in bars these days. That's why I like it here. It's a place to come and unwind from the stressors of life. And people tend to leave you alone as they're all too busy drowning in their own sorrows. I lean my head up against the bar on my forearms and just breathe. It's getting late and I should probably head home, but I'll have one more drink before I catch a cab.
"Looks like you've had a rough day," a man says making me look up.
He is ruggedly handsome, wearing dark jeans, a black shirt, and a leather jacket. He looks a lot like a bad boy and maybe that's what I need right now. I cock my head to the side and raise an eyebrow as I look at him. His face is half in the shadows so I can't see his eyes.
"More like a rough five years," I reply and he nods his head and half-laughs.
"Well, in that case, can I buy you another drink?" he asks leaning in a little closer to me. I can smell his aftershave, and it instantly makes me want him closer. It's strange, I work with men all day and smell their aftershave, but never has it had this effect on me. I look up at him and he leans in closer out of the shadows and I look into his eyes. Mine open wide as I gaze at the beauty of them. I shake my head slightly while I stare into his gorgeous mesmerizing eyes focusing on the differing colours.
"See something you like?" he asks cockily with a smirk.
I huff, cross my legs and fold my arms over my chest.
"Someone has tickets on himself. No, I was looking at your eyes. I've never seen anything like them before, it's fascinating. Are they contact lenses?" I ask as he pulls up a stool beside me and chuckles.
"The ladies always love my eyes. No, it's not contacts, just something I've had since birth, it's rare but not impossible. One green eye and one blue isn't really that weird now is it?" he asks with a smile that lights up the dimly lit room.
I shift in my seat. He really is ridiculously good looking. It's unnerving.
"Dunno, to me it kind of makes you a bit of a freak," I reply and he smiles and nods.
"Yeah, I guess it does, but we all have a little freak in us somewhere?" he states and I raise my eyebrows at him.
"Ain't that the truth," I declare and take a sip of my Cosmo.



Purchase Links: Amazon UK - Amazon USA

About the Author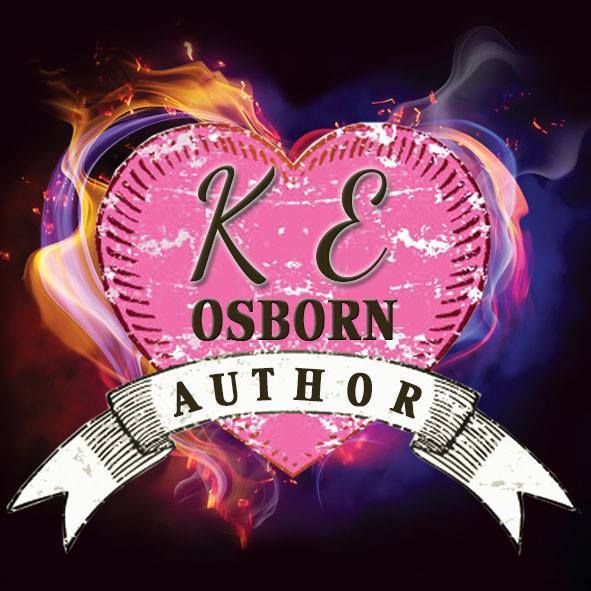 Australian author K E Osborn was born and raised in Adelaide, South Australia. Having worked in the optical industry for some time, K E Osborn decided it was time to leave the optical world behind and start on something new. With a background in graphic design and a flair for all things creative, she tried her hand at writing.
K E Osborn hid the fact that she was writing from her family, as she believed her first story was simply something she had to get on paper first and then judge if it was good enough for others to read. It wasn't until her mother found a printed version of the manuscript that her secret came out. She was a writer, and she loved it. Writing gives her life purpose. It makes her feel, laugh, cry, and get completely enveloped with the characters and their story lines. She feels at home when writing.

Stalk KE Osborn: Facebook - Twitter - TSU - Goodreads - Amazon - Website