Personal Delivery (Billionaire Secrets #1)
by
Ainsley Booth
Purchase link:
Amazon
My rating:
Heat rating: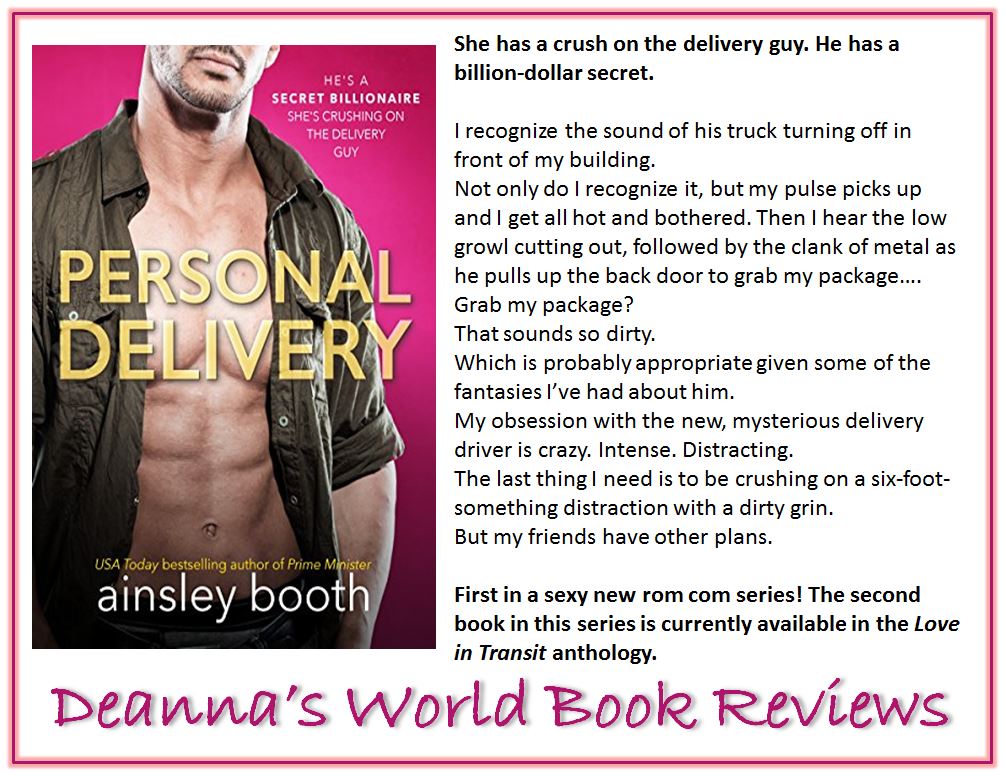 Personal Delivery is a sweet, fun and light-hearted romance which will tug at your heart stings and make you smile as you cheer Jake and Jana on to their happy ending.
I loved Personal Delivery. I was supposed to pick up a much heavier read but I kept procrastinating starting it. Then Personal Delivery landed in my Kindle and I wanted to get stuck into it right away because I was attracted to the idea of the billionaire undercover delivery guy.
Jake is a great guy. He's alpha enough to be hella sexy but also sweet, kind and funny. And he talks dirty. Really dirty. I love a dirty talking hero. Jake's perfect for Jana. Jana is a lot of fun. Quirky, cute and a little bit out of her depth with Jake because they come from such different worlds. I particularly liked when Jana found out who Jake really was but was totally cool about it. Yes, it was a shock but at the same time, she was levelheaded. I liked that a lot. Of course, Jake showing up in Vermont as himself was wonderful too. No secrets, no lies. Just a guy who likes a girl and is pursuing her the only way he knew how.
Jake and Jana together are adorable. I liked that this story didn't take the traditional path of boy meets girl, boy loses girl, boy gets girl back, The End. Instead, we got a glimpse into the dating life of Jake and Jana as they adjusted to being in each others' lives and how they got along as a couple. Even though it's romance and a fantasy (c'mon billionaire delivery man!?!?) it felt like a real relationship with the usual things that come up and get dealt with in a real relationship. I liked that a lot about this story. Aside from the billionaire part, I felt like I was reading about real people.
I loved that this was a story I could kick back and enjoy without any undue angst. It simply sailed along from one happy moment to the next. It was the perfect lazy afternoon read especially while I was procrastinating.
I'm looking forward to Toby's story next. The ending to Personal Delivery got me all curious about what's happened to him.
View all my reviews
Ab

out the author




Ainsley Booth / Zoe York:
Website
-
Facebook
-
Twitter
-
Goodreads
Find Deanna around SOCIAL MEDIA: