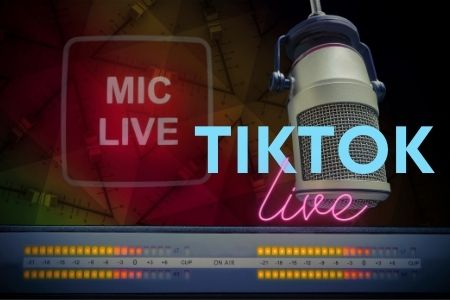 I'm on this very steep learning curve with it comes to TikTok and marketing my author services, etc., while still trying to have fun. It's a trip, y'all. For the most part I've managed to now show my face in videos because I'm kinda shy like that. I don't even know why that's the case since I had a YouTube video for years and every video showed my face on it. But y'all, that's gone straight out the window because when I hit 1000 followers, I got the live feature unlocked and was able to do live videos. Then I proceeded to experiment and make a complete fool of myself on live TikTok.
Honestly, I thought that going live on TikTok was going to be terrifying and awful, but it was not. It was kind of awkward, I was nervous as all heck, but also kinda fun. It's certainly a learning experience and I think I might be a little addicted to doing it. When I showed it to Steve, he told me it was pretty good after the WTF beginning. To be fair, the beginning was hilarious because I had no idea what I was doing.
The fun part about TikTok lives is they now have a replay feature and I can download the videos. I'm going to share them here and it'll be a fun record plus me laughing at myself.
Here's my first video.
Then I got this bright idea that I wanted to do a joint live with other authors and do live interviews with them to talk about their books. Again, no idea what I'm doing, but I went live again to try to figure out what was going on and this happened.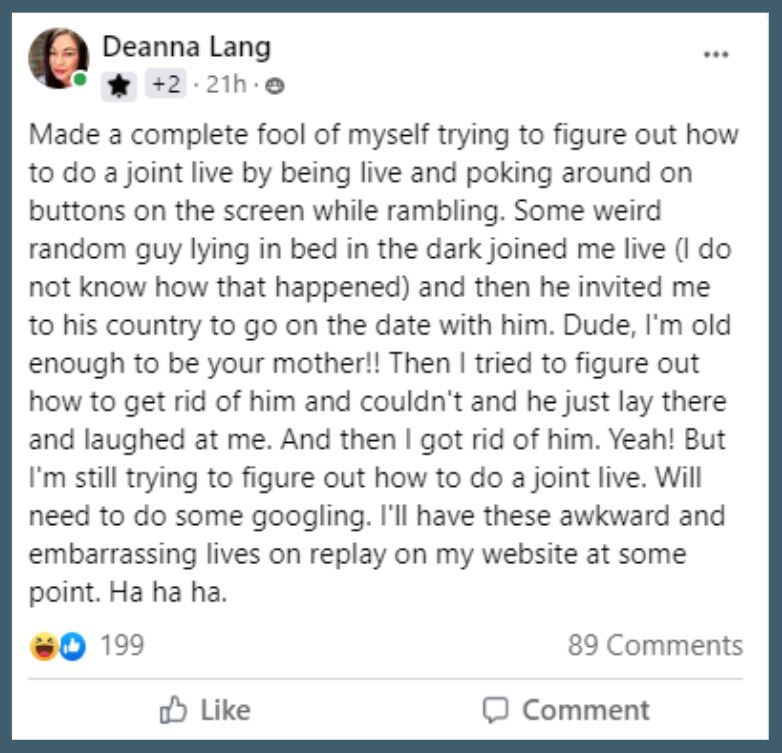 This was posted in the TikTok group on Facebook that I frequent where we discuss and ask questions about being on TikTok. I enjoy sharing my journey on there and lordy, this post got over 200 likes and hundreds of comments by the time it eventually petered out. Mostly people thought it was hilarious and laughed and laughed. Some people commiserated and some people told me I was brave. A few people said that they were probably going to make the same mistakes and thanked me for the heads up. It was a fun exchange and discussion.
And I have the video to prove it. If you watch long enough, you can even see the whole thing play out. I'm also going to see if I can crop the video and only play that part. I've been told it'd make a good blooper reel and it'd go viral on TikTok. Not sure about that, but we'll see. I wonder if I'll cringe if I watch it over again.
Anyway, those are my live video adventures and now they will live on in perpetuity.
Links to find me EVERYWHERE.