I'm back on the romantic suspense band wagon. I've been loving them lately for listening to on audiobook. For some reason, when it comes to listening to an audiobook, romantic suspense seems to be my go to genre.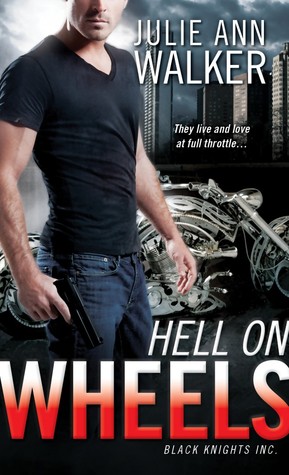 Title:
Hell On Wheels (Black Knights Inc #1)
Author:
Julie Ann Walker
Publisher:
Sourcebooks Casablanca
Publish date:
7 August 2012
Length:
380 pages
Genre:
Romantic suspense
Purchase link:
Amazon
He's the bad boy she's always wanted...

Nate "Ghost" Weller has loved Ali Morgan nearly half his life. But he's done something so heinous he's convinced she'll never forgive him if she discovers the truth, so he keeps his feelings and his secrets to himself. Then she blows into town with a mother lode of bad guys on her tail and Nate can't deny she's in serious trouble. Unfortunately, he's the only one who can help her.

She's the good girl he's kept at arm's length...

Ali knows Nate as the most solemn, aloof man on the planet. Sadly, he's also the sexiest. For years she's avoided him, unable to stomach his dark scowls and brooding silences… especially when she secretly yearns for his touch. Now she must rely on him to save her from the malevolent shadows ghosting her every move. When the bullets explode, so does their passion. But can love really conquer all? Or are some things just too terrible to forgive?
* I am not responsible for price changes. Prices may go up without notice.
Get the other books in the series:
About the author
Julie Ann Walker is the New York Times and USA Today bestselling author of award-winning romantic suspense. She has won the Book Buyers Best Award, been nominated for the National Readers Choice Award, the Australian Romance Reader Awards, and the Romance Writers of America's prestigious RITA award. Her latest release was named a Top Ten Romance of 2014 by Booklist. Her books have been described as "alpha, edgy, and downright hot." Most days you can find her on her bicycle along the lake shore in Chicago or blasting away at her keyboard, trying to wrangle her capricious imagination into submission.
Author Links:
Website
|
Facebook
|
Twitter
|
Goodreads
Find Deanna around SOCIAL MEDIA: