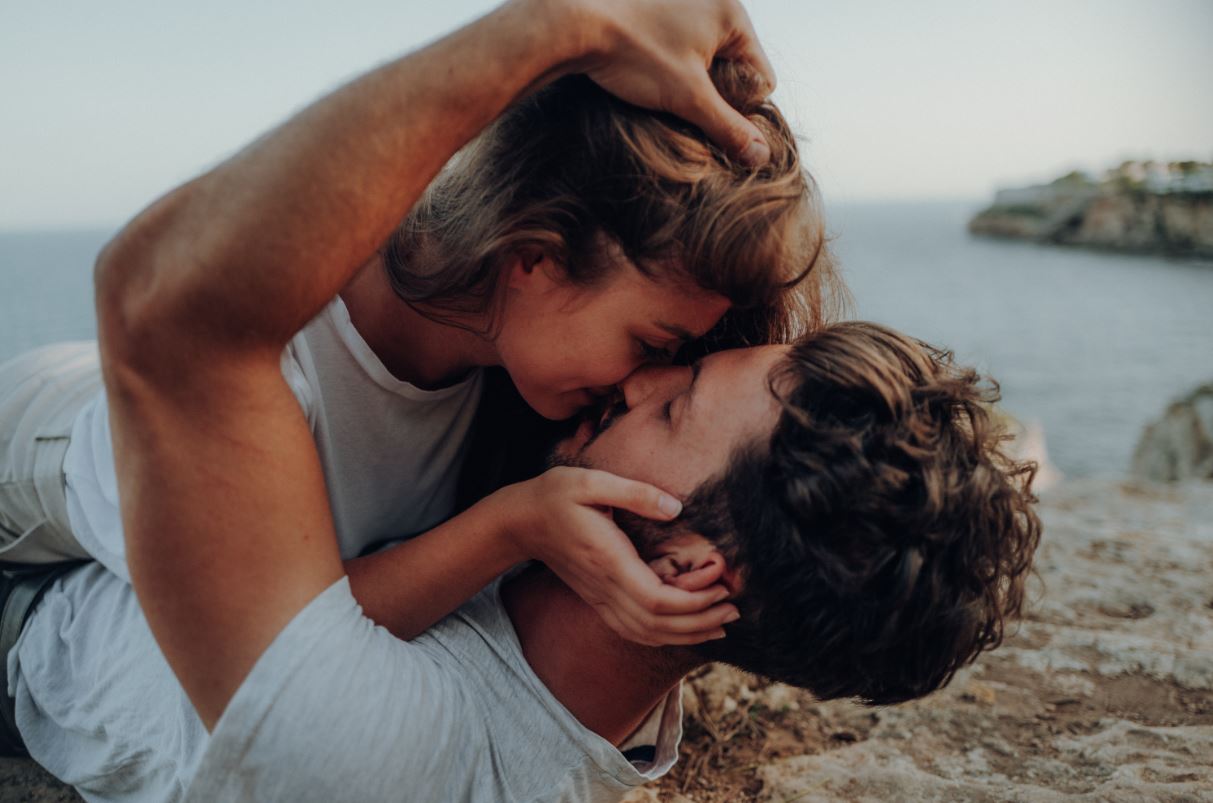 I've recently discovered smut. Not, mind you, that I've not read raunchy, sexy stuff before. I've read plenty of it. Back in the day, a long time ago in the dark ages, I read a lot of the Black Lace books (they stopped publishing in 2009) that was pure erotica, but as a rather inexperienced reader I thought it was just rather titillating. A little googling told me that "Black Lace books are unashamedly explicit and have explored areas of sexual fantasy where other women's erotica has feared to tread." and that was my intro into smexy times in books. :-O And of course, after Fifty Shades of Grey, I read a lot of erotic romance too when the market exploded with those books.
When I first started reading romance in earnest and really got back into reading, the first erotic romance I read was by Marissa Day. She had a few very steamy books that I really enjoyed and I was disappointed that she didn't write more. I don't know why she stopped writing after a while though I did notice a number of reviews of her books saying there was too much sex. Hah! I like all the sex.
A little after that I discovered
Lily Harlem
and to this day she remains one of my favorite erotic romance authors. Her stories combine off the charts sexiness with lots of emotion and heart, and they are always a satisfying read on the sexy scale and the feeling scale.
Of course, I can't forget
Laurell K Hamilton
with her
Anita Blake series
which started off with lots of plot and action and then turned into an orgy-fest. I confess I gave up on that series about nine or so books in when it just became non-stop sex. But I also loved her
Merry Gentry series
even though that had a lot of sex but I was fully invested in Merry and her men, and her battle with her evil aunt. I'm still waiting on another book from Ms Hamilton and it's been years!!!
Then about four or five years ago with the boom in indie publishing, there were a lot of new contemporary authors who wrote very sexy books. I dismissed them initially because their covers all looked the same, naked men galore, and there didn't seem like there was much plot of the stories and they had themes like stepbrothers, daddies, and mountain men that took me a while to get my head around. Yes, I know, I was a snob, and I was slow on the uptake, but color me happy, I've gotten over my prejudices and am now fully invested in all the smut.
These authors write predominantly contemporary romances with varying degrees of smuttiness and a few focused on various tropes they preferred.
Stephanie Brothe
r, for example, was mostly about the stepbrother, and
BB Hamel
was all about the daddy. Then there was
Madison Faye
who is the Queen of Smut, because I have never read anyone smuttier than her, and her books ran the gamut. Mountain men, daddies, stepbrothers, taboo age gaps, princes, etc.
For the most part, the books tend to be shorter, about a hundred to two hundred plus pages long, mostly standalone stories, some in a series, some not, but they all can be read independently. They tend to be more on the lighter side, even the ones labeled dark, and have a basic plot and some basic character development. Some are deeper than others. They tend to be lots of fun to read, light and entertaining, and of course, smutty to varying degrees. They are a great palate cleanser for me between heavier, more intense reads. And they are easy to binge on because they do not require a great deal of commitment in the brainpower department.
In the last year, I've discovered quite a few of these authors (I'm slow on the uptake remember?), and to my dismay, alas, quite a few of them had been booted off Amazon around about the same time I discovered the genre. Fortunately for me, because I'm such a book hoarder, I've actually one-clicked a lot of these authors and have them sitting in the black hole I call my Kindle library waiting for me to read them. That has been a very pleasant surprise.
I'm not condoning whatever they did to get them booted off Amazon but as a reader, well, I want books. They are very naughty for violating Amazon's terms of service. Fortunately, some of these authors like Madison Faye,
Alexis Angel
,
Cassandra Dee
, and
Mia Ford
have resurfaced with their books for sale on their own websites and some other retailers. To that end, here are a few of the authors I've read and am enjoying.
For starters, there's the Queen of Smut herself, Madison Faye. I have quite a few of her books in my Kindle library from past purchases based on my hoarding tendencies. She was booted off Amazon but has rallied and is now selling her books on other non-Amazon retailers and platforms. She has re-released her back catalog of books and continues to publish new books. I've been able to buy her new books from these other retailers and send them to my Kindle to read. She would be my favorite smutty author, but I read her in small doses because I do not want to OD on her books and run out or goodness forbid, become desensitized to them. I recently recommended her to my sister because she said she wanted to read the sexiest book I could think of. She's got a book loaded to her Kindle app and plans to ride them on her flight home. I asked her to tell me if she jumps her husband's bones after reading the book and she told me she might have to join the mile high club if that were the case since she's reading on an airplane. I look forward to her report of what happens. :-)
Another author in the same boat as Madison Faye is Alexis Angel. I have not read any of her books at all but through googling discovered that she now, along with a group of other authors, have their own website where they sell their own books called
Naughty Angel Books
. Their books I'm told are smutty too, a lot like Madison Faye so yay!! super smutty, and I've downloaded a few free books they offer on the website to try to see if they are worth the $5.99 a month subscription to read more of their books.
Two authors whom I've recently discovered but are no longer available anywhere after they got booted off Amazon as RR Banks and RS Lively. I wasn't keen on RR Banks but I've enjoyed RS Lively and would like to read more of her books. I have a few of her books but alas, not many. Sadly, both these authors have not resurfaced and are no longer publishing even though my friends and I have scoured the internet looking for information on them. Of course, it doesn't help that there is a lot of controversy surrounding them as authors and the author community are very vocal against them. You can search Twitter. There are some tweets about them. Authors are glad they have been shut down because of the naughty things they did, but as a reader, well, I miss their books.
Alexa Riley
is another big name in the smutty romance genre and they were very popular. I still see people often asking about them and their books in some of the book groups I'm in. Not quite sure what's going on with them since they got taken off Amazon. Some of their traditionally published books are still up, but after dropping off Amazon, they signed with Entangled Publishing and tried to publish more books via them. Unfortunately, those books got quickly taken down by Amazon and now it seems we are in a holding pattern waiting for them to republish their books via some other avenue. Not quite sure what's going on there. The last I heard, it was a wait and see. They say they are doing everything they can to get their books back up again. I've read a couple of her books and haven't been wowed by them personally, and I do own some of her traditionally published books, so I might give those a shot at some point.
Two authors I continue to read and enjoy who are, fortunately, still publishing on Amazon (yay!!!) are BB Hamel and
Penny Wylder
. I enjoy both their books though with BB Hamel, I have to say that I think her books before September 2019 are more to my taste because for some reason her more recent books took a drastic change in style and tone, and while still smutty, I am not enjoying this new writing style as much and finding it harder to engage. Personally, I feel like the books are written by an entirely different person, but there are enough similarities that I think it's possibly the same person writing the books, but she's just undergone a total personality change when it comes to the writing style.
As for Penny Wylder, I think her books probably have the most depth and character development of all the authors I've mentioned above. Her books are probably less smutty than BB Hamel but still plenty smutty. Certainly smutty enough to satisfy my dirty little heart. I've got lots of her books queued to read, and happily, they are all sitting in my Kindle library.
An honorable mention goes to
Flora Ferrari
. I've read a couple of her books and I can't say that I'm a fan of her writing but I know a lot of people are. I don't know how she does it but she seems to crank out a lot of books very quickly. I'd say at least a book every two weeks or do. She's got a series called "A Man Who Knows What He Wants" which focuses on older men and younger women (often just legal) and there are over a hundred books in the series. On last count, I think there were 127 in the series. I don't know how she does it. She's not one I read much of though since I can't say I enjoy her writing or her characters much. I've DNFed a few of her books but I've also enjoyed some of them. Her Bratva Bear Shifter books are good.
And finally, here are a bunch of authors I have not read but they have been recommended by my fellow smutty romance-loving reader friends. You'll need to try them out for yourself to see if you enjoy them and probably do some googling to find where their books are available for sale if they are no longer on Amazon. There's lots of smutty goodness here. They are Cassandra Dee (I'm very attracted to her book covers and want to buy all her books), Lana Angel,
Kelli Callaha
n
,
Dizzy Hooper
, Daphne Dawn, Kira Blakely, Tia Siren, Sierra Sparks, Emily Bishop,
Cassie-Ann L Miller
,
Elizabeth Lynx
,
Violet Paige
, Nikki Chase,
Joanna Blake
,
Lauren Landish
, and
Nikki Sparxx
. If you read any of these, you'll need to let me know if they are any good.
I'm not saying that I only read smutty books now, I don't, but I do enjoy them in between more serious, intense books. They are also great if I'm short on time and I want a quick read that I know I will enjoy. And if you have any authors of similar ilk, I'd love to hear about them. I'm always looking for more smutty reads to pass the time.
So I want to know. Do you like a good smutty read? Do you have any favorite authors? Who are they?
Find Deanna around SOCIAL MEDIA: