For today's Tuesday Teaser, I've picked a book that is forthcoming and also a favorite author of mine. This is the next book in Nalini Singh's Psy-Changeling series and it's another Psy focused book. I love the books focused on the Psy because of who they are as a race of people and when the find love, it's a love that's explosive and all consuming since the concept of love is so foreign to them. They fight for that love because it is forbidden and they fight hard. They make it worth every breathtaking moment. This is a highly anticipated series of mine and if you haven't read this series yet, you need to. It's awesome.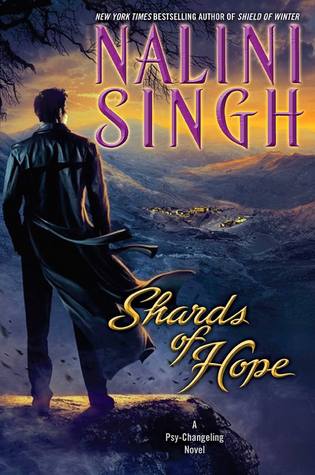 Title:
Shards of Hope (Psy-Changeling #14)
Author:
Nalini Singh

Publisher:
Berkley
Publish date:
2 June 2015
Length:
496 pages
Genre:
Paranormal romance
Purchase link:
Amazon
(available to pre-order)
The "smoldering heat, epic romance, and awesome action"* of Nalini Singh's New York Times bestselling series continues as two Arrows find themselves caught in a chilling conspiracy that spans all three races…
Awakening wounded in a darkened cell, their psychic abilities blocked, Aden and Zaira know they must escape. But when the lethal soldiers break free from their mysterious prison, they find themselves in a harsh, inhospitable landscape far from civilization. Their only hope for survival is to make it to the hidden home of a predatory changeling pack that doesn't welcome outsiders.
And they must survive. A shadowy enemy has put a target on the back of the Arrow squad, an enemy that cannot be permitted to succeed in its deadly campaign. Aden will cross any line to keep his people safe for this new future, where even an assassin might have hope of a life beyond blood and death and pain. Zaira has no such hope. She knows she's too damaged to return from the abyss. Her driving goal is to protect Aden, protect the only person who has ever come back for her no matter what. This time, even Aden's passionate determination may not be enough—because the emotionless chill of Silence existed for a reason. For the violent, and the insane, and the irreparably broken…like Zaira.
*Jaci Burton, New York Times bestselling author
Get the other books in the series:
About the author
Nalini Singh is the New York Times and USA Today Bestselling author of the Psy-Changeling, Guild Hunter, and Rock Kiss series. She lives in New Zealand but travels as much as possible (the travel bug bit hard from when she escaped working as a lawyer to run away and teach English in Japan). Nalini loves to write, loves to read, and thinks chocolate is a food group.
Author links:
Email
-
Website
-
Twitter
-
Facebook
Find me around SOCIAL MEDIA:
Deanna's World
-
Daz in the Kitchen
-
Facebook
-
Twitter
-
Instagram
-
Youtube
-
Pinterest