Stranded with the Cyborg (Cy-Ops Sci-Fi Romance #3)
by
Cara Bristol
Purchase link:
Amazon
|
Amazon UK
|
Amazon CA
|
Amazon AU
|
Barnes & Noble
|
All Romance
My rating:
Heat rating:
A science fiction romance by USA Today Bestselling Author Cara Bristol

Sometimes the biggest risk is to one's heart….

An ex-Cyber Operations field agent, Dale Homme has kissed danger and betrayal more times than he cares to count. Now he runs a clandestine factory beneath the surface of the moon Deceptio, where confidentiality and security matter more than anything. When a beautiful young woman arrives seeking a job, Dale knows within minutes she's lying. Everything about her is false: her past, the people she claims to know, her reason for being on Deceptio. Illumina Smith? Even her name is an alias.

Logic says send her packing. His gut says she's in trouble. She needs him. So he'll do anything to keep her safe….even if it means keeping her captive.
This is another extremely enjoyable installment of the Cy-Ops cyborg series by Cara Bristol. Full of what I've come of expect of the cyborgs, hunky alpha male cyborgs, damsels in distress, fascinating aliens and technology I wish was real today.
This is the story of Illumina Smith who is running from a murderous and abusive husband. She lands on Dale's planet, lying about everything to protect her identity, to protect him, hiding from her ex. Only she finds safety on Deceptio and Dale, an ex-cyborg operative who is sworn to protect the weak and the innocent, and everything about Illumina raises Dale's protective instincts to high alert.
I liked Illumina a great deal. Normally I'd take exception with the lying and the deception but Dale saw through her quickly enough and she came clean in a reasonably timely manner. Her reasons for lying didn't bother me either because I knew why she was doing it and Ms Bristol provided enough back story to for a deception-phobe like me to understand her motivation and her justification. Illumina is what I would call a brave heroine. Horribly mutilated by her abusive ex, she still fights to live, running and hiding from him, working to sever all ties from him, hoping for a better life. Any heroine who fight for a better life after the horror she has endured in the hands of someone who is supposed to love and cherish her is a true heroine in my book. She finds hope with Dale and she also finds kindness, caring and passion. It made me so happy to see Illumina happy and glowing, flourishing under Dale's care and protection. Still, you can't get too comfortable and let down your guard can you? Bad things happen.
Right through the story, I'm wondering who the person to betray Dale would be. I was suspicious of everyone. Dale has built a fortress on Deceptio. It's practically impregnable and you need all sorts of passcodes and an inside person to do it. Did I mention I was suspicious of EVERYONE? Every secondary character made me squint at them at suspicion whenever they opened their mouths and so much as squeaked, well, except for the cyborgs, that is. Was it the pilot? Was it the Arcadian thief? Was it the new temporary secretary? Well, let's just say, it was not who I expected. Well played, Ms Bristol, well played!!
And when the betrayal comes, Dale's protective instincts kick into high gear. Like all the cyborgs before him, Brock Mann, Kai Andros and now Dale Homme ... well, I love them all, so of course, I love Dale too. What's not to love? He's a super enhanced human with nanocytes to help him heal, computer in his brain so he doesn't even need to use a real computer with a terminal like us plebes. I so want a computer in my brain!! Of course, he's got all the benefits of being a cyborg too, bigger, stronger, faster, and even smarter, with the help of that computer chip in his brain. And he's got all the cool toys with his chop shop on Deceptio. I loved his connection with Illumina, which was amazing when it came time to rescue her. That sort of thing always makes me go all gooey inside. If I could communicate like that with my Steve, it would be amazing. Kinda goes with the whole computer chip in the brain thing.
One line particular jumped out at me as I was reading about Dale. It's nothing much and you can easily miss it, but I loved it.
"He'd been a field operative in a paramilitary organization. They wore protective gear when possible, but sometimes you didn't wait to suit up, you jumped in and did what needed doing. His robotic nanocytes repaired much of the damage he inflicted upon himself, but his body had paid the toll. He did not have a prissy official's hands, nor an ambassador's, but a fighter's. Scarred, callused, rough. With those hands, he'd keep her safe."
~~ Dale Homme, Captured by the Cyborg by Cara Bristol ~~
And BTW, I totally want what Illumina got at the end of the book. Want! Want! Want!

So aside from loving Illumina and Dale, some things happen in the story which are not so good. Did I mention bad things happen? Well, one of those bad things happens to Carter, and let me say, Ms Bristol, after what happened to Carter, you SO need to give him his own story. Have you started writing the next cyborg book yet? Cos I'm waiting for it!!

Update: When I first wrote the review I forgot to mention Illumina's hair. The image on the cover for her hair is stunning, but when you read about it and its special properties, it's amazing. Then you find out what it can do and how it links her with Dale and you will be all "I want hair like that too!!". Seriously, best hair ever! Everyday is a good hair day, I bet!

Update update: Look at this gorgeous graphic Ms Bristol created from my quote above. And isn't that such a great image of Dale? So rough and hunky. I always have this image of the cyborg men being a bit rough around the edges and this picture is perfect for that.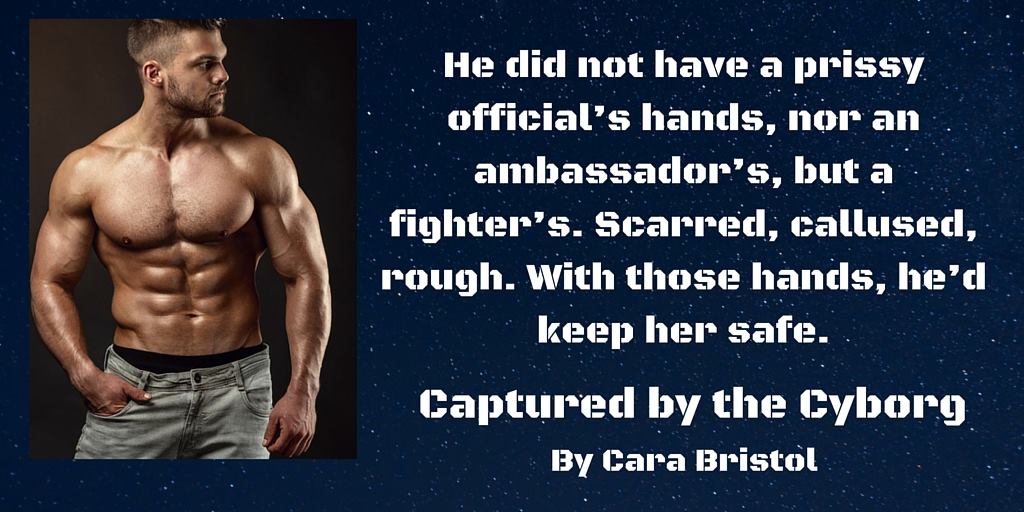 View all my reviews
Other books in the series
About the author
Multi-published, Cara Bristol is the author of more than 20 erotic romance titles. She writes science fiction romance, contemporary romance, paranormal, and spanking romance. No matter what the subgenre, one thing remains constant: her emphasis on character-driven seriously hot erotic stories with sizzling chemistry between the hero and heroine. Cara has lived many places in the United States, but currently lives in Missouri with her husband. She has two grown stepkids. When she's not writing, she enjoys reading and traveling.
Author links:
Website
-
Facebook
-
Twitter
-
Goodreads
-
Newsletter
Find Deanna around SOCIAL MEDIA: