Anthologies are darned difficult things to review because they tend to be long and it's hard to write a review for each and every one of the stories. I read these anthologies because Lucy Felthouse contributed to them and I like Lucy's writing. These reviews are brief but I hope they give you a flavor for the anthologies.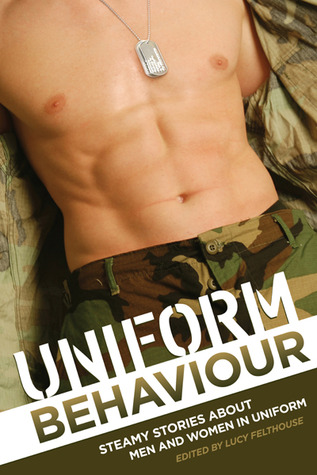 Uniform Behaviour Anthology
by
Lucy Felthouse, et al
Purchase link:
Amazon
My rating:
Heat rating:
Do you get all weak-kneed at the sight of a grubby fireman or a hunky soldier? Perhaps immaculately-dressed waiting-on staff get you feeling frisky? If so, you've come to the right place. Uniform Behaviour contains sixteen smutty stories about firemen, soldiers, sailors, police, security guards and even waiters, priests and cleaners! Delve into this anthology and enjoy steamy stories from established erotica authors including Justine Elyot, Craig J Sorensen, Victoria Blisse, Shermaine Williams, Elizabeth Coldwell and Lucy Felthouse. Uniform Behaviour also proudly introduces some exciting debut authors. So remember, you saw them here first! As well as being written and compiled for your titillation, this anthology is also designed to do good. A portion of the proceeds from Uniform Behaviour will be donated to UK charity Help for Heroes, which helps those wounded in current conflict. The stories in this anthology have been hand-picked by a uniform aficionado, so you can rest assured that only the sexiest erotic fiction lies in this eBook.
If you love your men in uniform, you will love this sexy anthology of men in all sorts of uniforms, getting very naughty with the women in the lives. There's all sorts of sexy fun, in and out of uniform in this great anthology. I love that they are short stories and that they are fun read when time is limited. Very entertaining.
---
Animal Attraction Anthology
by
Lucy Felthouse, et al
Purchase link:
Amazon
My rating:
Heat rating:
A collection of five erotic stories with mixed themes including werewolf, witches, magic and historical.
I love a short, sexy story when I'm in the mood for it and this little anthology totally fit the bill. I think my favorite of the short stories was the one which carries the name of this anthology, Animal Attraction by Lucy Felthouse. I get that with short stories like these there is very little build up to the sexy in them, but that said, I thought Lucy did particularly well in her story. The other one I also really enjoyed was Familiar by Sommer Marsden. Both these stories handled the back story (albeit short) well leading into the hot, sexy scenes. The others were ok and perhaps even a bit too weird for my taste.
View all my reviews
About the author
Lucy Felthouse
Lucy Felthouse is a very busy woman! She writes erotica and erotic romance in a variety of subgenres and pairings, and has over 100 publications to her name, with many more in the pipeline. These include several editions of Best Bondage Erotica, Best Women's Erotica 2013 and Best Erotic Romance 2014. Another string to her bow is editing, and she has edited and co-edited a number of anthologies, and also edits for a small publishing house. She owns
Erotica For All
, is book editor for
Cliterati
, and is one eighth of
The Brit Babes
.
Author links:
Website
-
Facebook
-
Twitter
-
Newsletter
Find Deanna around SOCIAL MEDIA: