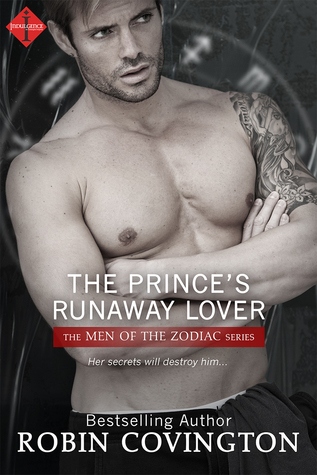 The Prince's Runaway Lover (Men of the Zodiac #7)
by
Robin Covington
Purchase link:
Amazon
My rating:
Heat rating:
Crown Prince Nicholas Lytton was never supposed to be ruler of Callanos. He was the "spare to the heir," pursuing a decadent life of the rich and royal—extreme sports, physical pleasures, and glorious irresponsibility. Until his brother died. Now Nick is to be coronated king, and no one believes he's ready.

The best way to secure his crown is to do the unthinkable...find a queen.

While Isabel Reynolds works in the palace gardens, she has no desire to draw the attention of the way-too-flirty, would-be king. For she's not the woman everyone thinks she is. Even if she wanted—or was tempted by— the promise of love, it would only end in disaster. Because while Isabel may be able to catch a king, her secrets would only destroy him...
I love when an author writes a story of characters I can fall in love with and care about, where I want to cheer them on to their happy ending and Robin Covington has done just that. It also doesn't hurt that I am a complete royalist and love anything that smacks of royalty in a romance. It means I'm already predisposed to liking the story. After all, I just love the fairy tale and the fantasy. What little girl hasn't dreamed of Prince Charming at one point or another, no matter what form he takes?
I found Isabel to be a very likable heroine. She was smart, honest and compassionate. I loved that she wanted to protect Nick from her past but was too consumed by her attraction to him to give him up completely. I felt for her when she struggled between being selfish and wanting to build memories she could save for darker times ahead, and not wanting to taint Nick with the consequences of knowing her. She was a contradiction of selflessness and wanting a little bit of happiness for herself in a very lonely life. She made me feel compassion towards her. I wanted her to be happy.
When I first started reading about Nick, I was not sure if I would like him. After all, he started off with some unknown women, with the reputation of being a playboy and rather promiscuous. Not my favorite combination of characteristics in a man, but as I got to know him, I fell completely in love with him. I think I'm going to add him to my growing list of book boyfriends. I loved his directness and his honestly. I loved that he exposed himself, was raw and open about how he felt and what he wanted. I loved that he rose to a challenge and in the end fought for what he wanted all the while being true to who he was as a person, being driven by his conscience. I cried with him and grieved with him during his moments of pain and laughed with him through his happiness. It didn't hurt that he was sizzling hot and sexy as hell too.
Here are some of my favorite moments with Nick:
"I'm Nick and I want to get to know Isabel better. Just a guy who thinks a woman is beautiful and interesting and wants the chance to see what could happen between them if given a chance. That's all I'm asking."
"Well, I am a prince. It's in the job description." "You need to stop it," she said. "You've already got too much of an advantage with the palace and the crown and everything." "Hey." His hands slid up to cup her face. "Look at me." She did, opening her eyes and immediately falling into the cerulean blue of his eyes. "I'm just a guy trying to get a girl to notice him."
Nicky came at you head-on, full intent known from the beginning, no secrets or subterfuge. It was his honesty, delivered with a sexy smile and drugging kisses, that got you to cave.
This book is part of the
Men of the Zodiac series
but can be read entirely as a standalone book (I checked. I tweeted Robin before starting this book). You do not need to read the other books in the series first before this one.
View all my reviews
About the author
Robin Covington loves to explore the theme of fooling around and falling in love in her bestselling books. A Night of Southern Comfort, her debut novel was nominated for the RT Book Reviewers Choice Awards for Small Press and was touted by RT Book Reviews as bringing a "fresh, modern feel to the genre while still sticking to the things that get our adrenaline pumping -- sex and danger"
When she's not writing sexy, sizzling romance she's collecting tasty man candy, indulging in a little comic book geek love, and stalking Dean winchester. You can find Robin at her website (robincovingtonromance.com), Facebook, Twitter and Pinterest.
Don't send chocolate . . . send eye candy!
Robin lives in Maryland with her hilarious husband, brilliant children (they get it from her, of course!) and her beloved furbabies.
Author links:
Website
-
Facebook
-
Twitter
-
Goodreads
Find Deanna around SOCIAL MEDIA: