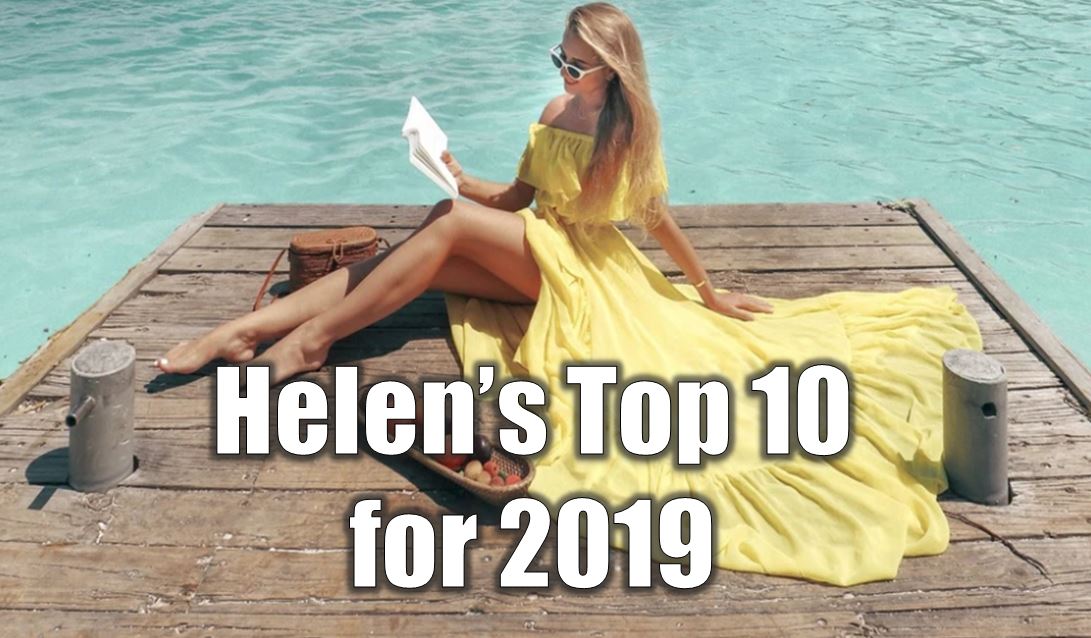 Welcome to another instalment of our Top Reads for 2019. Here's Helen with her top 10... okay, top 19. She couldn't get the list of books down any lower. Total cheat BTW because I struggled and managed to get it down to 10 with 2 honorable mentions, but yeah, a top 19 for Helen.
Without further ado, let's take a look at Helen's list.
Saving You by Charlotte Nash
This is an amazing story, a road trip across the US a mother doing what she can for her son and a group of escapes from and aged care facility, there were lots of laughs and tears.
On The Same Page by Penelope Janu
A woman with a secret identify and a hero who is determined to get to the truth, this is a fun filled story that has me smiling throughout.
The Quarantine Station by Michelle Montebello
A duel time story set around the Quarantine Station in Manly a story that has twists and turns as secrets are uncovered true love is found, a beautifully written story that you won't be able to put down.
The French Photographer by Natasha Lester
World War 2, a model who becomes a photographer and gets behind enemy lines and MS Lester bought it all to life on the pages of this book, the emotion that flows from the pages was amazing a must read.
Wedding Night Reunion in Greece by Annie West
I love a Greek hero and Ms West does them so well, I loved the setting and the passion and emotions that both Christo and Emma shared, loved this one.
Miss Prim's Greek Island Fling by Michelle Douglas
Audra is so prim and proper and her brother's best friend Finn knows just how to awaken her senses on the beautiful Corfu, this one was fun, sensual and had me smiling.
Home Fires by Fiona Lowe
Ms Lowe knows how to write a story that is heart wrenchingly beautiful, the characters she wrote about came to life, and it is such a poignant story, there were lots of tears but smiles as well to see the support from everyone.
Marry in Secret by Anne Gracie
Anne Gracie never fails to take me back to the regency times and bring to life characters that become friends this is part a of a series and I loved it from start to finish, I can't highly recommend her stories, such a beautiful romance.

The Clothier's Daughter by Bronwyn Parry
I had been waiting for this book for such a long time and it hit the spot beautifully, a regency story with suspense, I was turning the pages as Adam and Emma got through the danger that was thrown their way to a beautiful HEA.
Singapore Sapphire by A M Stuart
First in a series from this author and it was a beauty set in Singapore in 1910, Harriet discovers a body a finds herself helping the local police solve the case, fast paced and fabulous I loved this one.
Shock Heir for the King by Clare Connelly
Ms Connelly knows how to write a sensual story and this has a Cinderella theme one of my favourites, Frankie is such a strong heroine and Matt is just the hero for her, a sizzling fabulous read.
The Land Girls by Victoria Purman
Ms Purman took us back to the days when woman were doing a lot of work on the land while the men were away at war, a story that is honest and beautiful, heart-breaking and heart-warming at the same time the strength these woman showed was so good.
Heart of the Cross by Emily Madden
This is a moving story set around Kings Cross in Sydney, set against three times zones it shows the strength of woman, one in particular Rosie Hart and what she went through and then her granddaughter Brianna and the secrets she uncovers, keep the tissues ready for this one.
The Last Voyage of Mrs. Henry Parker by Joanna Nell
I love cruising so this one was always going to be a must read, and what a story it lets us meet Evelyn Parker as we learn about her life and her beloved Henry, there are tears and laughter with this one, beautifully written and highly recommended emotional and heart-warming.
Cross My Heart by Pamela Cook
This one left me speechless it is a poignant story that takes in some heartbreaking issues, it is about friendship that lasts and love, it really is a fabulous story.
The Highlander's Defiant Captive by Anna Campbell
I do love a good Scottish romp with a hero in a kilt and MS Campbell does them so well, Callum goes after Mharai to get peace in the glen but she is not what he expected, this story had me cheering them on and smiling lots a must read, sensual and fun.
Seduced by a Stranger by Alyssa J Montgomery
From page one of this story I was hooked this one was fast paced and sensual as Max gets Jenna to fall in love with him again with danger lurking at every corner it was not a book I wanted to put down, I loved Max what a hero and I think this is one of Ms Montgomery's best to date.
Beautiful, Fragile by Michelle Montebello
This story has so much happening in it a heroine who wakes up on a beach in Spain and has lost ten years of her life, I love sharing this journey with the twists and turns it took before Faith remembers and Will the caring and loving husband who was there always, I loved this one emotional moving and yes tears and smiles another I highly recommend.
House of Wishes by Jenn J McLeod
This was a book that I will not forget easily a compelling story a duel time line and fabulous characters so emotional I loved it.
**
2019 has been a fabulous year for new releases, readers like me have been spoilt for choice. There was only one book this year that I did not finish, so when I was asked to choose the best ten books I have read in 2019 I knew it would be very hard. I started with 35 books and have whittled it down to nineteen, but I can't take any of these of the list and I would love to put back the ones I have taken off.
From short to long, from historical to modern, these books bought me lots of joy.
Have Fun, Helen
So those are Helen's favorite reads of 2019. What were yours?
Find Deanna around SOCIAL MEDIA: