Synopsis
TURN ON THE CHARM

According to some (including himself), Constantine is one of the greatest heroes of dragonkin who ever lived. Too bad he's now lonelier than ever and his biggest adventure involves a blow-up sheep-until he has an opportunity to save his kind once again. All Constantine has to do is break into a demon's dungeon, steal an ancient artifact, and reverse a deadly curse. The plan certainly does not involve rescuing a woman . . .

TURN UP THE HEAT

Bee isn't sure whether to be infuriated or relieved when Constantine pops up in her prison. The broody, brawny shifter lights her fire in a way no one ever has before, yet how far can she really trust him? Their chemistry may be off the charts, but when push comes to shove, Constantine will have to make a crucial choice: to save the dragons or the woman he's grown to love with fierce intensity.
---
Excerpt
"Well, I don't like to be touched," Bee said, walking forward purposely until she reached the limit of the chain. "Not by women, disembodied Knockers, or even dragons with dreamy knuckles."
"My knuckles are not dreamy," Constantine said quickly, and waited for her to turn back to him before he moved forward, once again taking her hand. "They are simply hands, nothing more. Functional in a manly sort of way, but just hands. They are certainly not worth commenting about."
"For pity's sake, will you stop trying to paw me!" Bee stopped and whirled around to face Constantine, banging the birdcage against his hand in an attempt to loosen the grip. "I'm not interested in you, OK? Talk about arrogance—will you get it through your thick head that just because you're handsome, and have eyes that are the color of an old piece of amber, and hair that you think at first glance is just brown, but then you realize is shot through with dark honey, doesn't mean that I'm going to swoon at your feet just because you keep touching me."
"Do you dislike men?" Constantine asked.
"No! At least, not in the sense you mean." She tugged down her shirt in an irritated manner. "I just don't like being manhandled, OK? Not even by handsome dragons. Especially by handsome dragons."
"You say the word dragon like we are some sort of beast. We are not human, but we are an ancient race, and have adopted human mores. We are polite, we are considerate—when it behooves us to be—and we have very nice manners."
"Ha! I knew a dragon once, and he was anything but nice. He was always grabbing me, and teasing me with his fire, which hurt like the dickens if you want to know the truth."
"You don't like dragons?" Constantine couldn't believe his ears. He'd met women who hadn't desired him personally, but never one who was prepared to damn all of the dragonkin.
"Let's just say that given past experience, I don't seek out your company."
Constantine stared at her in confusion, then did the only thing he could think of. He kissed her.
She started when his mouth claimed hers, but despite his guess that she'd push him away, or slap him for such a brash move, her mouth opened under his and welcomed him into her sweetness.
---
Goodreads
|
Goodreads series

Author Info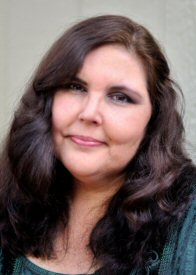 For as long as she can remember Katie MacAlister has loved reading, and grew up with her nose buried in a book. It wasn't until many years later that she thought about writing her own books, but once she had a taste of the fun to be had building worlds, tormenting characters, and falling madly in love with all her heroes, she was hooked.
With more than fifty books under her belt, Katie's novels have been translated into numerous languages, been recorded as audiobooks, received several awards, and are regulars on the New York Times, USA Today, and Publishers Weekly bestseller lists. A self-proclaimed gamer girl, she lives in the Pacific Northwest with her dogs, and frequently can be found hanging around online.
Author Links:
Website
|
Facebook
|
Twitter
|
Goodreads
Rafflecopter Giveaway
Find Deanna around SOCIAL MEDIA: