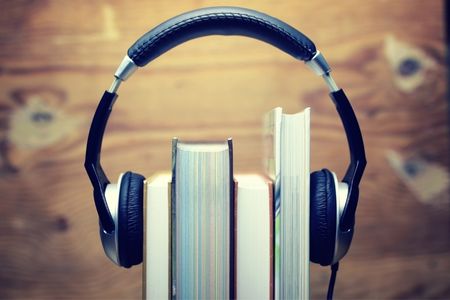 I've recently started listening to a lot more audiobooks because I've finally found a time and routine where audiobooks work for me. It's not always been the case in the past. And I've learned some things.
I know audiobooks are huge right now. They are so popular and quite often when Steve or I tell people about his book, False Trust, one of the first things we get asked if it's coming out in audiobook. The answer is yes. We are planning the audiobook. We've contracted with one of my favorite male narrators and you can listen to a teaser clip here.
I've incorporated listening to audiobooks into a few of my daily routines. I know some people have jobs or do things where they can listen to audiobooks all the time. That's not me. My work requires a lot of mental energy and concentration, so trying to take in an audiobook is pointless. I will miss most of it. But I've found that I can listen and concentrate enough to pay attention and catch all the details when I listen while I'm getting dressed in the morning, while I'm in the kitchen cooking a meal, and most recently, at the end of the day, when I have to lie down and do these exercises my osteopath have assigned me for about ten minutes. All up, if I do all three things each day, I get a little over an hour, maybe an hour and a half of audiobook listening time in a day, which is awesome for me. I used to listen to audiobooks when I had a long commute, but I work from home now and there's a two minute commute between my bedroom and the office.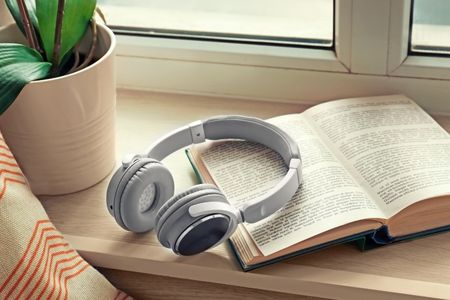 So, here is what I've learned.
I'm fussy about my narrators. I guess that's not unusual. I'm sure many people have narrators they prefer and tastes vary. My fussiness though comes from the fact that I started listening to female narrators and never quite got into them. I found a lot of their voices too high pitched and screechy. And I dislike the way they sound when they do male character voices. Somehow, the men always come off sounding too feminine or fake to me.
I prefer deep male voices for narrations. Some of my favorites are Thomas Locklear (he's doing False Trust), Jeffrey Kafer, and Eric G Dove. I'm on the hunt for more and have got some recs from an audiobook group on Facebook to try out.
I would rather listen to a male narrator do a lower pitched female voice than a feminine sounding male character with a female character because I find that highly incongruous and disruptive when I'm listening to a hot alpha male sound feminine. Shudders. Nope, not for me.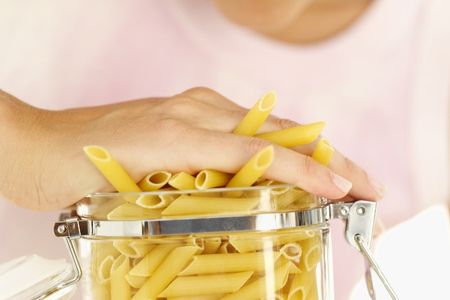 And here's gripe number one. DO NOT try to shove your preferences down my throat. Seriously. If I'm asking for recs specifically of male narrators, don't tell me it's because I haven't listened to the right female narrator yet. I know what I like and I'm asking for something specific. Telling me I'm wrong because I haven't tried your favorite female narrator yet is not a good look on you. And as a friend said when I complained, "Classic. Same as men deciding a lesbian only needs their c**k to become hetero." "Or women thinking that the right woman for a man would do the same thing. It's the height of arrogance and insensitivity really." To which my best friend responded, "Nah, they specifically only need the *right* one. Because, you know, they've obviously only had bad ones so they don't know any better. But *mine* (rhetorical 1st person here) would fix that right up and turn 'em straight...."
I did not say "hey, change my mind about female narrators." I said "recommend male narrators." No hate on female narrators. I'm sure there are lots of fantastic ones out there, but they are not my thing. And I've seen lots of people say they don't like male narrators too. I am not going to shove my metaphorical 🍆🍆🍆 down their throat.
And some people have said, "I'm the opposite. There are male narrators I love that I CANNOT stand how they do female voices. They usually sound like children or like screechy shrews so much so that it's kind of offensive. The female narrators I like all do great male voices, but I listen to several genres. Unfortunately, romance seems to have a lot of narrators that aren't the best, probably just from the sheer amount of work there is." "Yep! I actually stopped listening to some male narrators because of their female tones. I still think they do good work, but most of the time I can't."
I did not run off and tell them they are wrong and I did not try to tell them that it's because they have not listened to the right male narrator do a female voice. To each their own, eh? Nor did I make any comments claiming that certain narrators' voices are offensive, as some people did. I'm not going to do that. Ever. Even if I don't like the voice. I know lots of other people would love it, it's just not for me, and I'm okay with that.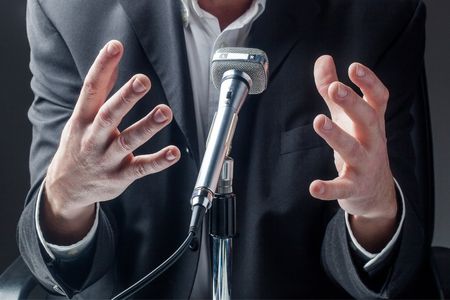 I've always preferred male voices. Some of my favorite voice artists to listen to are male tenors. That's my go-to when I want to listen to music. Il Divo, Collabro, Ramin Karimloo, Russell Watson, The Ten Tenors, etc. All male. Are there some female artists I like? Yes. But my preference? Male. Always.
The trend now is dual (a male narrator doing the male point of view in a chapter and all the voices, male and female, plus a female narrator doing the female point of view in a chapter and all the voices, female and male), duet (where the male narrator does all the male voices and male narrative, and the female does all the female bits), and of course, multi-cast narrations. I've tried them, but I can't get past the female narrators' voices.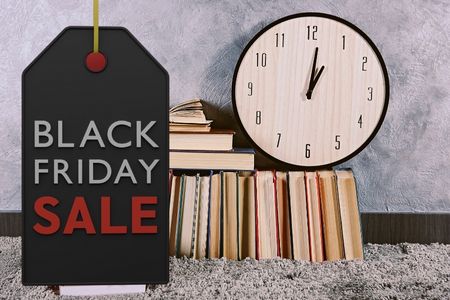 I recently got an audiobook on sale during the Audible Black Friday sale to check out because it was a multi-cast narration. It was a reverse harem with a female narrator doing all the female points of view chapters, and then five different male narrators doing male character for their chapters. Kind of a dual narration on steroids. I really wanted to like it. Truly. But I couldn't get past the female narrator's voice (too high pitched), and the male narrators were only okay for me. And here's the kicker. The writing and the story were not great. Too much telling. And I found I didn't care about the heroine, and even though I skipped forward and listened to the male chapters, it was not enough to redeem audiobook for me. That was a shame. I'm glad I got it on sale.
Another thing I've also learned, and this is not a knock on anyone. Have you ever watched a really bad movie with some fantastic A-list actors and even those amazing actors can't rescue a bad script and the movie flopped? Yeah, no matter how great the narrator, if the book is not well written, it doesn't work for me. I need a good combination of a good story that's well written and a good narrator. I narrowly squeaked by with a very average book narrated by a favorite (male) narrator, but just barely. It was pretty touch and go. I mean, it was kinda okay with a lot of telling, but I'm listening merrily along, and BAM!! Butt plugs and harems. It was a good thing it finished about 15 minutes before I had guests arriving for lunch because that would have been interesting to explain.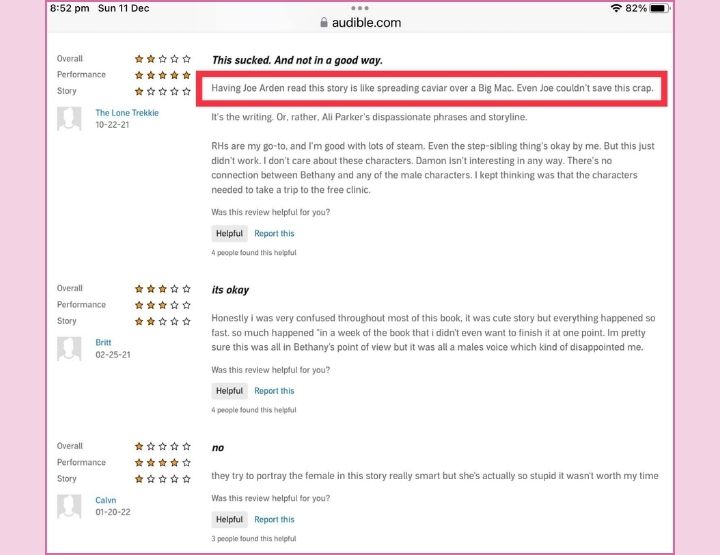 I've had situations where I thought I could just listen to my favorite narrator's voice and the book or story be damned. Nope. It doesn't work for me. I can't. I've tried. I ended up DNFing the audiobook and the book. I know there are people who can get past the writing and the story not working and just listen to the voice. Nope, not me. Can't do it. Tried. Really, really tried. Although, I joked I could listen to my favorite narrator read the cereal box and because he has a sense of humor, he sent me a clip of him ACTUALLY reading a cereal box and
I made it into a video
. That was funny and fun. But it was about 40 seconds, not eight hours. So if you're one of those people who can just listen to the voice and not care about the story or the writing, good for you.
I mentioned the whole poor story, great narrator thing to my best friend and his response was, "That goes without saying?" He has a point, but I also know there are enough fans of certain narrators who will listen to ANYTHING they produce. Alas, I am not that much of a fan of anyone to do that. He also said some choice things about the topic, but I won't repeat them here. Sometimes the BFF can be very blunt and it's not for normal human consumption who get him or who are easily offended. He's not wrong though. He rarely is.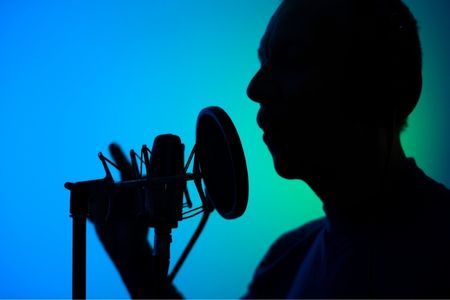 Finally, did you know audiobooks enhance the quality of the writing (for better or worse) based on the performance of the narrator? Good writing sounds great, bad writing sounds worse, and sadly, there's not much in between. I've listened to a few audiobooks recently that were not terribly well written, okay one was awful, and listening to the narration made it worse. I think reading it might have made it a bit more palatable, maybe not by much and maybe I would have lasted longer reading it, but listening to bad writing being read to you is not a pleasant experience.
On the other hand, good or great writing, narrated by a great narrator. Brilliant. A 4-star book can become a 5-star book. The performance of the narrator can greatly enhance the reading/listening experience. And a mediocre book? A good or great narrator can make it bearable. I recently listened to one such book narrated by one of my favorite narrators. It wasn't great, but my favorite narrator got me through the book. Phew!
Anyhoo, that's me rambling on all things audio for today. It's probably not going to make me very popular, but eh. I have THOUGHTS.
Tell me, do you audiobook?
PS. If you're interested, Audible has a deal going right now where if you subscribe to their Premium Plus membership, you get 4 months at $5.95 a month instead of the usual $14.95 a month, and you can cancel at any time. You also get 4 credits (one per month) for the duration. That's totally worth it since you can use the credit to purchase the more expensive audiobooks. I grabbed a 50+ hour audiobook box set that was priced over $50 with my first credit.
You can find out more about the deal here
.
Find Deanna around SOCIAL MEDIA: