My rating:
Heat rating: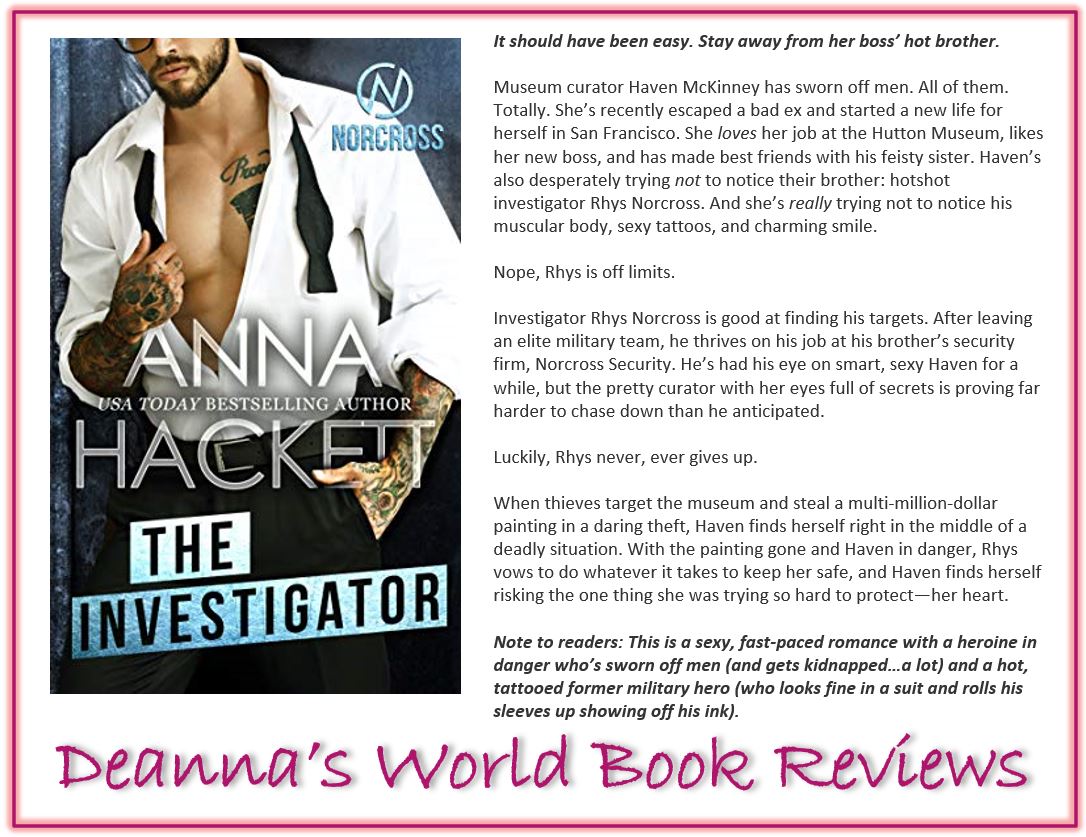 The Investigator is a solid introduction to this new, action-packed, contemporary series by Anna Hackett. It's got everything we've come to expect from Ms Hackett's books. A sexy, bada** hero, a strong, feisty heroine, action, bad guys, more action, and sexy times. There's plenty to keep the adrenalin pumping.
I don't think there's been a single hero of Ms Hackett's that I've not loved. Some I love more than others, but generally, I love them all. Rhys is no different. He's sexy, extremely skilled and competent, and he's laser-focused on Haven. And once he's got her, he's not letting her go. I love that he's super patient and determined with Haven, even when she doesn't everything in her power to push him away. He's smart, relentless, and deadly too when it comes to taking down the bad guys, and crikey, there were a lot of bad guys in this book.
Haven, on the other hand, I didn't like as much. I think I can safely say, I liked the least of all of Ms Hackett's heroines I've read but that doesn't mean she's unlikable. She's strong, capable, independent, and feisty. She doesn't let adversity and set backs keep her down and she comes up fighting. She's had to since life has not been kind to her. People who should have loved her and protected her have failed her again and again in her life and it's made her wary of letting her guard down. I tend to not like heroines who have sworn off men so it took me a long time to warm up to Haven, especially when she kept dodging Rhys and at one point said some very hurtful things to him that were unfair and unkind. It's a good thing Rhys is the forgiving sort. It also warmed my evil little heart that Ms Hackett put Haven through the wringer and I kinda liked that she got tortured (not literally) somewhat and it was not smooth sailing for her. She copped a lot of crap but she came up swinging each time which makes her admirable.
Another thing I loved were all the big boy toys the Norcross brothers and team had. Man, there's some sexy vehicles and hardware being tossed around. I love men with sexy toys and these were droolworthy.
The story ended with a banging lead into the next book. Can't wait to see what happens next.
View all my reviews
Ab

out the author




Anna Hackett:
Website
-
Facebook
-
Twitter
-
Goodreads
-
Amazon
Find Deanna around SOCIAL MEDIA: