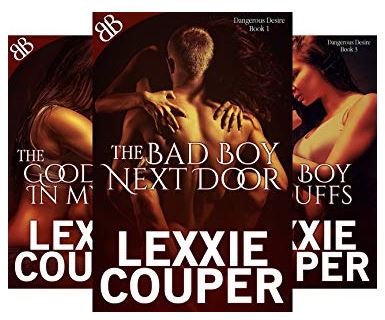 Dangerous Desire series
by
Lexxie Couper
Purchase link:
Amazon
My rating:
Heat rating: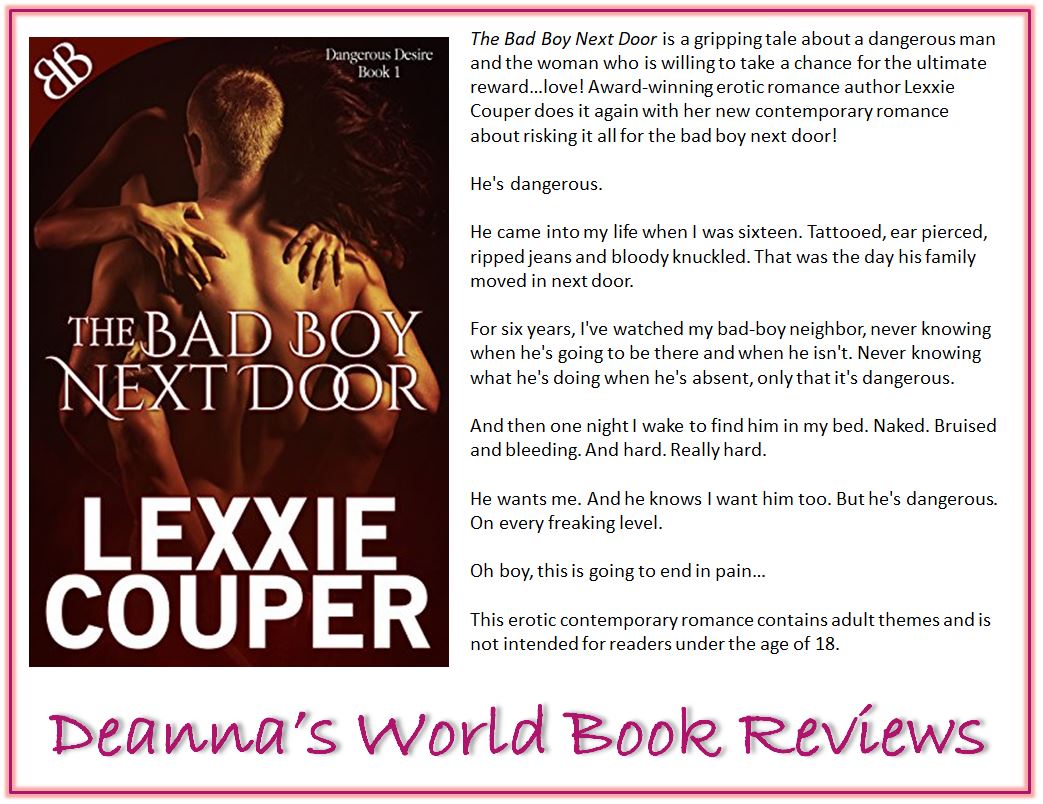 The Dangerous Desire series of books are sexy, hot, and raw. It's one hell of a ride as we journey with Lucas and Ronnie as they battle the ghosts and dangers from Lucas' past towards their happy ending.
These books are Lexxie Couper at her best. They are pure unfettered action and eroticism. It's violent. Lots of killing, people dying, people hitting people, unrestrained savage fighting. And let's not forget how sexually charged and erotic they are too. If you like all the sex, these books are for you.
I have to admit to reading these books in one sitting. They are short, under a hundred pages each but each book completes it's own story arc with an underlying over all theme across all four books that is quite subtle. You won't be left frustrated if you only read one book at a time.
I love the characters in these books. Lucas is a favorite, of course. He's so raw, so invincible, and so deadly. He's also savage about his feelings for Ronnie and supremely protective of her. Everything he's done in his life since he's met her has been about protecting her and he takes keeping her safe very seriously. He has moments of doubt and uncertainty when his past comes back to taint their newfound joy together, but Lucas being Lucas, he deals with it with deadly skill and swiftness. I can't forget that Lucas is also sexy as heck and when it comes to loving Ronnie, he's a freaking machine. Oh man, that stamina!!
I love Ronnie too. It's never easy for me to love a heroine but Ronnie is feisty, brave, and level-headed. She understands what she's getting into when it comes to being in a relationship with Lucas. She understands his dangerous past and what that means to their current life, but she loves him enough to take it all in stride and roll with the punches. I love how she stands up to Lucas when he gets overbearing and how she stands up for Lucas in the face of her father's disapproval. After all, she's fallen for the bad boy next door, and let's face it, as sweet as Lucas is towards Ronnie, he's a bad boy to the core.
As for the secondary characters, there are some incredible ones. I'm not going to name them because that will actually be spoilery and I try not to do that in my reviews (sometimes I fail as I discovered recently with an old review I wrote and thankfully never posted).
All I can say is if you love hot, sexy heroes and feisty heroines, an adrenalin-fueled story, then you need to read these books.
View all my reviews
Ab

out the author




Lexxie Couper:
Website
-
Facebook
-
Twitter
-
Goodreads
-
Amazon
Find Deanna around SOCIAL MEDIA: