My rating:
Heat rating: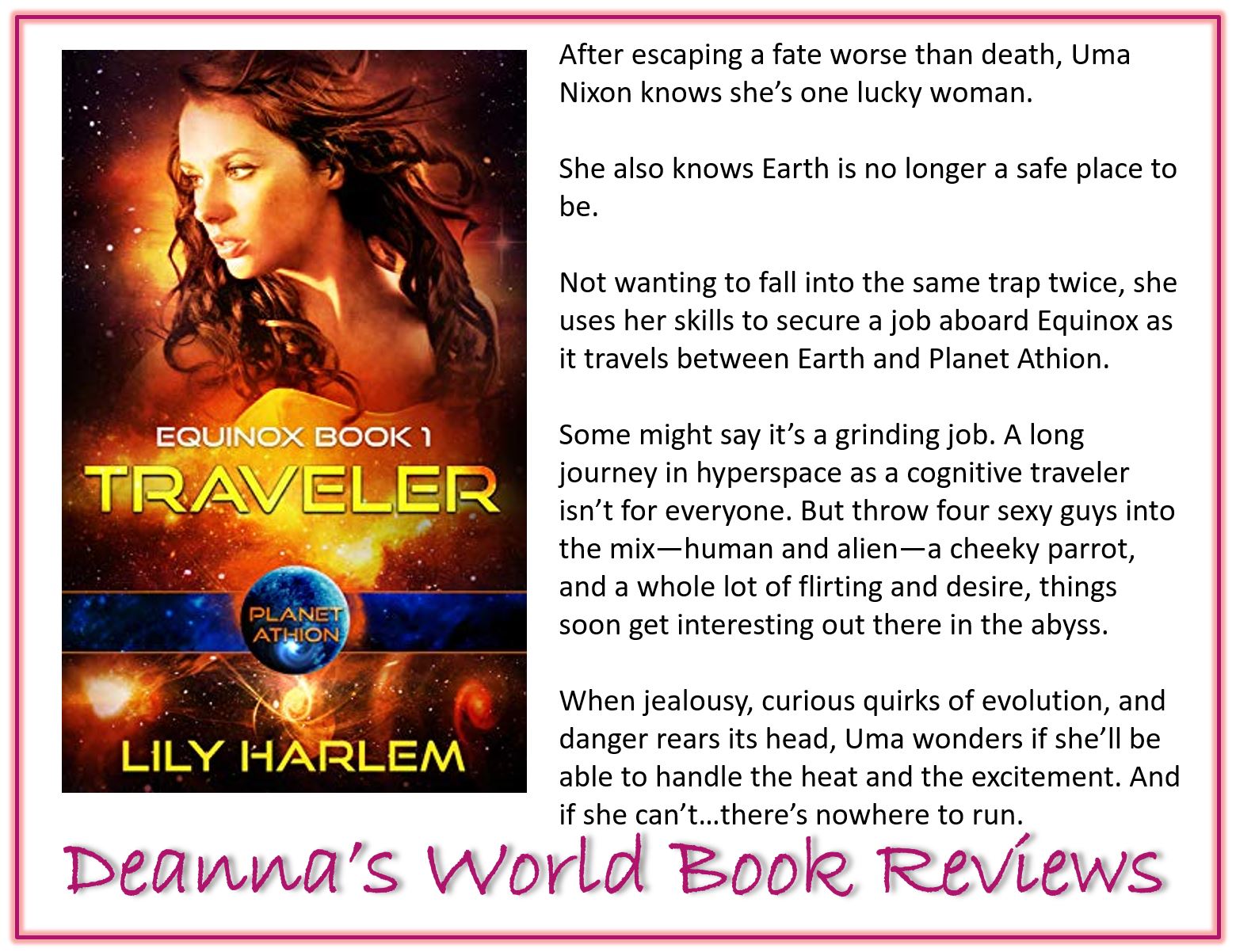 Traveler kicks off a new series set aboard the spaceship Equinox hurtling through space towards the Planet Athion from an asteroid damaged Earth. Emotions run high, feelings are charged, affections are displayed, and jealousies abound as four men and one lone woman are pressed together for a long, lonely journey.
For those who do not know, Equinox is one of three new series set in the Planet Athion world featuring authors Lily Harlem, Marissa Farrar, and Angel Lawson. So far, I've only read this one book but I've enjoyed the world being built, the strife humans find themselves in, the conflict with the Tradrychs, and the relationship with the Athions. Earth just got a whole lot more interesting with this alien invasion.
In Traveler, Uma, along with two humans and two Athions travel to the Planet Athion delivering both people and animals to assist in the planet's survival. New relationships form as existing relationships change while aboard the Equinox.
I found Uma to be an interesting character. Strong-minded, independent, yet compassionate and caring. She's survived an almost tragic encounter with a hostile alien when rescued by a fellow human. This shaped who she became in the present time and her choice of career. Perhaps it is also the catalyst to her not wanting to settle down with just one guy, and she's confident enough to say what she wants out of her relationships with the men around her.
Along with Uma on the journey are Gavyn, the ship's captain, Mateo, his co-pilot, and two Athions, Anki who is learning how to care for animals from Uma, and Hurin, the ship's medic. It's early days yet in the story but each man has their own distinct personality and their own unique relationship with Uma.
Gavyn is reserved and professional while Mateo is playful and charming. Anki is eager to learn and sweet, and Hurin is distant. It's going to be a long six months as they get to know each other better and stronger bonds form.
And shout out to Magic the pet parrot. He is epic.
This is a good start to the series, the world, and the relationship dynamics between Uma and the men. I'm looking forward to the next books and seeing how things develop.
View all my reviews
Ab

out the author






Lily Harlem:
Website – Blog – Twitter – Facebook – Facebook author page – Pinterest – Raw Talent – BritBabes – Hockey Romance – Newsletter subscription – Hot Ice – Google+
–
Harlem Dae – Goodreads
– Amazon
Find Deanna around SOCIAL MEDIA: