My rating:
Heat rating: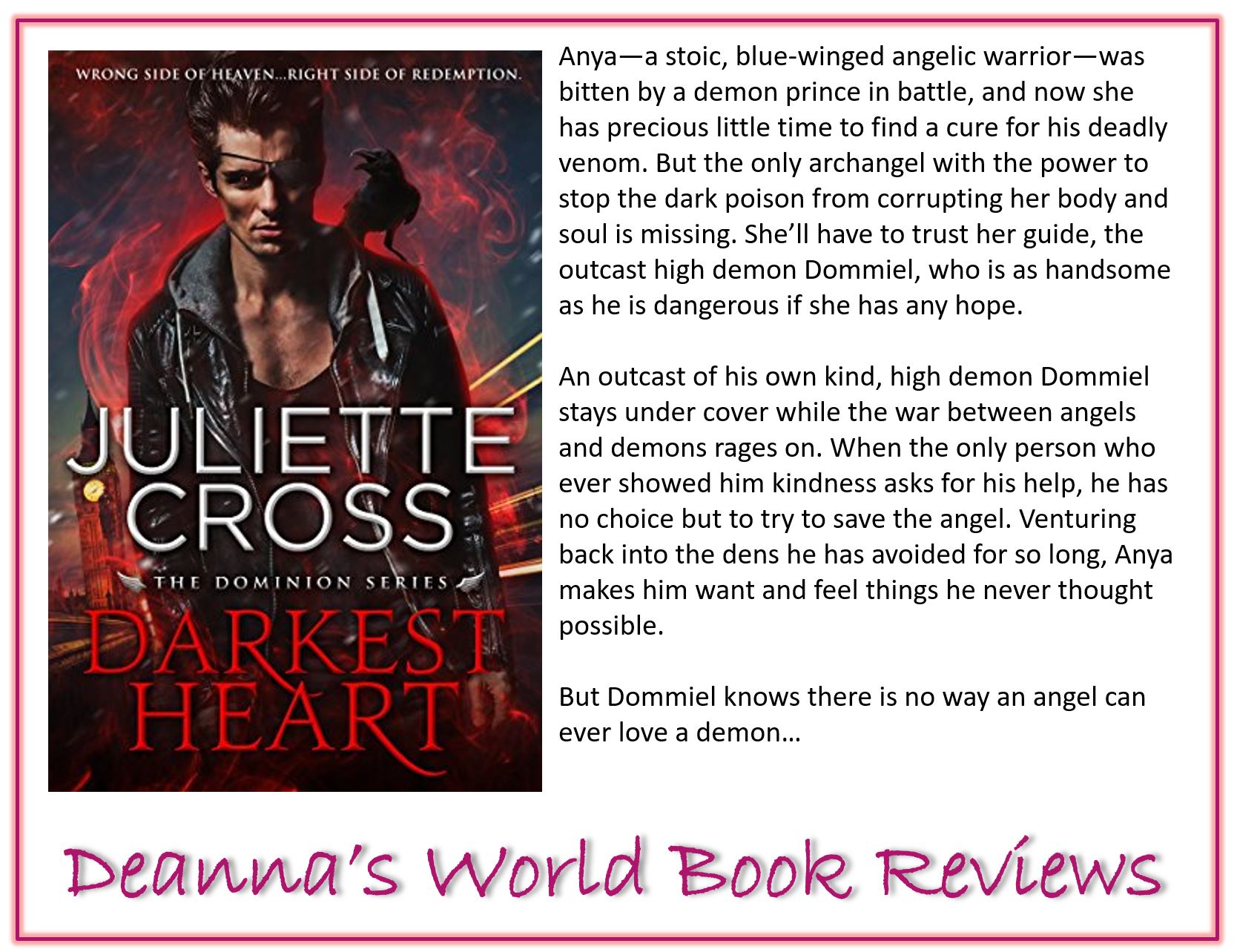 Darkest Heart is filled with Juliette Cross's trademark intensity, blinding emotion, and heated passion. The sensual pull will draw you in and sink you deep into this world she has created.
When I first started this book, I was very anxious because I desperately wanted Ms Cross to do Dommiel justice. He was such a pivotal character in the Vessel trilogy and the dichotomy of personality versus his actions made me want to see him redeemed. I had wondered how Ms Cross was going to do it. Needless to say I was not disappointment. I fell more and more in love with Dommiel with every page I turned.
Dommiel burns with an intensity that will leave you gasping for air. His character is deep and complex as you uncover the layers that makes up his soul. The supposed evil of his being against his actions that brand him a traitor to his kind. The blood bond from acts of goodness that ties him to Genevieve and his loyalty to her despite the bond. Dommiel is complicated. But he's also sexy as all heck, dark, dominant, and commanding. And when he talks dirty, I'm ready to melt into a puddle. If there is one word I would choose to use to describe Dommiel, it is intense. He sets the pages on fire with it. As you read, you feel it deep within your heart. Dommiel will grab you in a choke-hold and not let go. And it's likely you want won't him to either. You'll gladly suffocate under his dominance.
I knew I was going to like Anya from the moment I met her in the Vessel trilogy. She carries with her such a sense of purity of purpose and innocence. It doesn't make her naive or oblivious to the world, she has seen too much and done too much for that, but her souls shines with a brightness that is almost blinding. She's fiercely loyal, caring, and protective. I enjoyed her conflict as she tried to understand Dommiel and her feelings for him. In a world filled with darkness, Anya is a bright light that shines through. She's so easy to fall in love with and care about. For her dedication and her sacrifice, she makes you want the very best for her.
Even though I had a rocky start with this book, which was entirely my own fault because I was not in a good reading space, Dommiel, Anya, and the story pulled me in. By the time I got to the end, I was fully invested in them, and utterly in love with Dommiel.
Ms Cross did a wonderful job of creating a bleak, post-apocalyptic world but also infusing it with hope, passion, and fire. I'm definitely looking forward to the next book in the series.
View all my reviews


Ab

out the author




Juliette Cross:
Website
-
Amazon Author Page
-
Facebook
-
Twitter
-
Pinterest
-
Goodreads
-
Newsletter
-
Amazon
Find Deanna around SOCIAL MEDIA: