My rating:
Heat rating: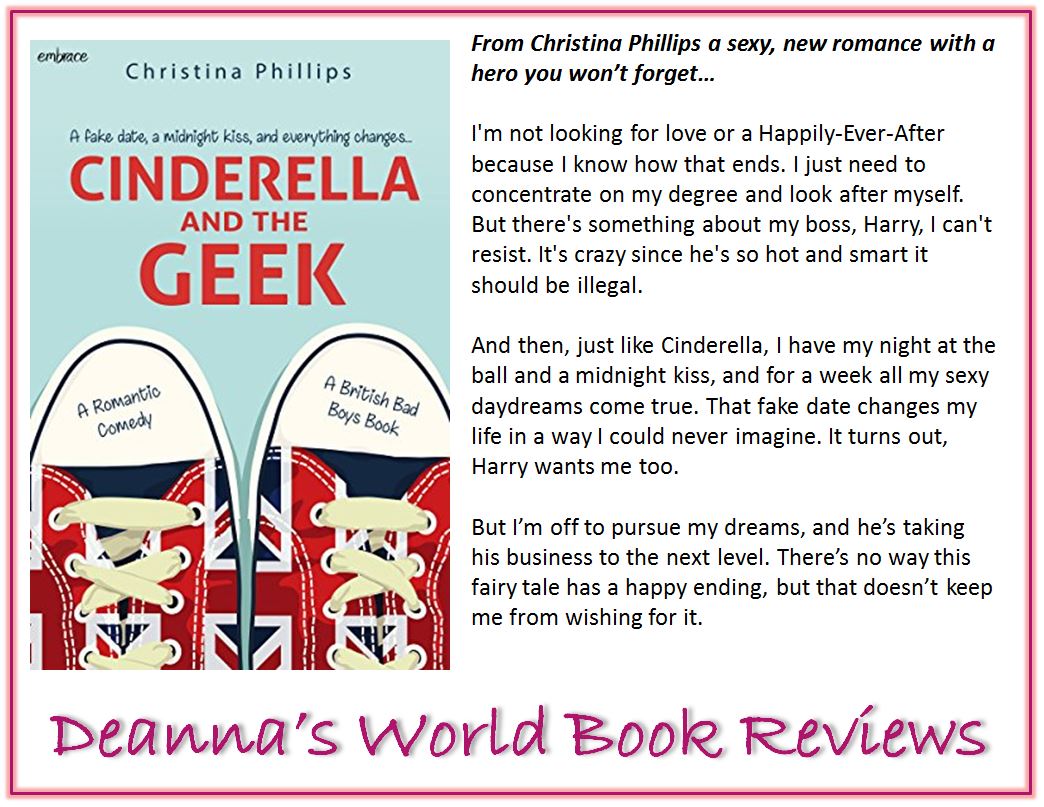 Cinderella and the Geek is a sweet and sexy story between practical, organized Alice and gorgeous geek, Harry. As they navigate their feelings for each other outside of the workplace, sparks fly and emotions get entangled.
This is a departure from my usual read but because Ms Phillips is an author I trust, I decided to give it a shot. It doesn't not disappoint. Not only is it a sweet story but it also sizzles with sexiness as it deals with ambitions, career aspirations and personal desires. And it doesn't have all the angst and rubbish drama that characters this age group have in other stories I've read that have made me want to throw my Kindle in frustration.
Alice is a level-hearded sort of girl. Even though she's young, she's also capable and organized. She's managed to organize Harry and Blitz for the last many months she's worked there leading up to her leaving to start university. She's become indispensable to the company and to Harry. But Alice also has some self-esteem issues and misguided pre-conceived notions about relationships and men. She tries to keep things light with Harry even as she falls deeper and deeper for him. There's a part of her that wants him forever but a part of her that's also put a use-by date on him and their relationship. I'm a little disappointed she doesn't communicate better with Harry about her feelings and thoughts even though a lot of her inner monologue was quite strong in her belief of Harry dipped in a heavy dose of her own insecurity. Perhaps it's her innocence and her lack of experience but I think she should have talked to Harry. I do like that she understands Harry so well and sees him for the great guy he is.
I loved Harry. He's gorgeous, ambitious, dedicated and a bit clueless. Harry's got issues too. Or rather, he's got one giant issue hanging over his head from a failed relationship in the far off past. Unfortunately, that does color some of his perspective about his relationship with Alice and his brother. Again, I wish he had talked to Alice about things. Neither of them did a good job of communicating when things got dicey. However, to his credit, Harry did an excellent job of redeeming himself.
At the start of this book, I was debating whether I'd read the other books in the series or not. I didn't know if the stories would be for me. The characters are younger than I normally read. However, since finishing the book and having Ms Phillips deliver a very satisfying happy ending, I'm all in. I am looking forward to the other books in the series and can't wait to see who are next on the list to fall in love.
View all my reviews
Ab

out the author




Christina Phillips:
Website
|
Facebook
|
Twitter
|
Goodreads
|
Newsletter
|
Amazon
Find Deanna around SOCIAL MEDIA: