The White Lily (Vampire Blood #3)
by
Juliette Cross
Purchase link:
Amazon
My rating:
Heat rating: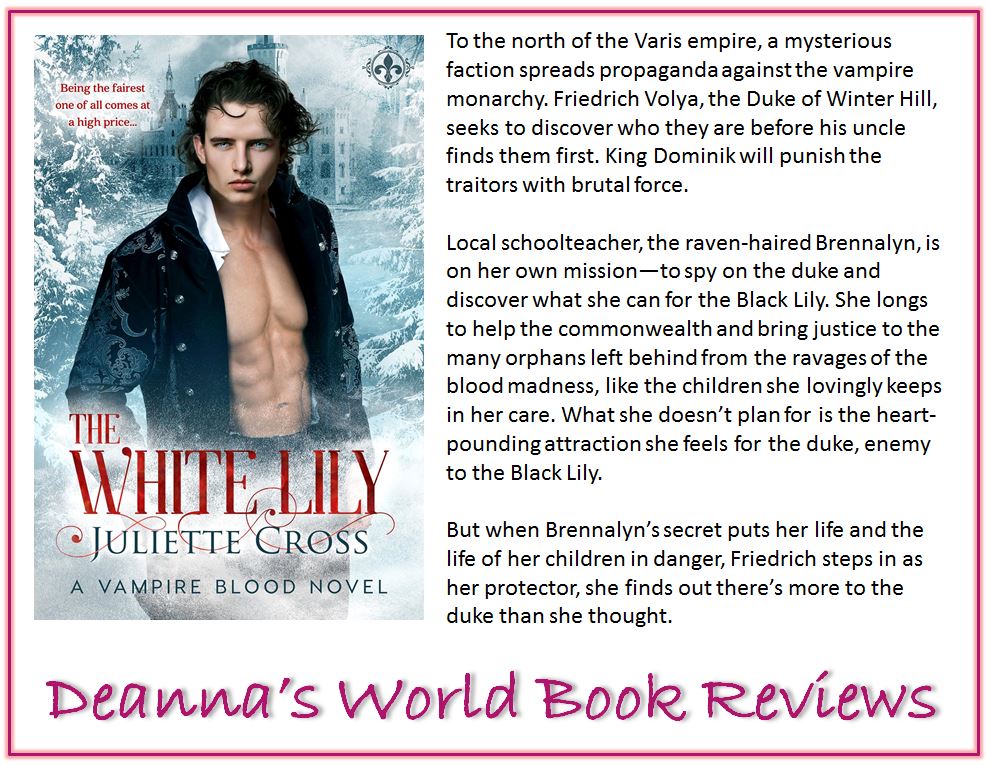 The White Lily sizzles with passion and danger as humans and vampires both continue their fight against a mad queen and her desire to enslave the human race. While Brenna burns with a fiery zeal and Friedrich is simply perfection.
With this installment to the series, Ms Cross brings us the Snow White fairy tale in Brennalyn Snow and her seven children. It took me a little while to realise the significance of this children but I loved it when I had that "ah hah" moment and it clicked. Then, of course, there was the poison apple and how Snow White needed to be revived with a kiss from her handsome prince. I had wondered how Ms Cross was going to portray that and let me say, without spoilers, it was brilliant. Tragic, heartbreaking, romantic, deeply moving.
The war continues to heat up between The Black Lily resistance and the ruling vampires. It was certainly very obvious when confronted by the evil of King Dominik and Queen Morgrid and the plight of the northern villagers who have been captured.
"One thing Friedrich knew for certain. While this bloody war may have begun by Arabelle and her peasant army of Sylus near the Glass Tower, it was no longer a war of humans against vampires. It was a war between justice and tyranny."
I have been intrigued by Friedrich right from the moment I met him in The Black Lily. I knew he was sympathetic to their cause and cared about the humans who were part of his responsibility. Friedrich is everything I love in a hero. Dark, intense, passionate, protective, possessive. Tender. I adored his pursuit of Brenna. It took my breath away. I got very cross with Brenna when she rebuffed him in the beginning and I was stunned by his patience and persistence with her. If I had been treated the way he had, I might have been a lot less amiable than he was. He stole my heart with his charm and his kindness. He is also stunning in his fierceness and his fighting prowess.
Brenna was a complicated heroine for me. I admired her for her ideology and her taking the risks she did even as she had seven children dependent upon her. She was brave when it came to doing what was right and when it came to protecting her children, but there was a moment with herself when it came to matters of the heart, she was a coward. I got so angry with her. But I also saw past my own anger to realise she had been hurt in the past and was only trying to protect herself from going through a similar pain again. I was glad to see her work past her own fears and trust Friedrich enough to move forward.
I enjoyed seeing Marius, Arabelle, Nikolai and Sienna make an appearance. It's like visiting with old friends. Ms Cross, thank you for that conversation between Marius and Arabelle. You know, the one where Marius is urging Arabelle to do something. That conversation made me so happy.
I also loved the introduction of some new characters with a more in depth look at Grant, Friedrich's human servant who is more than he seems, the Bloodguard, Mikhail and Dimitri. I want to see Grant get his heart's desire and I want to see a pairing between Dimitri and Helena. If you're listening Ms Cross, that's my Vampire Blood "wish list". I already know I will see more of Mikhail very soon and I can't wait.
Thank you Ms Cross. Another stellar addition to the Vampire Blood series. I am looking forward to the next book and the culmination of the war.
View all my reviews


Ab

out the author




Juliette Cross:
Website
-
Amazon Author Page
-
Facebook
-
Twitter
-
Pinterest
-
Goodreads
-
Newsletter
-
Amazon
Find Deanna around SOCIAL MEDIA: