Bad For Her
Bad Boys Gone Good #1
By: Christi Barth
Releasing October 3, 2017
Avon Impulse
Buy Links:
Amazon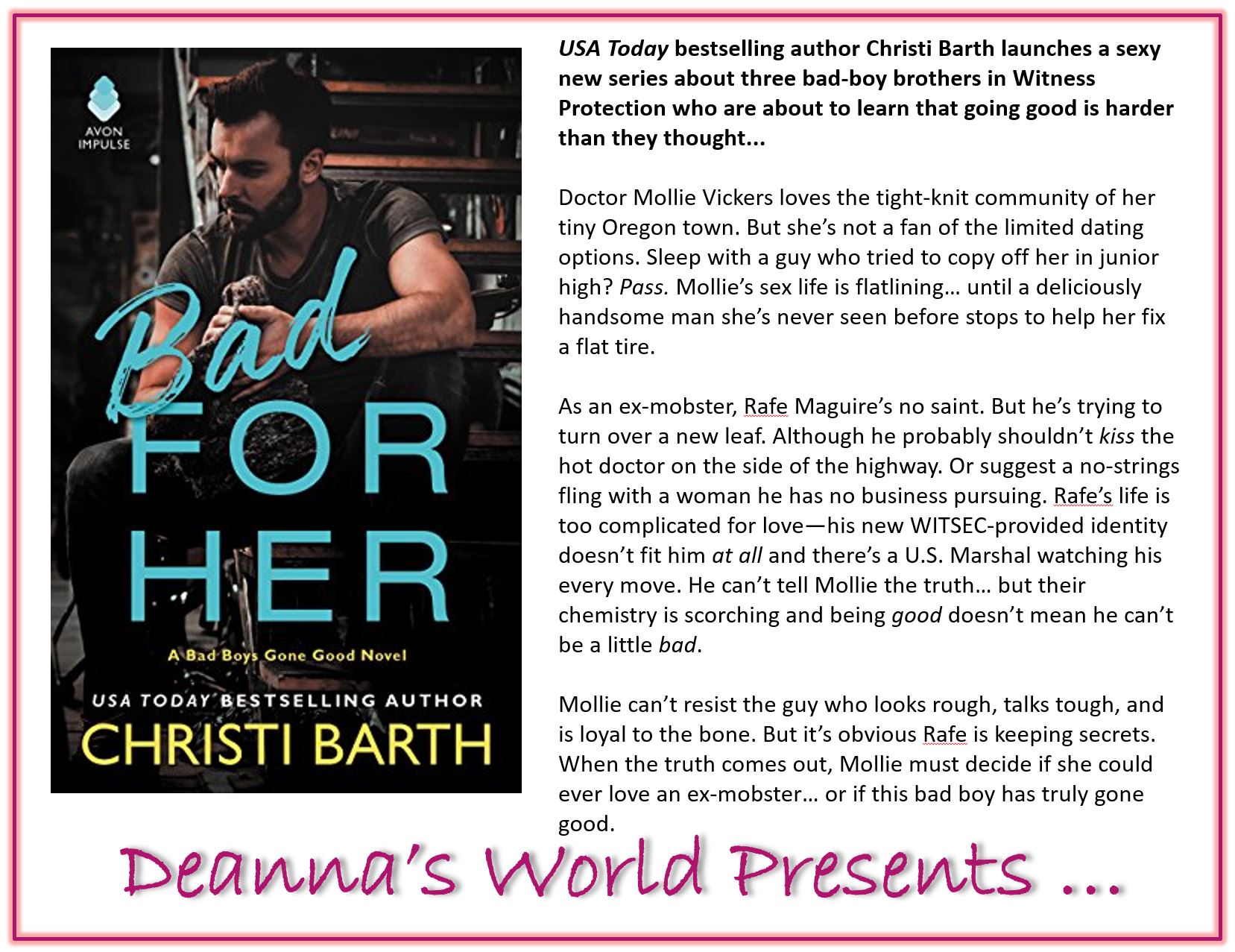 Author interview

I'm delighted to have Christi join me to anwer a few questions for the blog. Please give her a very warm welcome ...
Thank you for having me here today!
What gave you the idea for the "Bad Boys Gone Good" series?

The idea was born at a writing retreat with my besties in Williamsburg. Isn't that how all the most amazing book ideas are born? We knew I wanted to check off all the obvious boxes of things that sell romances with the next series—Alphas, Bad Boys, hotter, grittier (yeah, don't hold your breath on that one—I write romantic comedies, and funny is just how everything comes out), and we threw in small towns for fun. Mobsters are kind of the ultimate bad boys. Don't worry – mine haven't killed anyone – but they are rugged and stubborn and loyal to the bone. The almost perfect romance hero! But we needed them shed their criminal past to be true heroes, so I put them in Witness Protection and turning over a new leaf. Or…trying to, at least…

When I read the blurb from "Bad For Her" I was instantly attracted to Rafe and his story. What do you think is the appeal of the "bad boy" that seems to be so prevalent?

Ooh, I'm so glad you liked him! I'll admit, I dated a 'bad boy' in college and grad school. Yeesh. In retrospect I can't believe it lasted so long. He –and all bad boys, I imagine—was exciting because 1) he had a totally hot black leather jacket, 2) he opened my eyes to the fun of stepping outside the rules and 3) he had his own code. He didn't need to conform to the expectations of the world. I think that's the clincher. Not to mention that we do love a challenge, so the fun of a bad boy is also the fun of making him fall for you.

What was the trickiest thing about writing a bad boy and redeeming him in such a way that your reader would fall in love with him along with the heroine?

Well, I cheated. (Yup—I'm being totally honest with you guys. Because writing is
hard
, and we authors do what we can to make it easier on ourselves…since we invariably write ourselves into a plot corner at least three times in every book.) Before the book even starts, I take my heroes out of the Chicago mob and put them in the Witness Protection program. There, they have to be good and play nice or they'll be booted from the program and quite possibly found and killed by the mob. But I think what will make readers fall in love with Rafe most easily is that everything he does, everything he has done in his life, is to keep his brothers safe. He joined the mob to keep a roof over their heads, to send his little brother to law school. And he threw them into WITSEC to keep his middle brother from being set up to take the fall for the mob and sent to jail. His loyalty to his brothers is bone deep—and that's something no woman can resist.

If you had to pick one person, real or fictional, who would you pick as the ultimate bad boy? Why him?

Captain Kirk – in the rebooted Star Trek series – the Chris Pine version (yummy!). Because he breaks rules
all the time
and gets away with it, because he always does so to save the day. Or whole planets. He's got power and responsibility but still throws caution to the wind and has fun and takes risks….and thus always gets the girl, too. The confidence required to be a risk-taker is hot.

Finally, how many bad boys are there going to be this this series? Any peeks into what we can expect next from future bad boys?

Bad Boys Gone Good is a three book series—one for each Maguire brother.

Never Been Good

is Flynn's book, and he manages to fall for a woman who is also on the run and hiding who she truly is.

Got It Bad

is Kellan's book, and he breaks the ultimate rule by falling for their U.S. Marshal handler. They are all fun and hot and probably require a few tissues, too!

Author Info
Author Links:
Website
|
Facebook
|
Twitter
|
Goodreads
|
Amazon
Find Deanna around SOCIAL MEDIA: