Krinar's Desire
by
Cara Bristol
Purchase link:
Amazon
My rating:
Heat rating: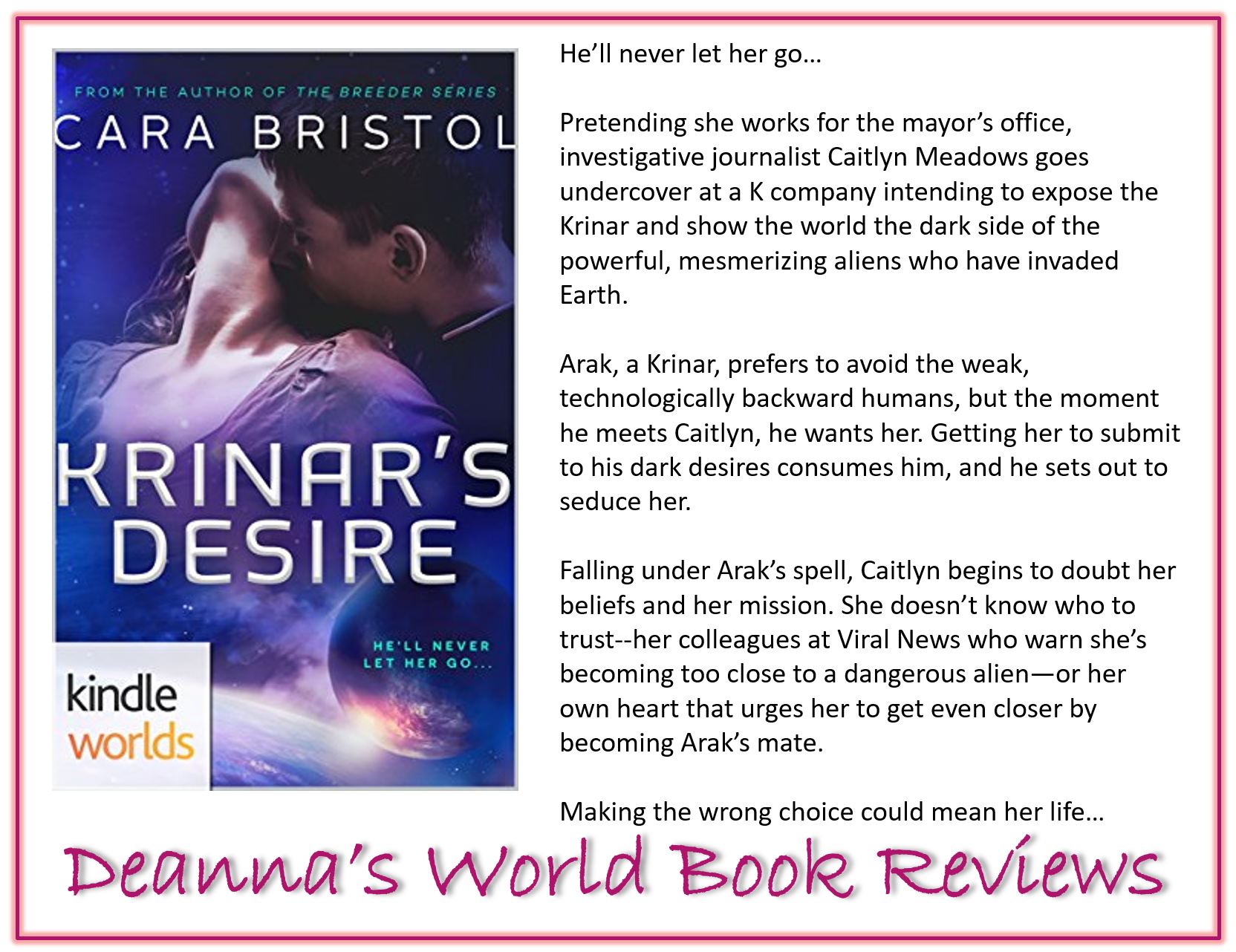 Krinar's Desire is an edgy, sexy sci-fi romance with a hot as heck alien and an innocent investigative reporter that will knock your socks off.
This my first introduction to the Krinar world that was created by Anna Zaires. Even though I have not read the original books, Ms Bristol has done a fantastic job of world building and providing some back story so the reader knows what is going on and the context in which this story takes place. I loved the Krinar technology and the little bit of paranormal slant with the Krinar being likened to vampires even though they are not and do not drink blood as subsistence. I wish our technology was as advanced as the Krinar's. It all sounds absolutely fascinating.
Okay, Arak. Goodness! He's hot enough to make me need to fan myself to cool down. I mean, if I'm going to be kidnapped by an alien, I would want it to be Arak doing the kidnapping. And he can feel free to experiment on me all he wants. He is so dang sexy and top it off with his dominating, controlling, take what he wants personality, he's just about the perfect alien hero. While he was extremely dominant, I loved the moments of vulnerability he exhibited when he wanted to take but held back to allow Cailtyn the ability to make her down decisions and choices, and when he was uncertain of whether she would make her decision in favor of him. I loved that he struggled between demanding everything immediately vs being patient and allowing Caitlyn the time to catch up to him in terms of how she felt about him. Y'all, I could tell how hard that was for him to do but he did it anyway. Good for him for not being an overbearing jerk, which he could easily have been.
I was uncertain of Caitlyn to begin with. She came into Arak's presence filled with suspicion and doubt. She was even being sneaky and intent on deceiving Arak which, of course, I took exception to right away and had me being all defensive while I read. Fortunately, Ms Bristol handled that well and Arak was a smart, insightful man. He definitely came out on top in that round. I thought Caitlyn was rather naive in allowing the people she worked for brainwash her into changing her opinions about the Krinar leading to her deception but I liked her fire and independence as she tried to assert herself against a very dominating and demanding Krinar male. I liked that she tried to ensure that her desires and feelings were her own, particularly since she was being fed so much false information that she had to wade through to get to the truth.
I enjoyed Krinar's Desire and the world that's been created mostly because I enjoy Ms Bristol's writing. I'm not sure if I will read other Krinar World books or if I would read the original series. I need to think about that and see if my reading schedule opens up for me to fit those in.
View all my reviews
Ab

out the author




Cara Bristol:
Website
-
Facebook
-
Twitter
-
Goodreads
-
Newsletter
-
Amazon
Find Deanna around SOCIAL MEDIA: