The Protector (Sons of Texas #2)
by
Donna Grant
Purchase link:
Amazon
My rating:
Heat rating: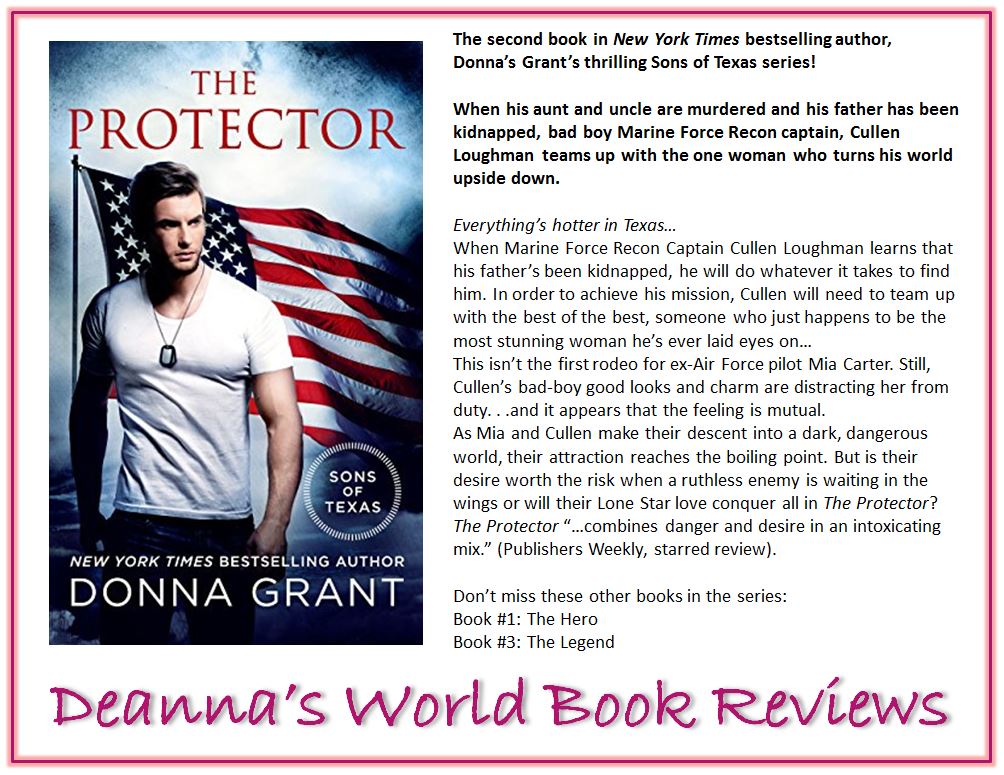 The Protector continues where
The Hero
leaves off, with the youngest Loughman brother taking centre stage and he continues the hunt for their missing father, Orrin. The story is filled with action, mystery and sexual tension and Cullen and Mia battle enemies, not knowing who they can trust while simultaneously fighting their growing attraction.
What I enjoy most about this story is the overall story arc of Orrin missing and the brothers reconnecting. The brothers have been torn apart my tragedy early in their lives and while they love and care for each other, they have gone their separate ways, carving their own lives and careers, while being estranged from their father.
I loved Orrin's part of the story in the few chapters that featured him. They were probably the most interesting because I felt heavily invested in what was happening to him.
I also loved Cullen's heartache and regret in this story as he examines his feelings for his brothers and his father. The more I learn about the Loughman brothers, the more invested I am in their happiness. I feel like the story is building into a huge family reconciliation particularly with Cullen learning aspects of his father he didn't know from Mia and discovering he's regretted missing it.
I loved both Mia and Cullen together too. Cullen is your typical skilled, tough, military guy and Mia is every inch his match in daring, skill and attitude.
The opening scene when Cullen first encounters Mia when she is facing a tough situation shows off how capable Mia is of taking care of herself and holding her own in a fight with the bad guys.
Of course, Cullen is no slouch either. There's a particular scene after they have been pursued by the bad guys where Cullen's toughness shines through. He's also incredibly protective of Mia while accepting and knowing Mia is strong and able to look after herself.
Mia doesn't need protecting but she's not a ball buster either. She allows Cullen to take the lead when is makes sense to do so, but she's an equal contributor and she holds her own. At the same time, Mia has a soft caring core to her and it's wonderful the way she encourages Cullen to open up and voice his feelings while sharing her own.
In every way, Mia and Cullen are well matched. I was very happy when they finally confessed their feelings to each other even though I wondered about the timing. Perhaps it was the danger they were in and the excess of adrenalin running through them that spurred the confession on.
My only gripe with this story is the fact that Ms Grant didn't have the "safe sex talk" between Mia and Cullen when they first made love. It surprised me they had what seemed to be unprotected sex without any mention of condoms, being on the pill or either party being clean. Not that I go looking for it, but this sort of thing tends to jump out at me and it seemed like a glaring omission. (I can't remember if this occurred with the first book in the series, The Hero.)
Overall, I'm enjoying this series and I look forward to it's conclusion with
Wyatt's book
.
View all my reviews
Ab

out the author




Donna Grant:
Website
-
Facebook
-
Twitter
-
Goodreads
-
Amazon
Find Deanna around SOCIAL MEDIA: