At Her Husband's Command
by
Lily Harlem
Purchase link:
Amazon
My rating:
Heat rating: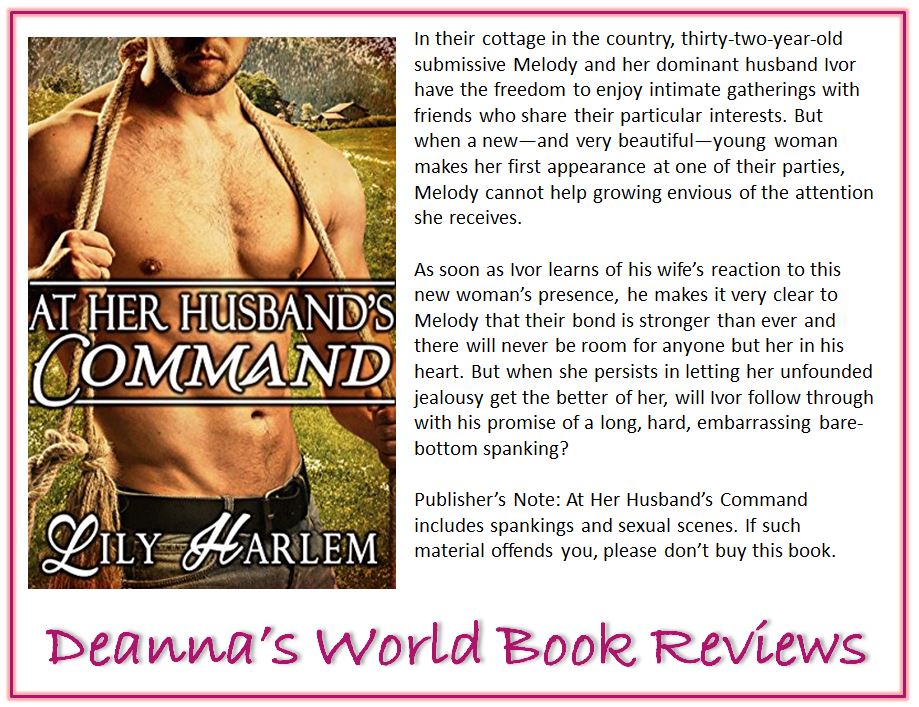 Hot! Hot! HOT! I know! I say that every time about one of Lily's books but it's true. Lily writes some of the hottest, most sizzling-est (is that a word? :-p) erotic romances I've read. At Her Husband's Command is no exception. It sizzles and with some serious kink thrown in, it will melt your Kindle or in my case, my iPad since I was reading on my Kindle app!!
At Her Husband's Command is an interesting montage of various BDSM / spanking scenes between the Doms and their subs, set around a dinner party at the home of Melody and Ivor. In it we meet Rupert and Lottie, and Kyle and Tia too, who are guests to the dinner party. All three couples are in a committed, married, Dom/sub relationship.
The thing about At Her Husband's Command is it's a wonderful glimpse into a committed, kinky, Dom/sub relationship, where the couples have embraced and live the lifestyle. Not knowing anything about BDSM and the lifestyle, reading about it fascinates me as it reveals a completely different sexual and relationship world to me. Learning about it through Lily's books not only allows me to enjoy the spark and sizzle of the lifestyle vicariously through reading, but it also makes me realise I don't have the proper attitude or mind set to participate in that kind of lifestyle. And yet it fascinates me.
What I love about Lily's erotic romances is she always manages to pull the reader in through some heartfelt emotion while providing a healthy dose of sexiness. It's never sex for sex's sake with Lily's books. She manages to not only excite you but also to make you feel. Sex without emotion is meaningless and there is nothing meaningless about Lily's couples, relationships and stories.
Well done, Lily.
View all my reviews
Ab

out the author






Lily Harlem:
Website – Blog – Twitter – Facebook – Facebook author page – Pinterest – Raw Talent – BritBabes – Hockey Romance – Newsletter subscription – Hot Ice – Google+
–
Harlem Dae – Goodreads
Find Deanna around SOCIAL MEDIA: