I'm excited to have Christina visit the bloggity again. She's decided she likes us and wants to come back. Ain't that grand? :-) I'm also delighted to be hosting Captive as it is given a refresh and is ready to conquer the world again. Conquer! Get it? Roman soldiers and all? Ugh! I suck a puns!

I really should put a lid on it now and let Christina take the floor or the blog rather. :-)

Please give Christina a very warm welcome.
Falling for the wrong man. It happened 2000 years ago too!


Thanks so much for having me back on Deanna's World to chat about my latest release, Captive, the second book in The Druid Chronicles, set during the Roman invasion of Britain in the first century with sexy warriors and magical Druid heroines.
Now you may be wondering why I picked this unusual time period have I mentioned the hot sexy warriors? :-) Well, apart from the fact my heroes wield very big swords and have biceps that keep me awake at night (purely for research purposes of course), it was more a case of them picking me. And when a tough battle weary warrior demands you tell his story, you don't say no. I think I might've said something like Yes! Yes! Please…
Captive starts six months after book one ends and is the story of Bren, a tough warrior who is haunted by his violent past. I love Bren so much. Deep in his heart he's so noble and loyal, but due to circumstances and the terrible things he's had to do in the name of his king, he believes he doesn't deserve a second chance at happiness. Far from being the heroine Morwyn's bitterest enemy as she imagines, he's been undercover in the Roman Legions for the last three years. The problem is he can't tell her the truth, because the truth could get them both killed.
Morwyn first appeared in book one, Forbidden, as the heroine Carys' best friend. At the end of Forbidden she goes with the other Druids to their sacred Isle, and I thought that was the last I'd ever see of her.
But that wasn't the end of her story.
Although Morwyn's a powerful Druid priestess, she's turned her back on her goddess and is determined to rid her land of the Roman invaders. At the start of the book she's full of anger at how her people were betrayed, both by their gods and by the man she'd secretly loved for years, and it's not until she hits rock bottom and goes against everything she believes in that she can finally see the truth.
She's tough, independent—and ends up falling for the wrong man.
Some things never change, even in 2000 years :-)
Although this is the second book in The Druid Chronicles, it's a standalone romance with its own Happily-Ever-After. :-)
I have a feeling I'm going to love Bren.
And now here's Captive.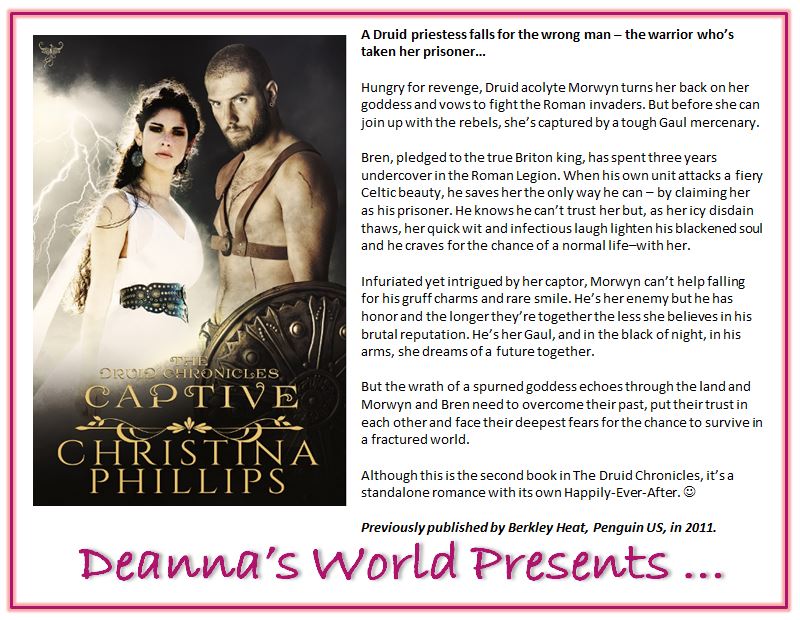 ---
Goodreads
|
Goodreads series
Excerpt


Set up: On their first night together, Bren arranges for Morwyn to have a private bath, and she gets a little more than she bargained for. :-)
Without warning he began to massage her shoulders, thumbs and fingers kneading her knotted muscles, and waves of delicious pleasure radiated from wherever he touched. Again her eyelids flickered as bliss enveloped her battered body. If he continued so, she wouldn't need his cock to finish. Gods, how good it felt to have a man's hands on her once again, and her toes curled against the side of the tub as her neck dropped forward, allowing him the most vulnerable access.
"I served in the East for a short time." His warm breath grazed her shoulder. Deep in her mind a warning stirred at how unguarded she was. He could snap her neck with one swift movement and she'd be unable to defend herself. But why would he murder her now, when it was clear she would offer no resistance to his demands? And if brutality was his specialty, he would have raped her back in the forest.
She was as safe here as she would be anywhere with him.
"How long have you served your Roman masters?"
His thumbs dug into a sore muscle and she groaned in response, unsure whether the unexpected pressure caused pleasure or pain. He wound her hair around one hand but didn't jerk her head up as she expected. Instead he appeared satisfied to know she was utterly in his power.
For now. But later, when he writhed in ecstasy as she rode him into oblivion, the power would be all hers.
"A long time." There was an edge to his voice, as if he no longer found her questions entertaining.
"Yet you speak of them with contempt." Again her eyelids flickered. Gods, it was hard to keep awake as the scented heat of the water and magical ministrations of the Gaul's fingers relaxed her to such a degree she could scarcely summon the energy to think, never mind converse.
This time he did pull her head up by her hair, but it wasn't vicious. Just inexorable, letting her know he could. Letting her know she had no choice.
A groan escaped as he forced her neck over the rim of the tub. His face was close to hers and she blinked, disoriented by his upside-down visage, and his other hand slid around her vulnerable throat, strong fingers closing over her erratic pulse, applying pressure, a heartbeat away from severing her thread to this life.
The flickering glow from the lamps cast enticing shadows across his roughened jaw and she had the overwhelming urge to reach up, drag her nails across his face and pull him to her, so she could feel the abrasive texture of his day-old beard flay her tender flesh.
"And you, Celt, speak without first weighing your words." His thumb trailed slowly along the line of her jaw, back and forth, a lazy, seductive motion that sent tremors skittering along her taut skin without relaxing his death grip on her throat. "Haven't you yet learned to hold your tongue when in the presence of your enemy?"
"I've never before been captured by my enemy." Her voice was breathless, her lungs depleted. Her throat ached and the tub dug into the back of her neck. But that all faded against the way his thumb continued to stroke her, almost as if he didn't realize what he was doing, yet the careless caress stoked the dark eroticism bubbling deep in her blood.
She would put up with a great deal more discomfort for the pleasure his touch evoked.
And his thumb stilled. She sank her teeth into her bottom lip to stop herself from begging. She would never beg for his touch. But gods, how she wanted it, and how despicable that she craved him so.
His gaze roved over her face before locking with hers. Even upside down his eyes enchanted. How easy it would be, looking into those mystical green depths, to forget who and what he was.
Read
Chapter One
here
.
---
Author Info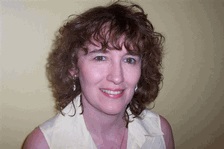 Author Links:
Website
|
Facebook
|
Twitter
|
Goodreads
|
Newsletter
Find Deanna around SOCIAL MEDIA: