Full Exposure (Hands On #3)
by
Cathryn Fox
Purchase link:
Amazon
My rating:
Heat rating: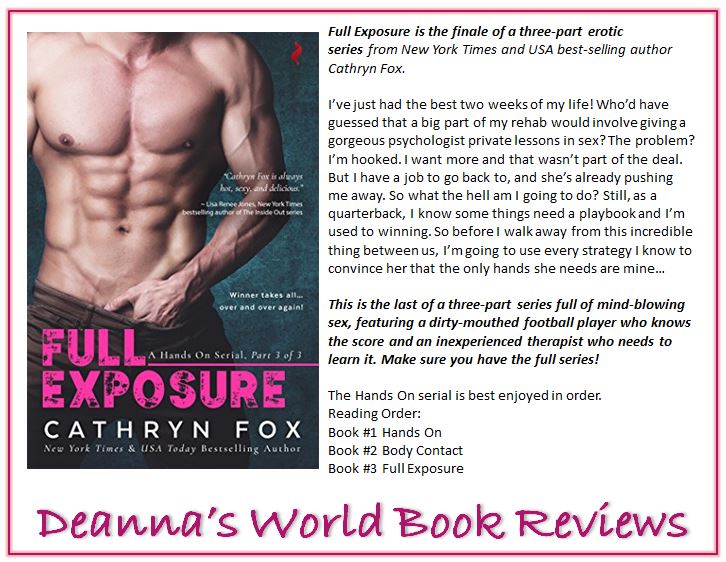 Wow! What a fantastic conclusion to the Hands On serial series. In this installment, Jack and Danielle are finally going to go all the way. The last two parts have been a very sexy built up to this point and Jack has been ratcheting up Danielle's anticipation for a very long time.
This entire serial has been about Danielle sexual journey and her learning about sex. She thinks she's in for the mechanics of "wham! bam! thank you ma'am!" but Jack has other ideas as he slowly initiates her into the joys and pleasures, as well as the intimacies of sex. What neither of them expect is the emotional connection they develop along the day.
It made me a little sad when Danielle continued to cling on to her fear of getting close to people and thought she and Jack did not have a future together. However, it still did not stop her from developing feelings for him. Of course, how could she not? It's Jack!
Danielle was a realist. A life in foster care had taught her not to dream. She didn't believe in fairy tales, but if there was one man who came close to filling the shoes of Prince Charming, it was Jack. Rugged yet sweet, tough yet tender.

Jack was a giver, and he was accustomed to people wanting things from him, not giving back. But she cared about him and wanted to do something that would put the light back in his eyes.
As I've said before, Jack is wonderful. He's strong, protective and caring. He's such a great guy. He treats Danielle with such care and respect. If you're a virgin and need to be initiated into sex, Jack is the kind of guy you want to teach you about it. With him, sex is something to be enjoyed, savored and treasured. He makes it special and in doing so, he and Danielle create an unbreakable emotional bond with each other.
Danielle couldn't help but think he was doing the same thing to her. Peeling away the layers, introducing her to pleasure, and creating a more confident, knowledgeable version of herself once he put her back together again.
Seriously, as sexy as Jack is, he's also the kind of great guy you'd be proud to bring home to meet your mama. He's the total package.
As for this entire serial series, it's a great sex ed 101 only with a scorching heat level and plenty of emotional satisfaction. Ms Fox has certainly made learning about sex fun and beautiful. It's probably not all like this in real life, but this is erotic romance fantasy and a girl can dream.
And on a final note, now that I've met Sam, Luke and Jamie (Jack's siblings), I hope there are stories planned for them too. I particularly want to see the kind of woman who will bring Sam down a notch. Are you open for requests, Ms Fox?
View all my reviews
Other books in the series:
Ab

out the author





Cathryn Fox:
Website
|
Facebook
|
Twitter
|
Goodreads
Find Deanna around SOCIAL MEDIA: