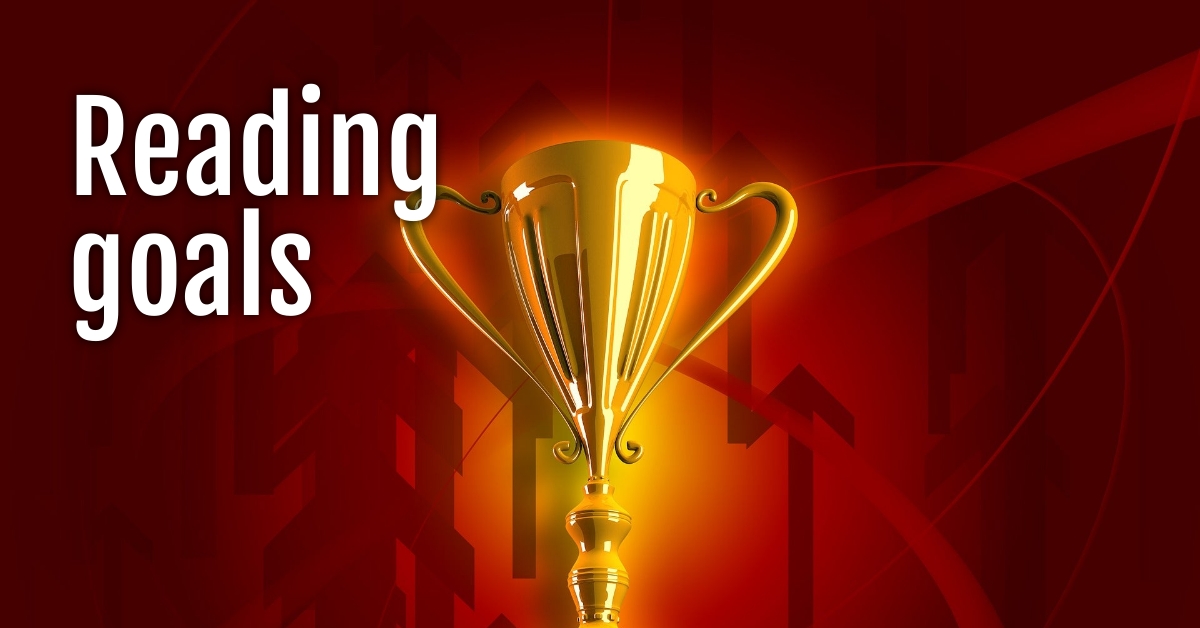 Doing a recap of my reading is one of my favorite bookish things to do each year. I love looking back and seeing what I've read, how I've done. 2022 has been a strange reading year but it's also been good.
As always, my reading goal this year was 100 books. It's the same every year. I always figure, if I can hit 100 books, then I'm happy. I'm actually surprised I exceeded my goal this year with as much as I did because there were months when I felt I was completely stalled with my reading, particularly towards the end of the year. I will explain more later.
This year's reading stats broke down into Goodreads, Kindle, Kindle Unlimited, and a bunch of fun Kindle Reading Challenges that Amazon ran.
To start, Goodreads. As I said before, each year I set my goal at 100 books. Once again, this year, I blew past it, but I struggled. There were a lot of comfor rereads of some favorite authors because at times, that was all I could handle. And then, I was also reading shorter books because that was all my brain could cope with. And since they were shorter, I managed at least one a day, sometimes two. That does wonders for the reading numbers. Hah!
So the Goodreads reading challenge numbers includes only all PUBLISHED works that can be purchased via any book retail platform or downloaded from sites like Bookfunnel that handled book promotions. These books, obviously, are all on Goodreads. It does not include anything that's not found on Goodreads for which I have plenty.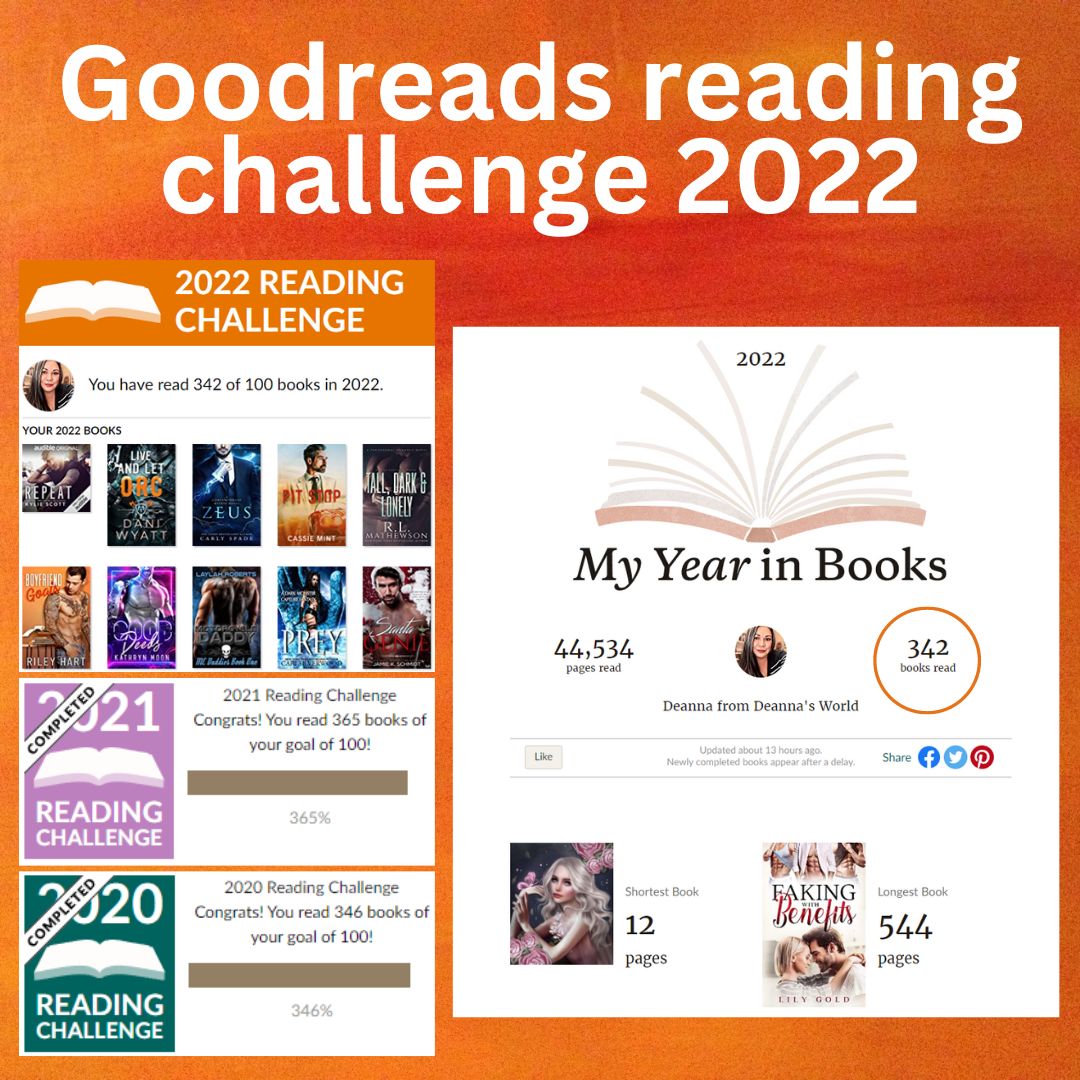 So I landed on 342 books for 2022. It's actually 343, but Goodreads didn't count the last book since it got recorded after what I assume is their cut off for the reading challenge, so I moved it to this year. I've included my reading challenges for previous years too as a comparison. 2022 = 342. 2021 = 365. That was a cool number. 2020 = 346.
The next one is my Kindle Reading Insights which tracks everything I've read that is sent to my Kindle Library. This will include EVERYTHING I've read, including partial manuscripts, work-related books I'm critiquing or editing, bonus content, published books, and Kindle Unlimited books I've borrowed, read and then returned. Obviously, this number will be bigger than the Goodreads number, but surprisingly, not by as much as 2021. A large part of that has to do with two things. One, an author I work for published a lot less this year, and two, we spent two months in the US visiting family and I didn't work as much during that time. There are some rereads in that number too.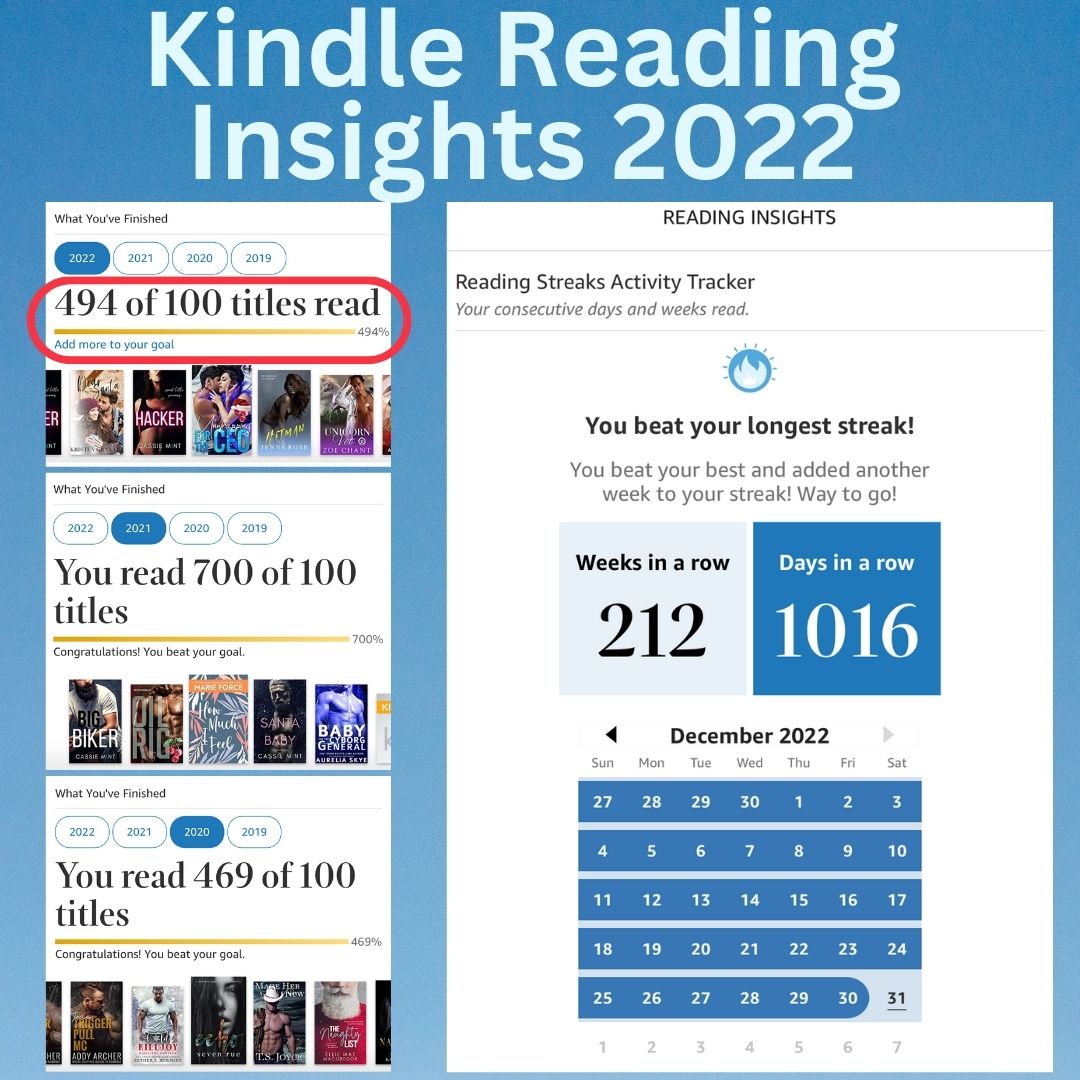 A very cool new stat I got this year is from Kindle Unlimited. I got an email from Amazon (I do not think everyone got it) and it contained all sorts of interesting stats like how many KU books I read, how much it was all worth, etc. Very fun stuff and I loved seeing the stats. I hope they do it every year and add more information to it each year. So cool!!!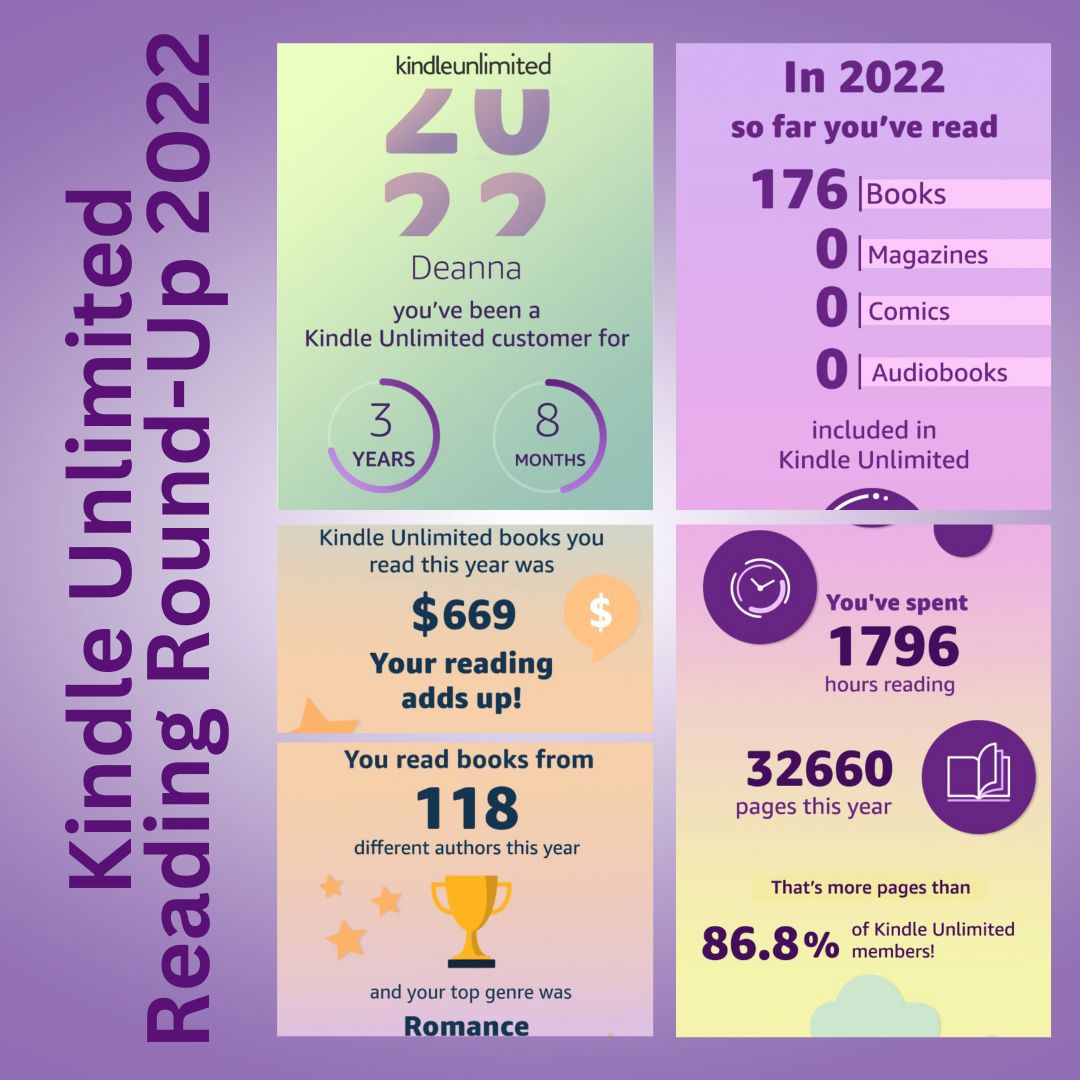 Another fun this that Amazon introduced is their Reading Challenge. It looks to be 4-monthly challenges and there were three in 2022. I was fortunate to be included in them and managed to do them all. They are actually pretty easy, but they have these mystery challenges they reveal every few weeks. Those are not too bad. Some are trickier than other. I had to resort to reading a cookbook for one. Hah! I do enjoy these Kindle Reading Challenges because they are pretty low key and there's a book group where we can share our progress and talk about it. And we help each other out with the harder mystery challenges.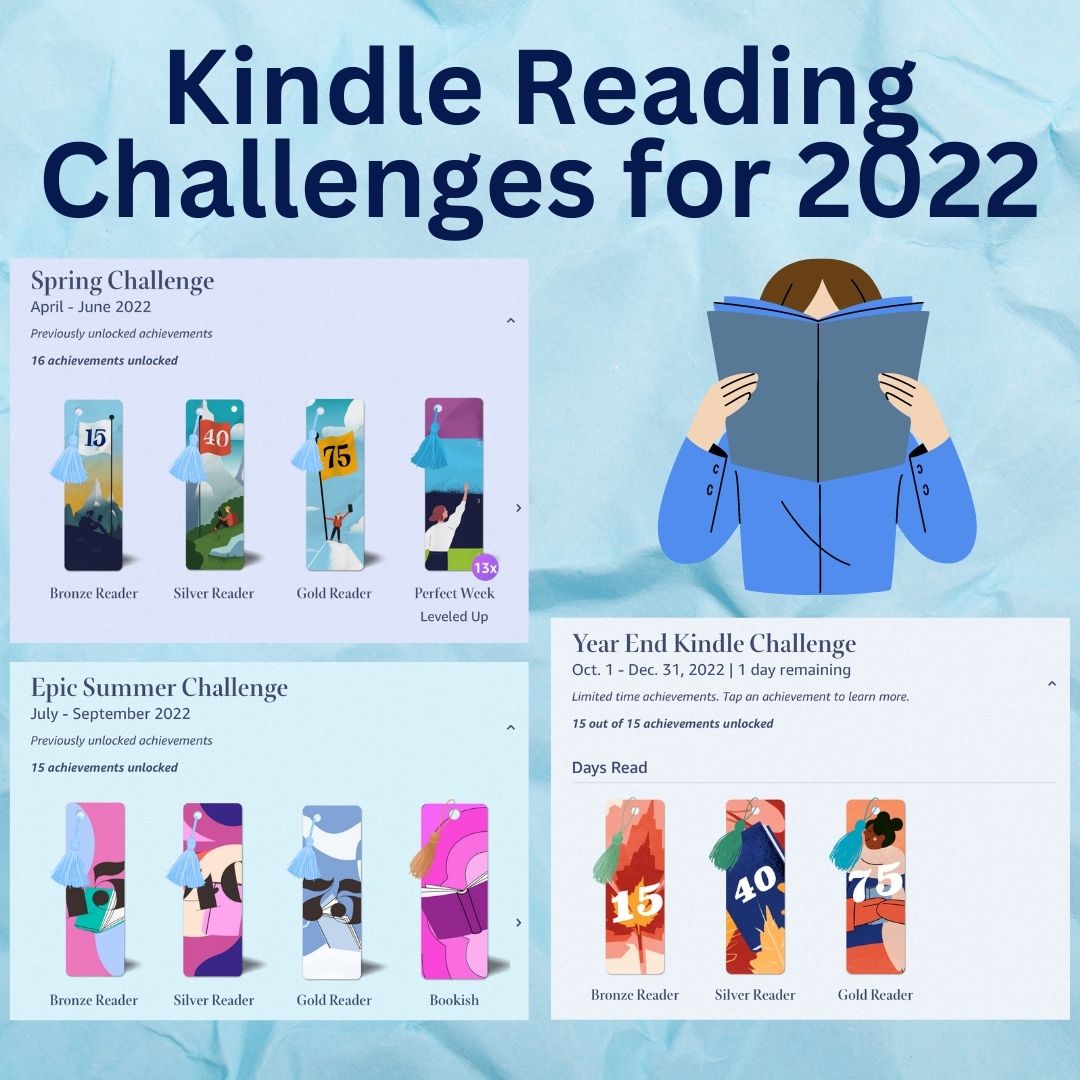 So, goals for 2023. It's the same as always. 100 books on my Goodreads reading challenge and 100 documents on my Kindle Reading Insights. I'm pretty sure I'll exceed those numbers but by how much is always a surprise. Wish me luck!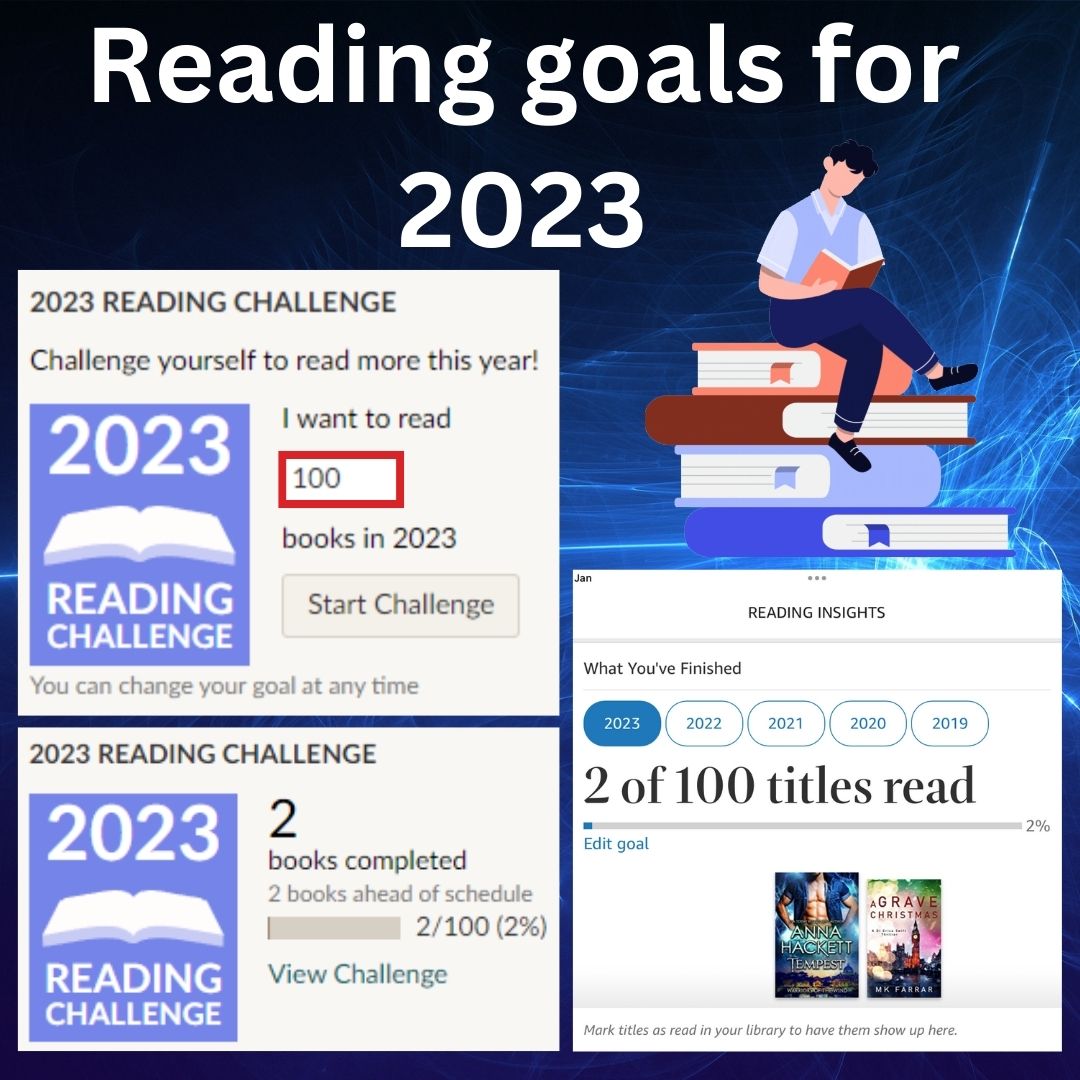 Do you set goals for your reading? How many books do you think you are going to read for 2023?
PS. My 2022 top 10 reads coming soon. Stay tuned!
Find Deanna around SOCIAL MEDIA: