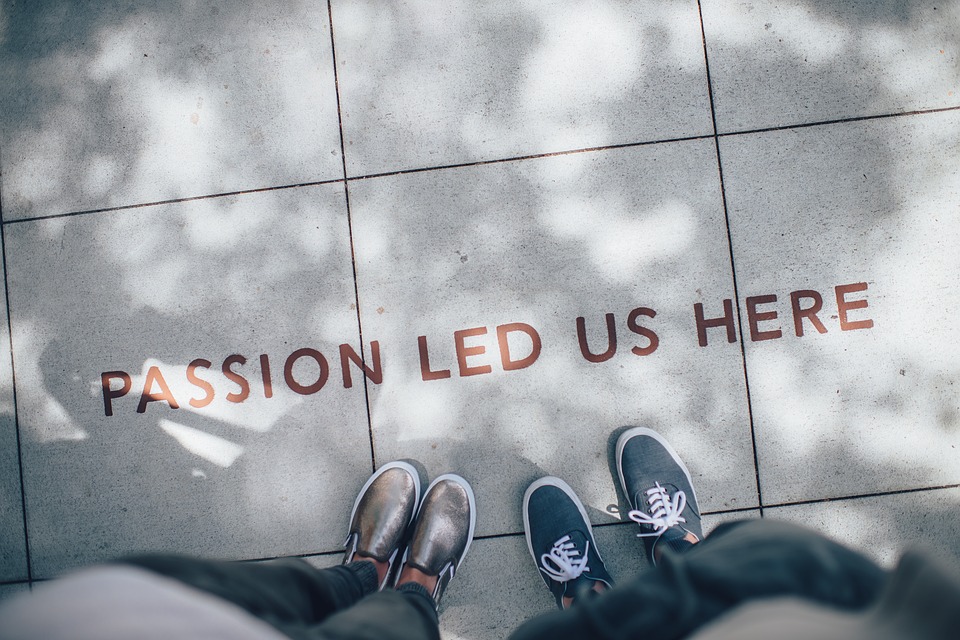 Okay, you are going to have to indulge me because I am enjoying the heck out of these book quotes. Of course, I would since I've read the books and loved them and all these are a special to me in some way. Mostly, they are just fun. And do you know what is the hardest thing about this? Limiting it to only six so I don't overwhelm the post and bore you silly. I hope you enjoy the ones I've picked out today.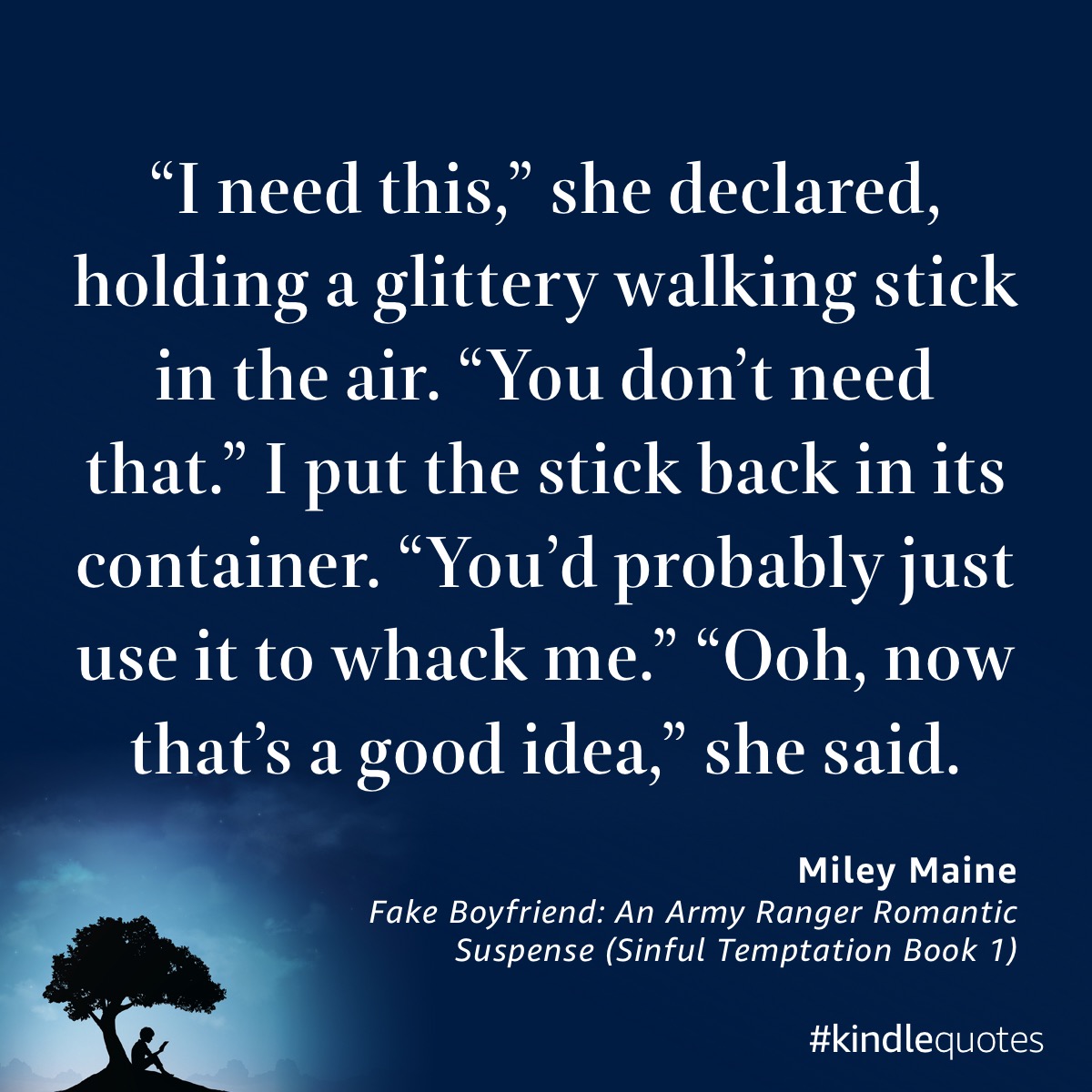 Fake Boyfriend (Sinful Temptation #1) by Miley Maine
Just wanna say that I'd be like the heroine in this instance. If I got a glittery walking stick for hiking, I'd probably try my luck and attempt to prod and whack Steve with it a few times too... just for fun. I'm naughty like that.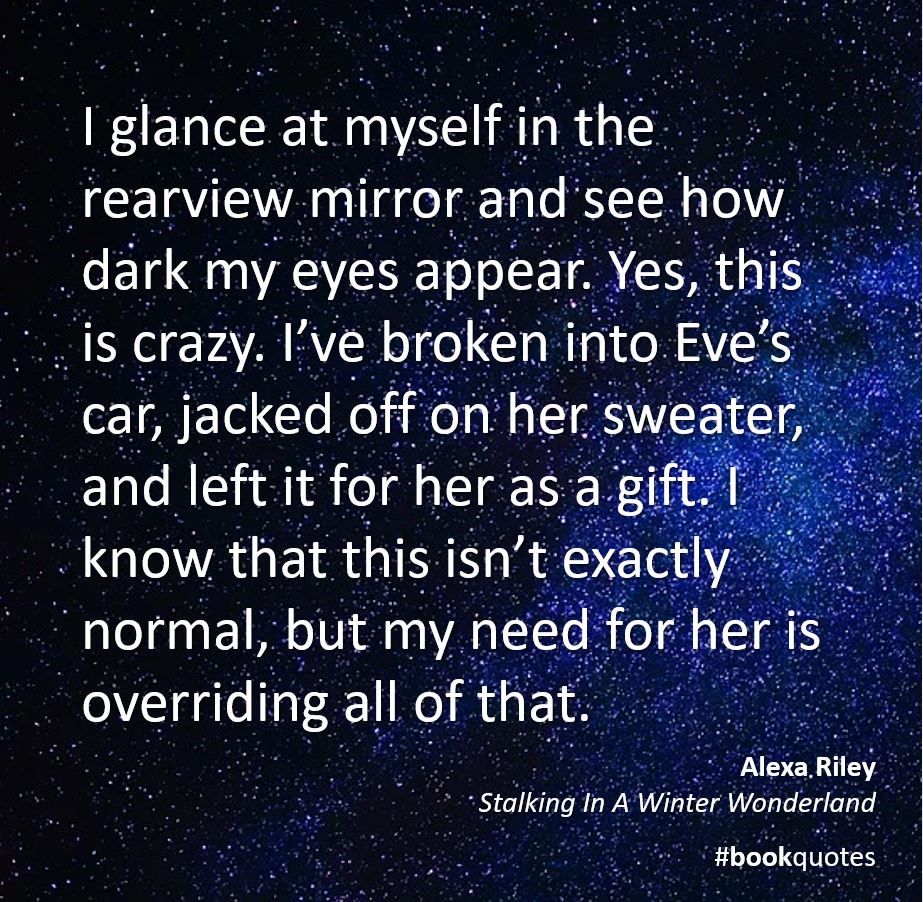 Stalking In A Winter Wonderland by Alexa Riley
This is going to be quite shocking if you're not into over the top possessive, stalkery heroes. This quote caused a lot of controversy in a book group because the majority of the group love this sort of stuff but one person decided to kink shame and the whole group came down hard on that person. The group rules do not allow kink shaming and that got repeated a few times. People love to read what they love to read. It's okay. We know it's fantasy and it's not real. And let's be honest, if this happened in real life, I'd be kinda creeped out, but it was fun to read.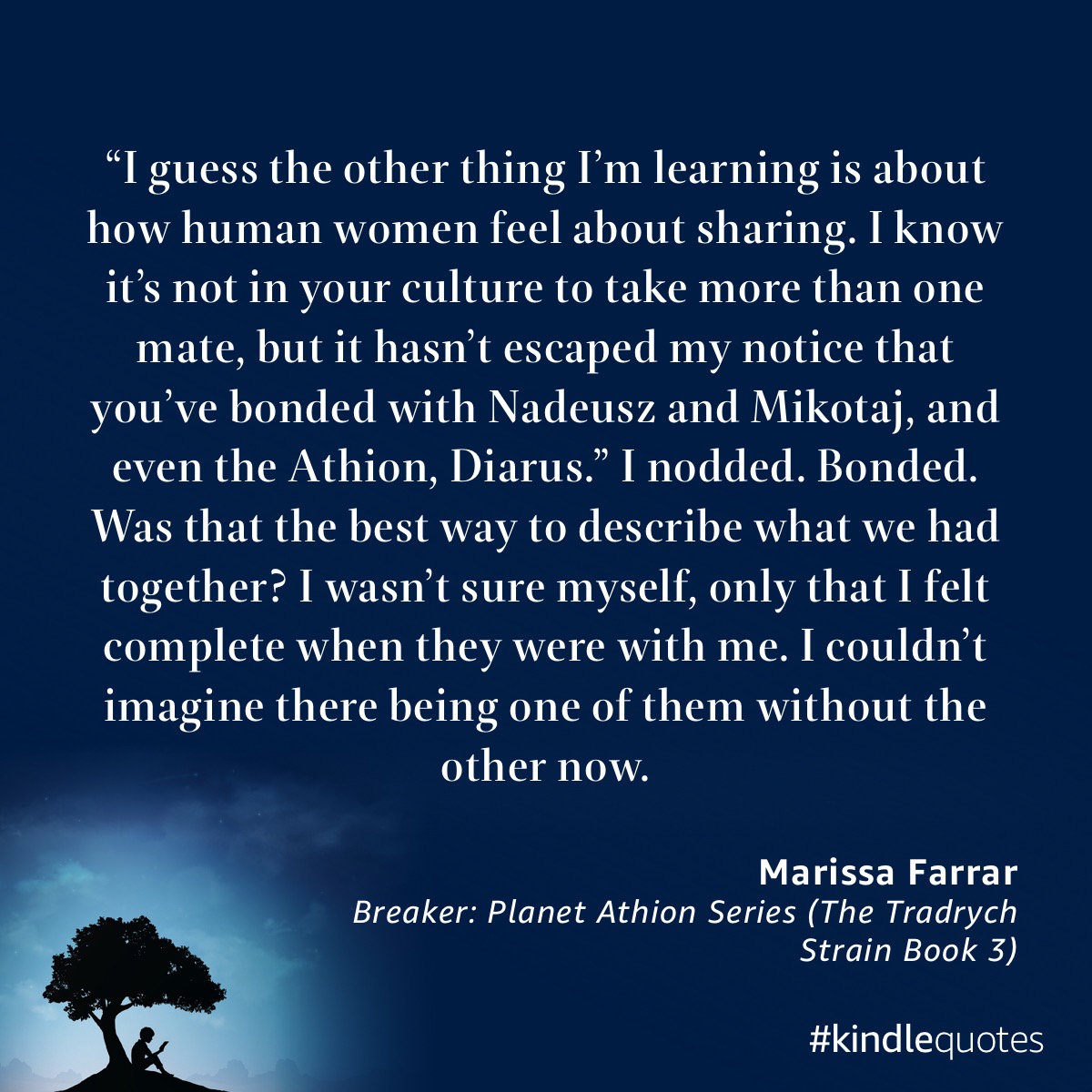 Breaker (The Tradych Strain #3) by Marissa Farrar
There's something intellectually curious about a reverse harem for me. I don't think it's something I'm interested in since the idea of looking after a few other men on top of Steve makes me break out in hives. That's just a lot of men to look after. I think it's a great fantasy and they are fun to read but then I think I'd like to leave them in the realm of the imagination. I can't even begin to imagine what it means to not be complete unless there's more than one man in one's life. Hang on, the next quote is a reverse harem one too and I have a little story with that one.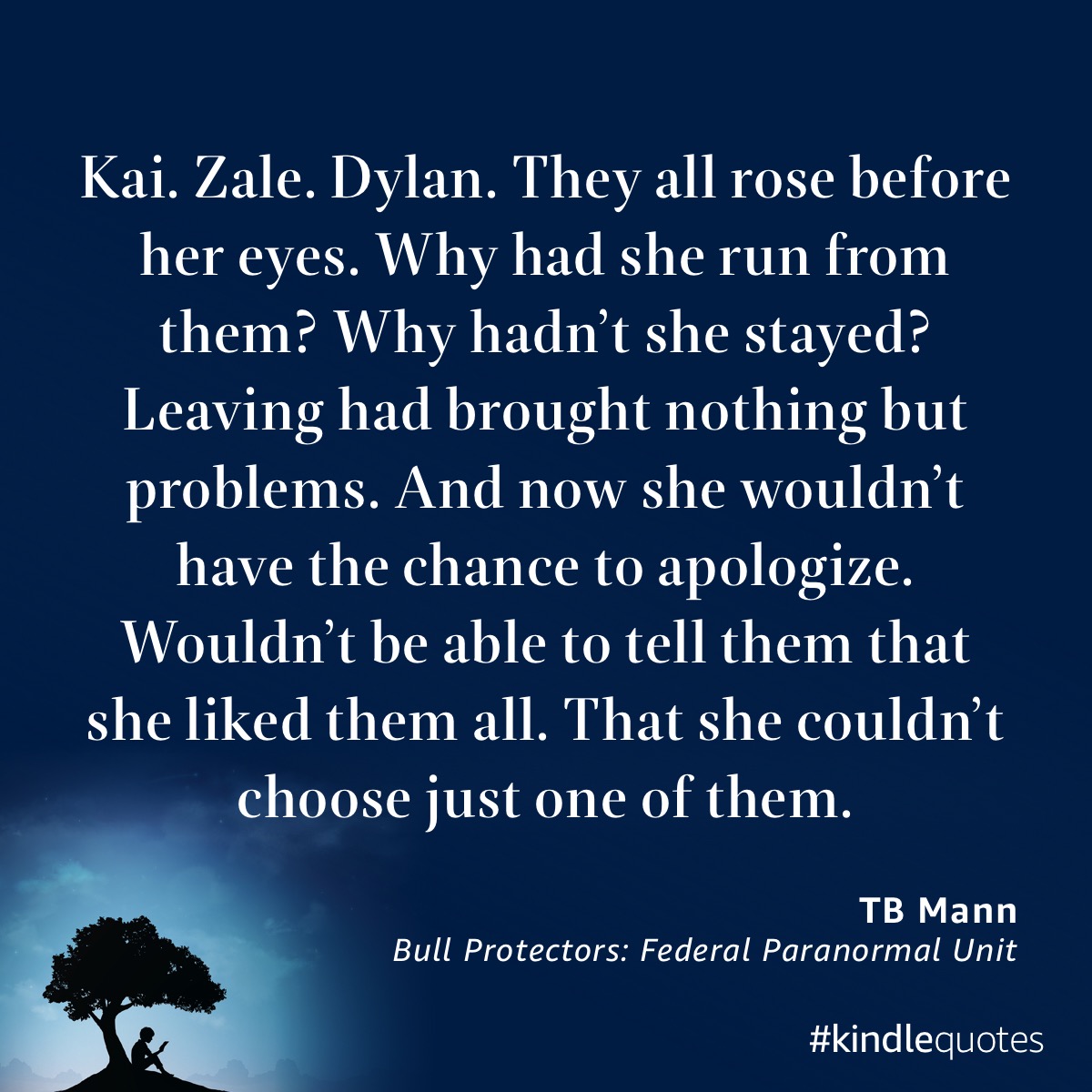 Bull Protectors: Federal Paranormal Unit by TB Mann
Ah, reverse harem romances. The common dilemma of loving not one but many men. Speaking of, I had a funny conversation with Steve that went a little something like this. As you can see, I don't think he's into the whole reverse harem concept.
Me: I think I'm going to get two or three more husbands.
Steve: Sure, as long as they don't live with us, and you never see them, and you don't have anything to do with them.
Me: So that's a no then.
Steve: No, I didn't say no. I just laid down some conditions on how you can have them.
Me: That's a no.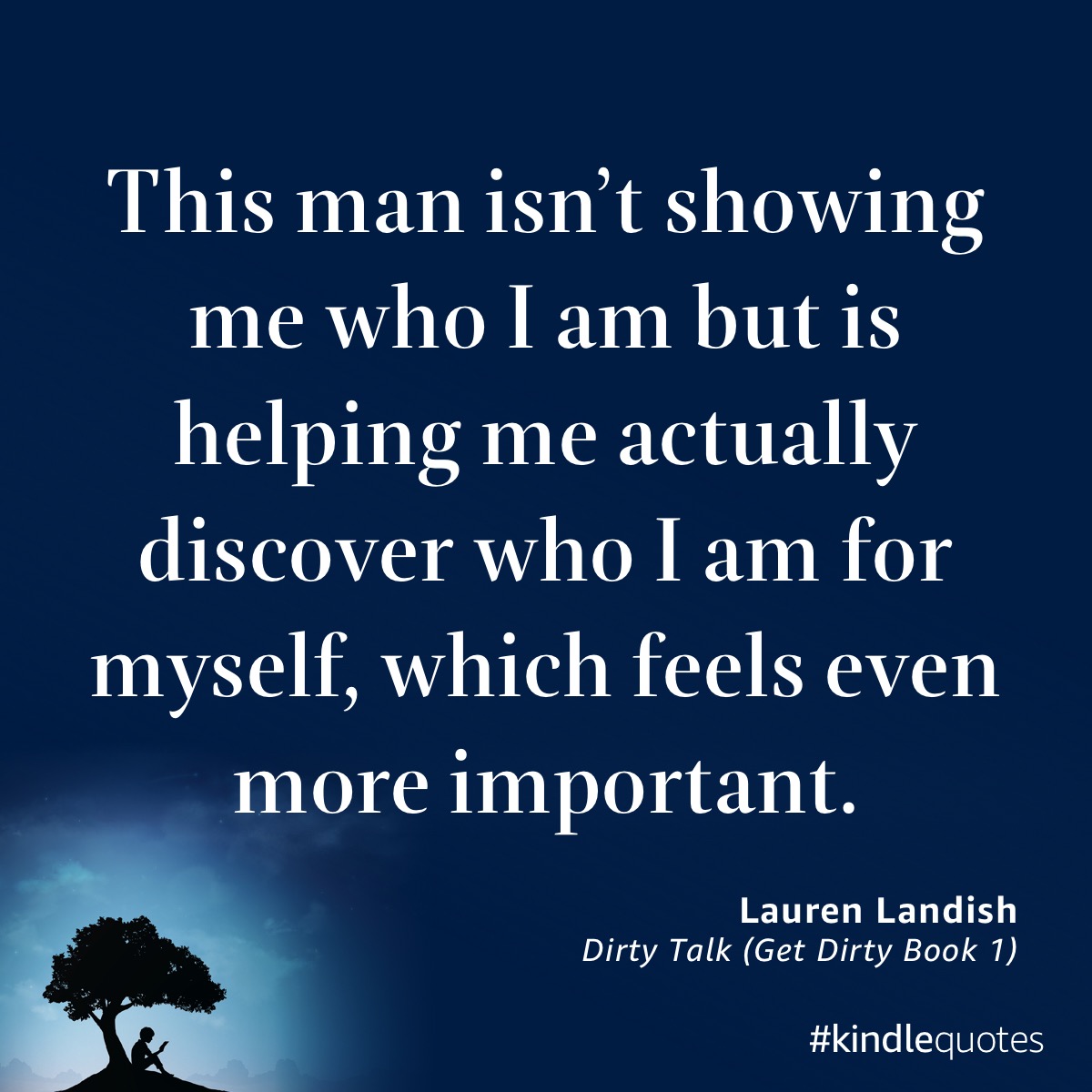 Dirty Talk (Get Dirty #1) by Lauren Landish
I remember loving this book because the hero had a lovely, filthy mouth and boy, could he talk dirty. I also remember him being wonderful and supportive and just generally an awesome guy. I love that he did this for the heroine, help her discover who she is. That's such an important thing to find in a relationship.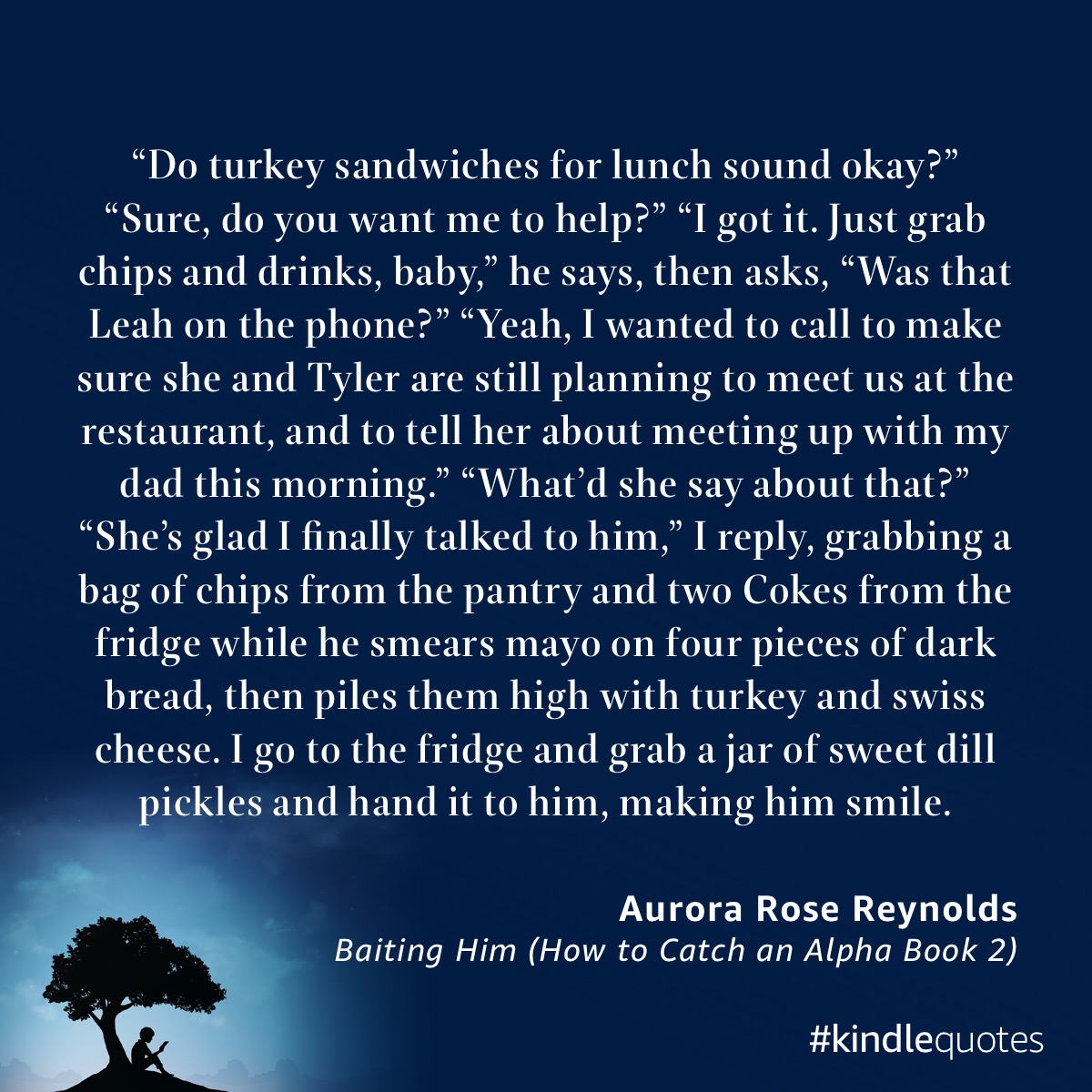 Baiting Him (How To Catch An Alpha #2) by Aurorra Rose Reynolds
I was having this conversation the other day about how Americans eat their sandwiches differently from the rest of us because they always serve their sandwiches with a side of pickle and chips. I had never encountered that before in my life until my first time in Washington DC out to grab lunch during a work day. I was handed my sandwich along with a pickle and a bag of chips. It confused the heck out of me and honestly, didn't know what to do with the extras. Steve still has a pickle and chips on the side with his sandwiches when I make them for him now and he hasn't lived in the US for over twenty years.
So that's it from me on the quotes. I hope you've enjoyed them and got a little peek into how my brain works while I'm reading. If you've got a particular book quote that you love, do share them with me. I've love to know what stays with you and stands out for you while you're reading.
Find Deanna around SOCIAL MEDIA: