The Christmas Proposal (Perfect Kisses #1)
by
Miley Maine
Purchase link:
Amazon
My rating:
Heat rating: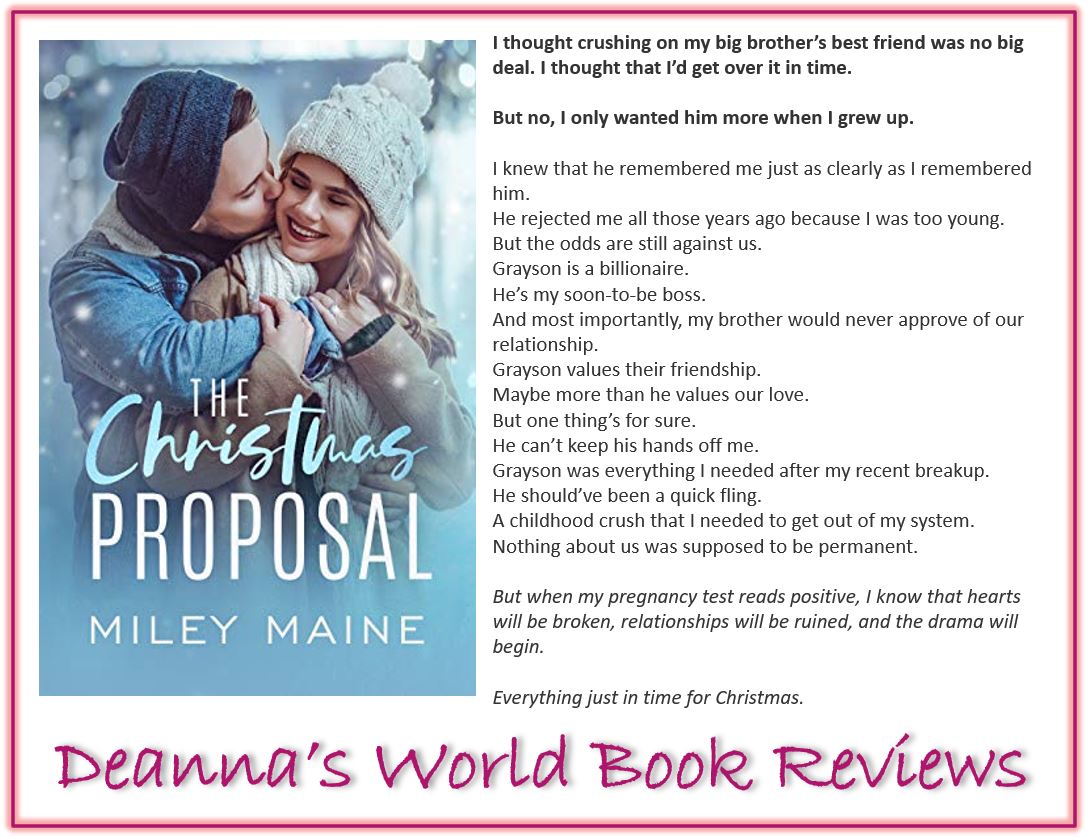 The Christmas Proposal is sweet, sexy, and compelling. Once I picked it up and started reading, I couldn't put it down. I felt like I was being dragged into Grayson and Serenity's story and needed to know what would happen to them.
Grayson confused me. I liked him well enough but he came across as a bit of a player in the beginning and I felt like I could not pin him down. But as the book progressed, his feelings changed and I think he struggled with it every step of the way. I was probably confused because he was confused. He was also honest and upfront with what he wanted from Serenity from the start. And when things changed, he addressed it the best way he knew how. It wasn't his fault that it all blew up in his face with his best friend and Serenity's brother showing up unexpectedly while he and Serenity were still coming to terms with their relationship. I did like that Grayson was a talker and a dirty talker, and he was dominating but considerate at the same time. There's a little bit of kink in him that I enjoyed a great deal.
Serenity is a little lost. She's been rejected by her dream school. She's not sure what she wants to do with her life, and her boyfriend just dumped her. Things are a little uncertain for her and she's taking some time to try to find her feet after being hurt, discouraged, and heartbroken. Then comes Grayson who manages to sweep her off her feet. I liked that Serenity tried to be as honest about her feelings as she could and stood up for her feelings and what she wanted. It's not easy with someone as dominant and confident as Grayson. And it also doesn't help when things blow up and her own family is upset with her. I really felt for her and was glad that she at least had the support of one person when she needed it.
I enjoyed this story a great deal although there were times when I wanted a bit more depth in certain scenes, a little more cuddling after sex, and definitely more of an epilogue that was maybe a few years out instead of just the very next day.
There's something about Ms Maine's writing that drags me into the story and makes me want to keep reading even if at the back of my mind there's this niggling thought that the writing's not that great. It's this strange compulsion I get to keep turning the pages and wanting to know what's happening despite that. And after two books, I've gotten used to the writing style and now I just want to read all her books because I kind of like the feeling of being dragged into a book against my wishes and enjoying myself along the way. I'm debating whether to dive into one of the Sinful Temptations books or go to the next book in this series. Hmmm... decisions, decisions.
View all my reviews
Ab

out the author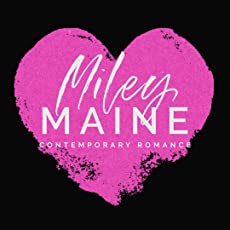 Miley Maine:
Facebook
-
Goodreads
-
Amazon
Find Deanna around SOCIAL MEDIA: