The Royal Baby Gift
by
Kandy Shepherd
Purchase link:
Amazon
My rating:
Heat rating: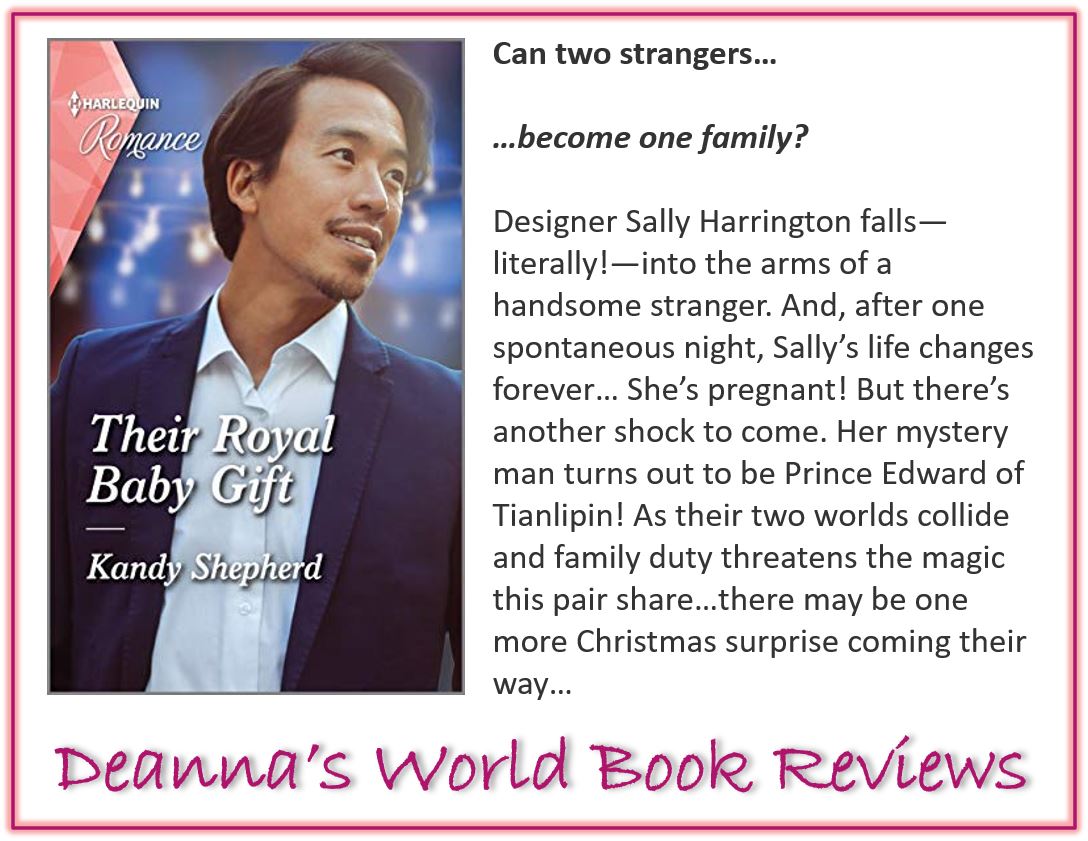 Their Royal Baby Gift is enchanting, charming, and utterly romantic. My heart ached for Sally and Edward as they faced an impossible situation set amidst the lush tropical paradise of Singapore an Edward's own island country.
I always enjoy books set in places that I'm familiar with since it gives me a sense of closeness. Ms Shepherd has done a fantastic job with getting the setting right from the richness and luxury of the hotel where Sally and Edward met to the culture and mannerisms of the Singaporeans who graced the pages of the book, and the authenticity of Edward's ancestry and heritage. I felt like I could imagine what Tianlipin was like as a country.
I fell in love with Edward as soon as he stepped on the page and rescued Sally. And Sally is right. He's hot, handsome, and honourable. And he's caught in a very difficult situation where he has to put duty above his personal desires. Everything about Edward is wonderful. From his dashing rescue of Sally to his care for her, and how tender and protective he was. I love that he fought for Sally and didn't simply accept his fate.
Sally is lovely but also headstrong, independent, and determined. She's thrown for a loop with her emerging feelings for Edward when she's held herself closed off for many years after a tragedy in her life which led to pain and heartache. She's protected herself and her heart to prevent ever getting hurt again but it's also kept her from meaningful connections in her life. I felt bad for her when she struggled with her role in Edward's life and his in hers. It certainly seemed awful when she had to be kept hidden like a shameful secret. I love that she expressed herself and Edward listened to her concerns. I love that they communicated as adults and didn't let misunderstandings get in their way. They had enough hurdles to overcome without unnecessary miscommunication.
It's been a while since I've read a Harlequin Romance and this reminded me how much I love them and how I should read more of them. They are so heartwarming. They fill my heart and soul with joy, comfort, and warmth. Not to mention how wonderfully romantic they are. I need to make it a point to read more of them.
View all my reviews
Ab

out the author




Kandy Shepherd:
Website
-
Facebook
-
Twitter
-
Goodreads
-
Email
-
Amazon
Find Deanna around SOCIAL MEDIA: