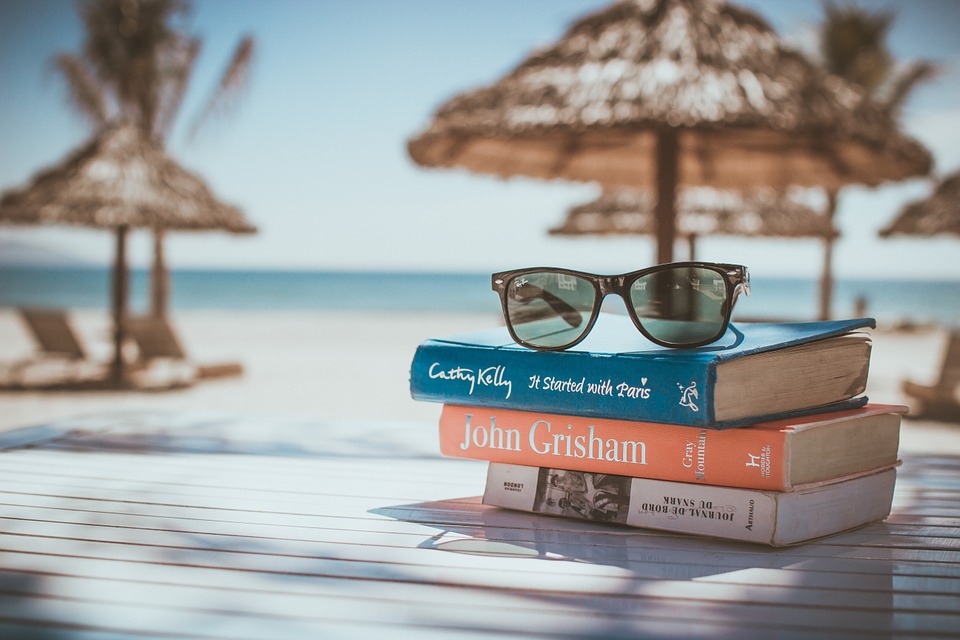 Over the years I've seen people ask the question that if you were stranded on on desert island which books would you keep with your or bring with you to read. In the beginning, I couldn't make up a list because I've read and enjoyed so many books it was hard to pick. But over the years, some books have stood out to me and you've probably heard me mention some of them here and there too. Not in any particular order, here are the books I'd bring with me to a desert island. I didn't limit the number of books so this is probably a lot to carry to a desert island, but I'm hoping I'd be able to bring a box instead of a small bag. 🙂
Dragon Bound (Elder Races #1) by Thea Harrison
This is one of my favorite dragon shifter stories of all time and it sparked my love of dragon shifters. I have always loved dragons having grown up reading about Anne McCaffrey's Dragon Riders but there's something special about how alpha and growly and powerful Dragos is. Yeah, I have a thing for powerful men. Plus his single-minded pursuit of Pia and his total absorption of her is simply delicious. I've read this book quite a few times and I still find it fresh and exciting every time.
A Discovery of Witches (All Souls Trilogy #1) by Deborah Harkness
This book is a piece of literary artwork. The writing is so rich, so lush, so immersive that I felt I was a part of the world. The descriptions of Matthew's wine cellar, his properties, Matthew himself had me sighing in pleasure. The words Ms Harkness crafted were a joy to read. Even if you're not into vampires and witches and all things paranormal, I would recommend reading this for the literary masterpiece that it is.
The Deepest Well (Dominion #1) by Juliette Cross
This book broke my heart. The suffering of George and Kat, what they both endured hurt my heart and I still tear up and ache when I think about them and this book. Of all the books I've ever read that have hurt me to the core, this book sits at the very top of the list. I recently read a book where George makes an appearance and there is mention of his and Kat's suffering. I cried many tears over the few paragraphs he appeared in because my heart still hurts for them. My only complaint of this book is I felt I needed more from the ending of the book. Something more concrete and complete to seal their happiness after what they went through. Ms Cross later wrote a short that was part of her newsletter which gave them a beautiful, romantic, satisfying happy ever after, and that made my heart glad.
The Vessel Trilogy by Juliette Cross
I need to include this because I'm gaga over Jude. He's so dark, so passionate, so possessive, so alpha. Everything I love in a hero. And his love and passion for Gen is all encompassing. Not to mention his protectiveness. I'd read this series over and over again if only to experience Jude in all his possessive alpha glory. And yes, I know I'm mentioning Ms Cross again, there's a very good reason for that. She's awesome. And yes, there's another one.
Coldest Fire (Dominion #4) by Juliette Cross
This book! OMG! This book! I have been waiting YEAR AND YEARS for this book. Ever since I met Uriel in the Vessel Trilogy I wanted a book for him. Ms Cross doesn't disappoint with Uriel's story. He is utterly magnificent. He blazes across with page with fiery power and passion. It's all consuming. I read a lot of authors I enjoy and go back to but not many of them linger in my mind and in my heart the way Ms Cross's characters do and this book is the perfect example of why.
Heart of Obsidian (Psy-Changeling #12) by Nalini Singh
I think this is the book many fans of the series were waiting for. Kaleb's story. This book is rich, dark, passionate. I love the series in general and have read all the books but this story stands out to be because of Kaleb's undying determination to find Sahara, his love and devotion to her, and how so much of his life has been about getting her back. It's a passionate and enduring love story.
Shield of Winter (Psy-Changeling #13) by Nalini Singh
I love the Psy as a race. Their coldness, their rationality, their powers. And most of all, I love watching them thaw and feel and fall in love. There are many of the Psy books I can point to as special, Jude's story in Caressed by Ice is a favorite as well, but Vasic is special since he's an Arrow and I have a deep fascination for the Arrows. I do need to point out that this series needs to be read in order since it builds across an overarching story arc but as one to reread, this is definitely on my list.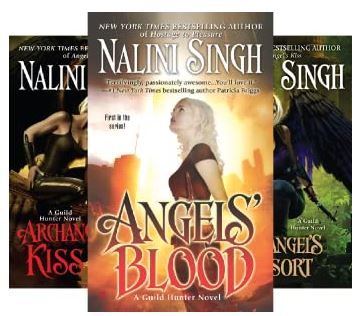 The Guild Hunter series by Nalini Singh
I'm sure you're seeing a bias here. Some favorite authors making the list. Here's the thing. I adore Raphael and Elena. Raphael's love for Elena is breathtaking and it steals my heart with every book of their I read. It grows more and more encompassing with each installment to the series and it has me in its unbreakable clutches. I've just finished Archangel's War and it was brilliant. I can't even begin to describe how perfect the book is. Aside from the action, the story arc, the intrigue, the characters, what keeps me going back time and time again is seeing Raphael declare his love for Elena in as fierce and romantic ways as possible.
The Perfect Rake by Anne Gracie
And now to switch the palate away from so much paranormal to something lighter, a little more fun, and historical. This utterly delightful story by Ms Gracie stays with me because of one incredible scene where Gideon is so enamored with Prudence that he's completely oblivious to the beauty and charms of her more attractive sisters. Gideon's single-minded focus on Prudence and how he sees her for the wonderful woman she is is sigh-worthy and worth many rereads.
Scored by Lily Harlem
Scored is the first book of Ms Harlem's I ever read, I think, and I've been a fan ever since. This is an erotic romance but it's got so much heart and integrity built into it, and so much romance, that I was blown away. Lewis is just about the nicest guy I've ever met as a hero. I've been in love for Lewis for a long, long time and I've reread this book so many times I've lost count, just so I can experience Lewis over and over again. It also helps that he's hot as heck and sexy as all get out.
Men of Haven and NOLA Knights series by Rhenna Morgan
For some of the most delicious, alpha men I've read, you can't go wrong with Ms Morgan's Men of Haven series. She's recently started a spin-off series called NOLA Knights and Sergei is equally yummy. I have some preferences and favorites in the men from the series but overall, the entire series is lush, romantic, and Kindle-melting. I'd read about these men and how they treat their women many times over if only to experience their brand of love and possession.
Heart Strings by Melanie Moreland
Ms Moreland is a recent find but I've loved both her books that I've read and I know they will be books that I am happy to read over and over. This was just a beautiful journey of two people finding each other, falling in love, and fighting to keep that love. It's sweet and emotional, but also sexy as heck. There's a maturity to the characters and their ability to communicate and not manufacture conflict. Life is hard enough without manufactured conflict based on misunderstandings from a lack of communication. In reality, I'd bring all of Ms Moreland's books with me but if I only had to pick one, it'd be Heart Strings. Like its name, it really does pull at your heart strings.
Revved To The Maxx by Melanie Moreland
Okay, one last book. I needed to mention this because it's such a fun book and every now and then, it's necessary to read something that's light and fun. It's still filled with emotion, but this is so quirky and adorable. Charly is just about the cutest heroine I've encountered in a very long time and the combination of her sass and Maxx's grumpiness is hella fun and we all need a little fun now and then, especially if we're stuck on a desert island and need a little lightheartedness when rescue seems so far away and we're tired of drinking from coconuts and eating fish all the time.
Phew! So there you have it. Here's my list of desert island keepers as of today. I can't imagine it would change much but I expect I'd add more to them over the years as my reading progresses and more wonderful books are released.
Now you tell me. What are you desert island keeper books or authors?
Find Deanna around SOCIAL MEDIA: