My rating:
Heat rating: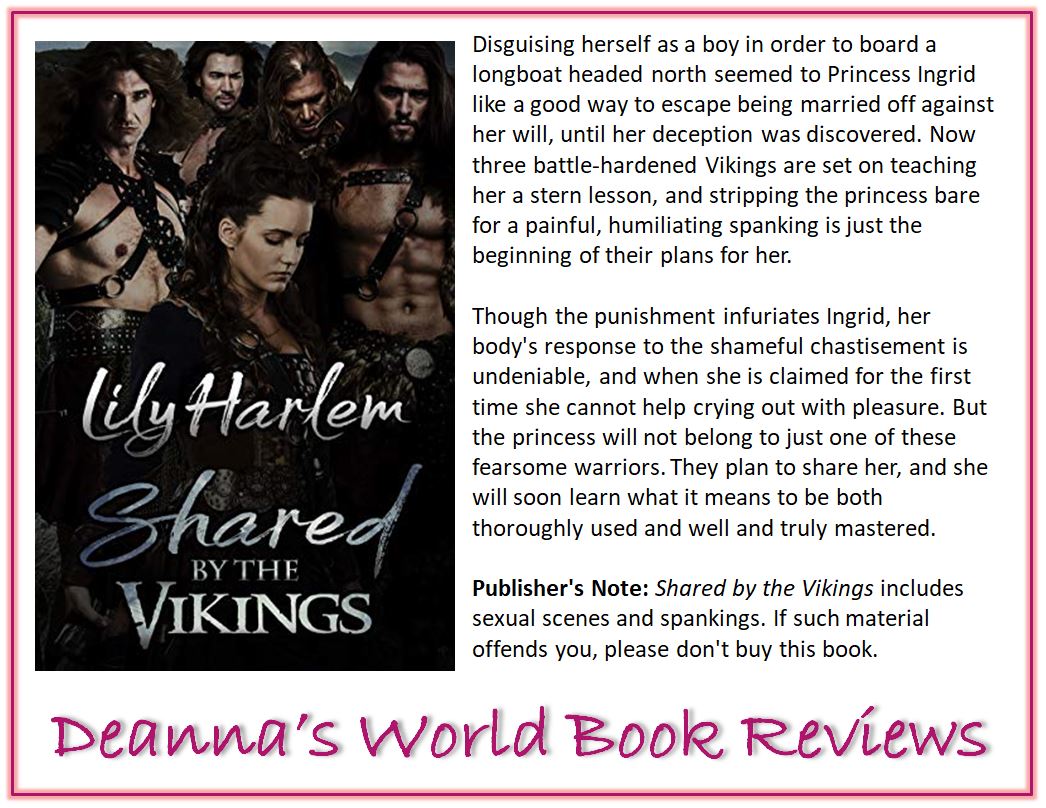 Brave, brawny Vikings and a strong, fiesty princess. Mix together in sexy cocktail of love, protection, and defiance. Join Ingrid as she sets of on an adventure to escape an unwanted marriage and finds more than she ever imagined.
Lily Harlem in a long time favorite author of mine and her latest foray into the reverse harem genre with sexy Viking warriors is a winner. These tough, demanding, protective Viking men certainly swept me off my feet with their brand of loving. The rough of tumble of Erik, Gunnvar, Tali, and Raud are enticing and delicious. I love the way they care for and protect Ingrid, at times, even from herself.
And Ingrid is no shrinking violet either even though she is a princess. She's determined, headstrong, a warrior princess and the perfect Viking shield maiden. Skilled in combat with nerves of steel. Even when faced with heartbreak and pain, she is a survivor and makes the best of her situation. I love that she knows her worth and her desires and isn't afraid to own them. She also has a disobedient streak in her which I find amusing since it brings about rather predictable results are her Viking men discipline her.
This was a fun, fun, fun afternoon of reading for me and I enjoyed every moment of it.
View all my reviews
Ab

out the author






Lily Harlem:
Website – Blog – Twitter – Facebook – Facebook author page – Pinterest – Raw Talent – BritBabes – Hockey Romance – Newsletter subscription – Hot Ice – Google+
–
Harlem Dae – Goodreads
– Amazon
Find Deanna around SOCIAL MEDIA: