Can you believe it's the New Year already? 2017 has come and gone and what a year it's been. 2017 was kind of a rough year for us. We had a lot of family issues to deal with. Other than that, it was a decent year.
On the reading front, 2017 has been an excellent year for me. I read 181 books in the year. A personal best. My previous record was 171 a few years ago. Not sure if I can top that again this year, but I will try. Here's a snapshot of my year in books.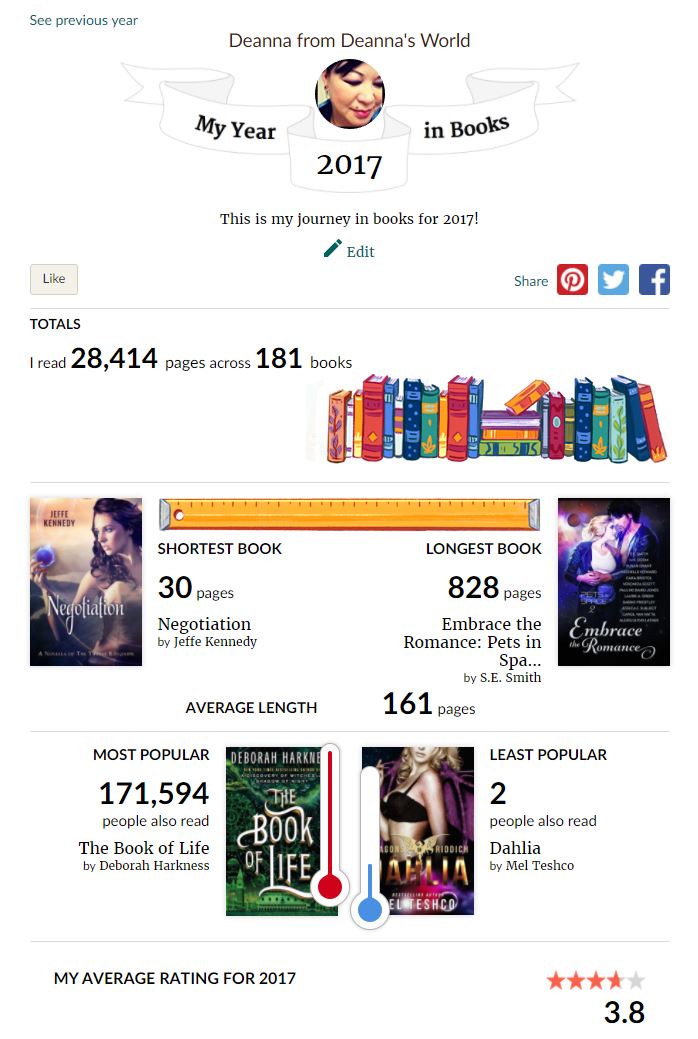 As for December reading. I had a REALLY good month. Surprisingly, I read a lot more books than I anticipated. That always makes me happy.
Here's what I read for the month.
Wow! It's been a big reading month for me. Can't remember the last time I read so many books in a month! I'm super pleased about it.
To start, I finished a series I've been enjoying for a long time. It's always a bittersweet moment when I finish a series. I loved this one because it had gargoyles in them and I love gargoyles.
Hard Breaker
by Christine Warren was a good conclusion to the series. It brought everyone together and of course, good triumphed over evil.
Amid the Winter Snow
was an anthology which featured one of my favorite authors, Thea Harrison. In reading it, I also enjoyed the entry by Grace Draven. It was utterly romantic. I will be reading more of her work in the future.
With the finish of the Gargoyles series, Christine Warren is also embarking on a new series.
Something To Howl About
and
Baby, I'm Howling For You
is exactly the kind of fated mate, paranormal romance I love. I enjoyed both those books immensely.
A Conspiracy of Whispers
by Ada Harper sees me reading a new-to-me author. I enjoyed this book tremendously. It had a real Blade Runner (the original) feel to it and beautifully written.
Another new-to-me author is Katie Allen. Her two books I read,
Acting Lessons
and
Baking Lessons
are two of the funniest books I've read all year. She does romance, steamy and comedy all rolled into one so well. At one point, I was laughing so hard, I had to put my Kindle down and Steve looked at me like I had lost my mind.
And finally, another end of a series, another bittersweet moment.
The Emerald Lily
by Juliette Cross was a stunning end to a fantastic series. I'm so head over heels in love with the hero, Mikhail.
That's it from me. What did you read for this last month? Do leave a comment and let me know.
And stay tuned for Helen's reading list for the month too.
Find Deanna around SOCIAL MEDIA: