My rating:
Heat rating: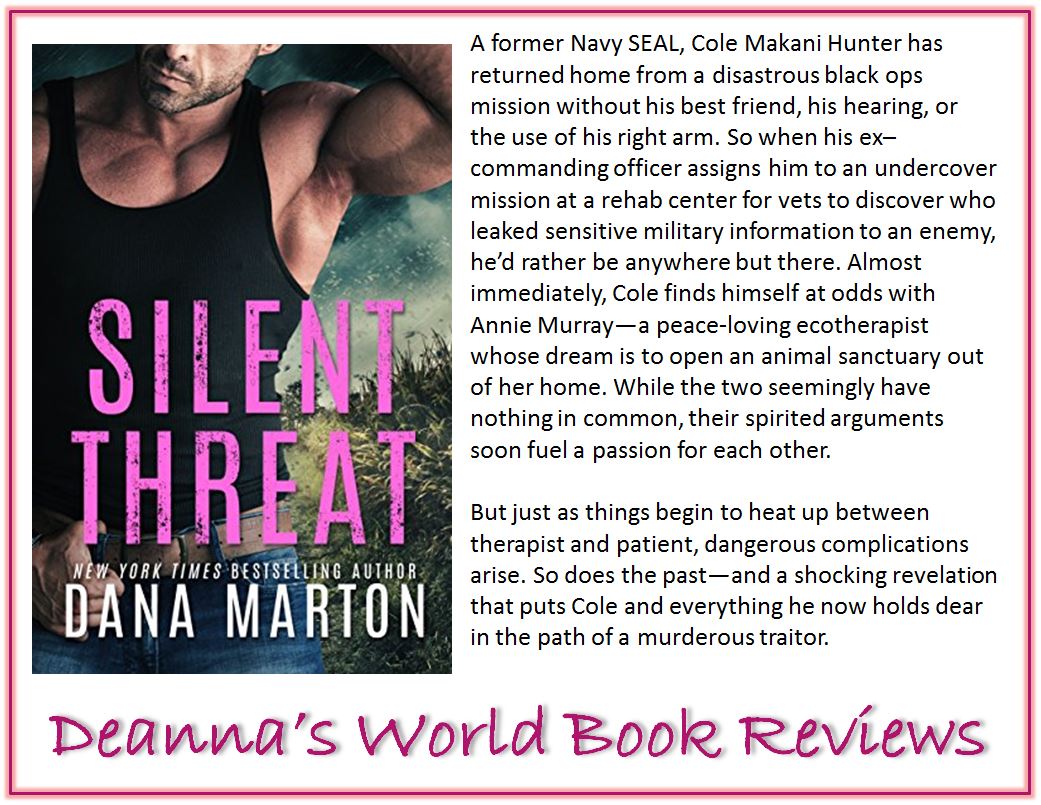 Silent Threat is a heart-thumping romantic suspense with a damaged hero and an optimistic heroine. It brings together ecotherapy, wounded war veterans and a sociopathic stalker with delusions of his own superiority.
I enjoyed Silent Threat but then, I knew I would since I've read other books by Ms Marton and have enjoyed them on the past. One of the things I've enjoyed about Ms Marton's writing is the humor she injects into the story. While this story had some funny moments, there wasn't the laugh out loud humour I've enjoyed in the past. The suspense though, was gripping and intense and it kept me at the edge of my seat the whole time. I kept wondering what Cole's undercover mission was and even got it wrong at the beginning. And Ms Marton kept the identity of the bad guy a tightly held secret right to the very end and the big reveal.
I liked Cole a lot. He is perhaps one of the most damaged heroes I've ever read. But in spite of his injuries, Cole is a personality and a force to be reckoned with. It's his Navy SEAL training and endurance. He's also honorable and protective, even as he struggles with his issues and disability. I liked that while Ms Marton mentioned Cole's disabilities, she didn't let it get in the way of him being competent and able. Cole was able to compensate for his disabilities to still be a fully functioning and contributing person. I also liked the way Cole connected with Annie and she shone a light into all the dark places in his soul. I liked that Cole felt that with Annie there was hope of a life for him beyond his injuries and issues.
"But even if he couldn't listen to her heart, couldn't listen to the rain, a peace descended on him from watching the quiet pleasure on her face. She wasn't a striking beauty, but her serenity enthralled him. He couldn't look away. She had reservoirs of inner peace and kindness that reflected on the outside, and both qualities drew him."

""I'm going to get a cup of coffee. Would you like some?" he asked, because she suddenly looked uncomfortable with him, and because he didn't want to chat, didn't want to explain that he was deaf. He didn't want to go through the whole ritual of the surprise, then the apologetic murmurings, then the pitying looks, then the awkwardness of the person not knowing how to talk to him. The whole one-act play when the other person pretended hard that everything was A-OK, while acting completely weirded out. He couldn't read Kelly's lips because she suddenly dropped her head, looking down at her boots,..."
As for Annie, I thought she was going to be a woo-woo ecotherapist with her head in the clouds but she was so much more than that. She was strong, competent and capable with a sensible, responsible side to her, even though she was an utter bleeding heart when it came to wounded animals and her animal sanctuary she ran out of her garage at home. Annie also has a peace and kindness to her which makes her radiate with positivity. While Annie argued with herself about patient/therapist ethics, I got impatient with her. I wanted her to throw her ethics out the window and give in to her feelings for Cole instead of running away from them.
So far, I've enjoyed everything of Ms Marton's I've read. I look forward to other her other books in the future.
View all my reviews
Ab

out the author




Dana Marton:
Website
-
Facebook
-
Twitter
-
Goodreads
-
Amazon

Find Deanna around SOCIAL MEDIA: