My rating:
Heat rating: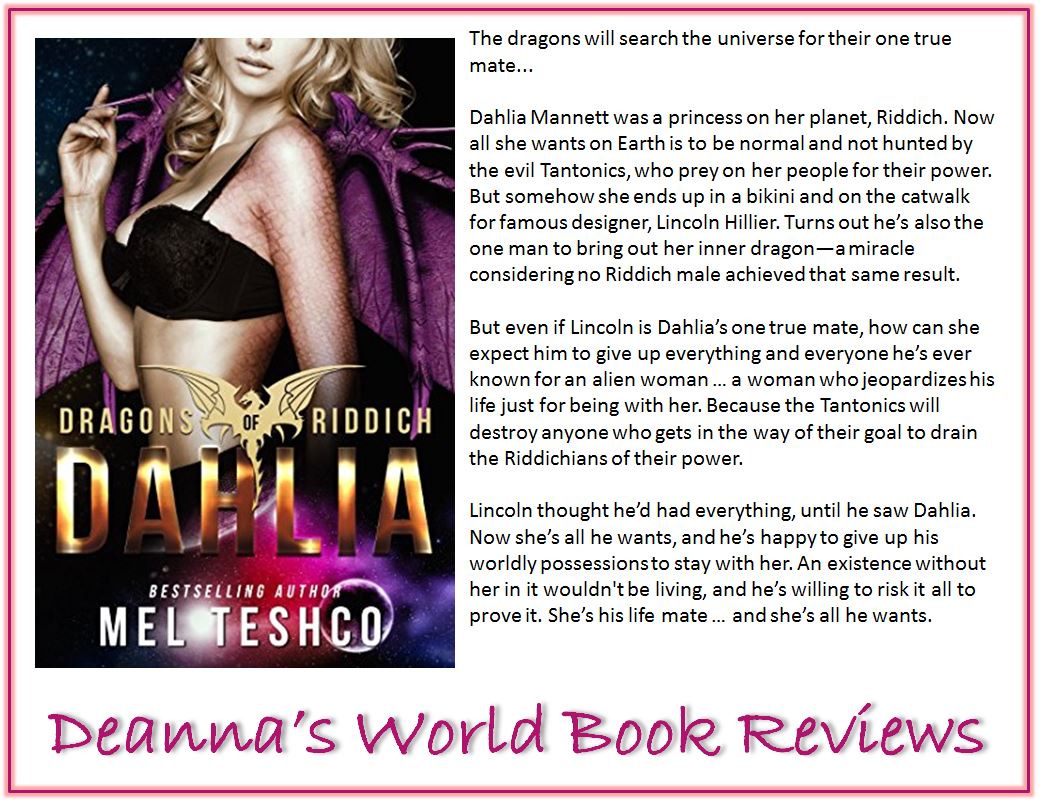 Dahlia is another adrenalin filled addition to the Dragons of Riddich series. Ms Teshco doesn't let up on the action and danger surrounding Dahlia and Lincoln. Since I have a weakness for dragon shifters, this story filled me with all sorts of excitement and anticipation. I love Ms Teshco's unique take on the dragons and their shifting.
I've been waiting on Dahlia's story and curious about how she would be portrayed. I had expected a tough, battle-hardened warrior since Dahlia and her people have been fighting for their lives in the war against the Tantonics, instead I got a sweet, delicate but strong heroine. Dahlia is no fragile flower but she's left on her own in a foreign planet to fend for herself and with the Tantonics hunting her, she needed rescuing a few times. While she was a bit of a damsel in distress at times when her resources were depleted, she also held her own when fighting off the bad guys. She just needed care and looking after because she tended to overextend herself in battle. I loved that there was something very feminine about Dahlia.
Lincoln is simply gorgeous. And so full of surprises. I had no clue he was going to turn out the way he did even as I wondered how he could be an equal partner to Dahlia with her superior strength and senses but Ms Teshco pulled it off beautifully. I loved Lincoln. So strong, so competent, so manly. Even though he was human, he did plenty of rescuing and was a warrior in his own right. It was wonderful that he felt the bond between Dahlia and himself, and that's so well explained by his nature (you'll have to read to find out what that is!). I also admire him greatly for being willing to sacrifice everything in his life for Dahlia and in keeping her safe and protected.
Ms Teshco did a great job of finding a way to protect Dahlia and Lincoln, allowing them to live a peaceful life for the time being. I can't wait to fast forward twelve months when all the Riddichians who crashed landed on Earth meet up again. And I definitely want to see more of Kadin. Ms Teshco, you need to write faster!
View all my reviews

Ab

out the author




Mel Teshco:
Website
-
Facebook
-
Twitter
-
Goodreads
-
Amazon
Find Deanna around SOCIAL MEDIA: