Tempted & Taken (Men of Haven #4)
by
Rhenna Morgan
Purchase link:
Amazon
My rating:
Heat rating: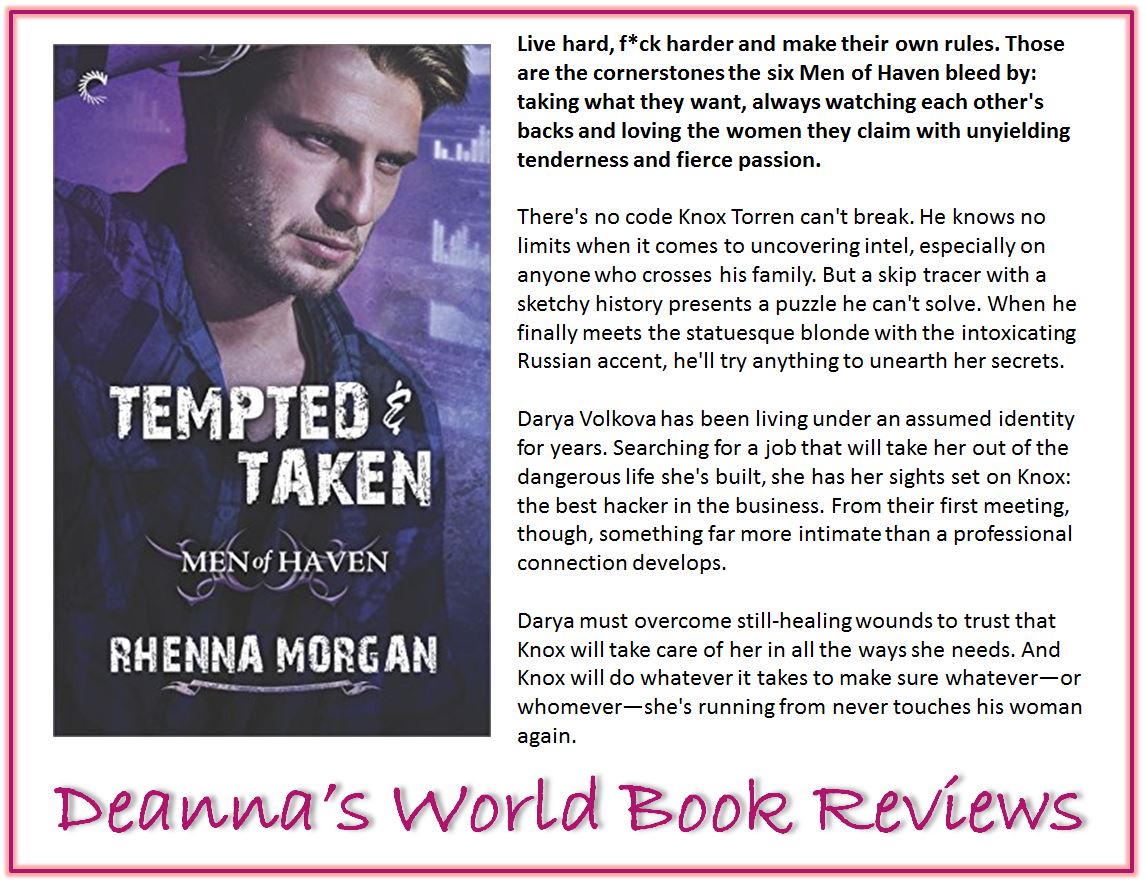 Rhenna Morgan's Men of Haven series is about family you choose and the men who call each other brothers by choice. It's got heart and heat, and the men will melt your Kindle with their sexiness.
I love the men of Haven. If there's one overriding thing about these series which keeps me coming back over and over again, it's the brothers and how they come together, as a family, when having fun, and in times of crisis. They have each others' backs and they don't back down from a fight or when one of them needs help. They are all in, and I love that. Every second of it. These men as a group have my heart.
"So, we wait," Trevor said, the easy drawl in his voice belying the stout vow behind his words. He rocked forward, guiding the front two legs of his chair back on the floor, grabbed his beer and lifted it in salute. "But we do it together and give your girl a safe place to share."

God, they were a motley group. Every one of them incredibly different and fallible on their own, but unbreakable and steadfast as a whole. And they were his. His brothers. The family he'd always wanted patiently waiting and willing to support his future however he chose to build it. He lifted his own drink. "Yeah, we do it together."

"I heard you. Though, if I'd listened to my brothers four weeks ago, you'd know by now our women don't sacrifice anything for us. They live how they want. Free. Without fear. And that happens because we have the means and the fortitude to obliterate any threat to their happiness, no matter where that threat comes from."
I'll be honest, with this book, I struggled for the first half of it, even considered not finishing it at some points because Knox started off as a bit of a dick. I understand he was driven by past hurts but man, he had some asshole moves and even though he was upfront and honest about it from the start, it made me want to smack him over the head with my Kindle. I'm glad he finally got smart and pulled his head out of his ass long enough to make things right and be brave enough to take a chance with his heart. He'd already lost it to Darya anyway. Beyond that, Knox, like the rest of the Haven brothers is a man of talent and means. He's also honorable and determined, trustworthy and loyal to those he loved and considered family. These are all admirable qualities and they certainly shone through when he finally got himself sorted. It was also very brave of him to put himself out there with Darya considering all that he's been holding back, so kudos for his courage and also his strength when it came to taking care of and protecting Darya. He truly redeemed himself for me in the second half of the book and completely turned it around for me when it came to enjoying the reading experience.
Darya is a survivor. She's been running and hiding for many years of her life after a difficult start and the tragic circumstances of losing her family. She's been blessed in her life with people who have gone out of their way to protect her and help her get a better life. Through it all though, she remains sweet, kind and genuinely nice. She's also ambitious and driven to make a better life for herself. I admired her bravery when she decided to take the fight into her own hands when it came to ending the threat to her life. Even while she had people willing to go a long way to protect her and keep her safe, she took charge of her life and her fate. That's commendable.
While I enjoy the love story of the individual couples and the sexiness that goes on between them, it's the men of Haven I love. Them, together, as a group. I look forward to the next books in the series so I can read more about these men.
View all my reviews
A
b

out the author




Rhenna Morgan:
Website
-
Facebook
-
Twitter
-
Goodreads
-
Amazon
Find Deanna around SOCIAL MEDIA: