The Irredeemable Billionaire (Muse #3)
by
Lexxie Couper
Purchase link:
Amazon
My rating:
Heat rating: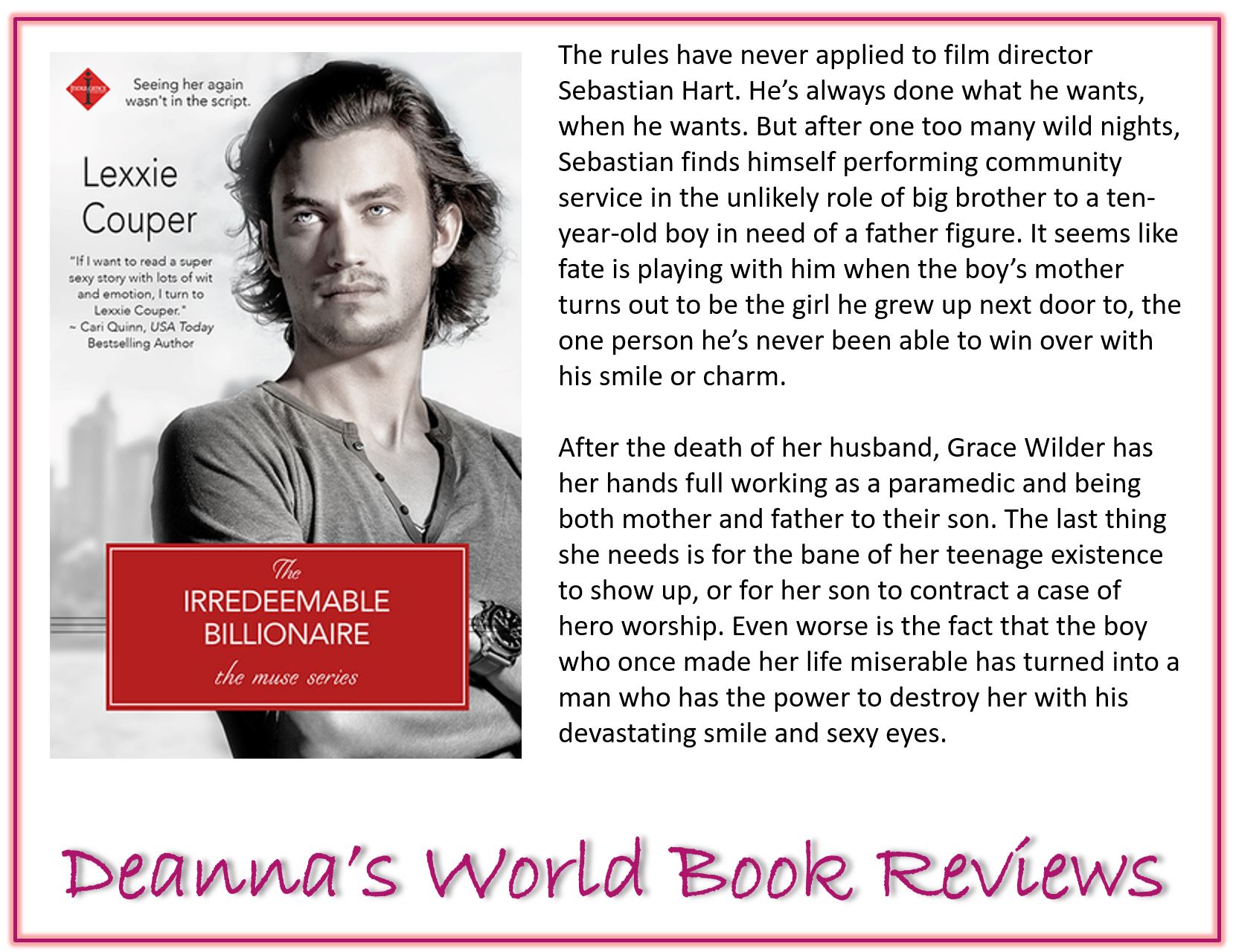 I think Lexxie Couper has outdone herself with The Irredeemable Billionaire. It's fun and sweet but so full of depth and meaning, it will take your breath away. You will fall in love with Sebastian, scoundrel that he is, Grace and Cody.
I first met Sebastian in The Mistaken Billionaire and I loved him in that. If this were a historical he'd be branded a rogue and possibly a reprobate. There is a boyish sense of fun to Sebastian with his winning smile and his ability to get what he wants out of life. Sebastian has a lot of growing up to do in this story and what better way than to pit him against the woman who has challenged him his entire life.
Grace is a wonderful woman. I loved her. She has so much strength and character to her. She's so stoic and strong in the face of adversity, even at times when life seems to have kicked her down one too many times, she has the resilience to pick herself up and keep going. I love that she makes Sebastian want to be a better person or at least that he's a better person around her.
Sebastian and Grace have a past. They grew up living next to each other as kids. Their past is skillfully woven into the present that it brings a lot of depth and dimension to their relationship. It colors their every interaction and yet, in spite of their past, they get to know each other as adults and see beyond what their childhood stamped upon them.
Cody was a wonderful addition to the story. He added so much texture to the landscape of Sebastian and Grace's relationship. And of course, he's a great kid. You can tell Ms Couper has first hand experience with children of that age because she captures Cody so well and brings him roaring to life. You can't help but love Cody. But then again, you also can't help but love Sebastian and Grace.
Of the three books in the Muse series, this is my favorite. I was rooting for Sebastian and Grace right through to get to their happy ending. And the ending ... boy! I did not see that coming. Way to go, Sebastian!!
This story will warm your heart and make you smile. Go read it right away. You don't even need to read the first two books before it. It stands well on its own.
View all my reviews
Ab

out the author




Lexxie Couper:
Website
-
Facebook
-
Twitter
-
Goodreads
-
Amazon
Find Deanna around SOCIAL MEDIA: