The Sheikh's Guarded Heart
by
Liz Fielding
Purchase link:
Amazon
My rating:
Heat rating:


I want to thank Liz Fielding for writing an incredibly moving and insightful book.
Usually, when I pick up a Harlequin Romance, I do so because I want a lighthearted, warm and comforting read. This is all those things but so much more. It's about two hearts that have been hurt by the world and people around them, and it's not only The Sheikh's Guarded Heart but Lucy's too. It's about love and forgiveness, and about putting the hurt and pain of the past behind and being brave enough to move forward with life, because life is not always kind, but it is what you make of it. It's about being brave enough to take life by the horns, look it in the eye and say, I'm going to conquer you and make the most of you.
This story is also incredibly well researched. Ms Fielding brings an honest authenticity to this Middle Eastern, Sheikh-themed story as she tackles some interesting issues in the culture and tradition, as well as shining a light on it. She does so with grace and finesse and shows us the beauty and respect the culture has for women without the distortion we see so much in today's news reels and current events.
Hanif is a broken, tortured man when we meet him. Still living in the past after the death of a loved one and haunted by guilt. He's also noble, strong and honorable. Ms Fielding's sheikhs are nothing like the ones I've encountered in real life. :-p
Lucy is a naive young woman who allowed herself to be taken advantage of by a swindler. It's through wanting to take control of her life and confront the source of her problems which brings her into contact with Hanif. Well, in truth, Hanif rescues her from certain death. It's all very dramatic and romantic, but it's the time after her rescues as she recovers, and she and Hanif get to know each other that we see a time of healing, not just physically for Lucy but also emotionally for Hanif.
I loved the healing which took place in this story. As Lucy healed physically, her kindness and compassion, her bright spirit shines through and touches parts of Hanif he has kept buried for a very long time. For me, it was a wonderful experience, to see Hanif heal.
There were trials and separation as Lucy healed and went about righting her life. I loved that she was strong and willing to fight her own battles. She could have easily sit back and let Hanif wave and magic wand to fix everything for her, but she didn't. She fought for what she wanted in her life, her dignity, her self-respect, her self-esteem. I loved that she was strong enough to do that for herself, and I loved that Hanif was man enough to let her.
I truly enjoyed this story. If you haven't read any of Liz Fielding's books, you really need to. They will sweep you away, make your heart glad and bring your joy ... and this one even made me cry a little. :-) It was also wonderful to catch up with a younger Zahir since I had read his story first. I enjoyed seeing how he got his start in the tourism industry of Ramal Hamrah.
View all my reviews
Ab

out the author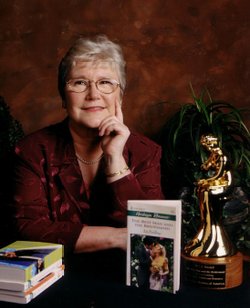 Liz Fielding:
Website
-
Facebook
-
Twitter
-
Goodreads
-
Amazon
Find Deanna around SOCIAL MEDIA: