Now it's no surprise that I love Cara Bristol's Cyborg books so when she asked if I'd host her for her upcoming anthology which contains a new Cyborg story, Rescued by the Cyborg, I jumped at it. I've already pre-ordered the book. I can't wait to read another instalment in the Cyborg series.

Here's Cara telling us about what kind of pets you can have in space.

Please give Cara a very warm welcome.
If you were take a pet into outer space on your travels, what kind would you want?


That was one of the first decisions I had to make when I was invited back to write for
Embrace the Romance: Pets in Space 2
. What pet would I choose? In my
first Pets in Space
story, I wrote about a robot dog named Sparky, but for Embrace the Romance I went traditional with my go-to pet: a cat. Specifically a kitten. I'm more of a cat person than a dog person (although I like both). I've always gravitated toward cats, and whenever I mention an animal in a story, it tends to be cat.
I think if you were take a pet into space, the choice of animal would depend on whether you were on a spacecraft, a large space station, or a planet. In Rescued by the Cyborg, the hero and heroine begin their journey on a space shuttle. Small animals like rabbits, gerbils, cats, and tiny dogs can go anywhere, but a horse, a llama, or a bull mastiff might not be the best companion in a tight space. You'd also have to plan for appropriate food for the animal. As a science fiction romance author, I take for granted that in the future there will be gravity simulators. I wouldn't even want to think about a cat litter box in a weightless environment.
My co-authors of Pets in Space chose a variety of different animals from traditional to purely imaginary. The anthology includes some birds, dogs, but also a dog/cat/weasel hybrid, a rabbit/hamster hybrid, a Fu dog (like a Chinese Fu lion), and a genetically engineered plant/animal hybrid.
What would be your choice of pet if you were going to leave Earth for a while? If you could create a pet, what kind would you create?
How interesting. I really don't know what kind of pet I'd have in space especially since I don't have any pets now. When I did have pets, I had two adorable dogs. I hear cats are rather aloof but I see so many cat posts on Facebook that I kinda want a cat too.
And now, here's Pets in Space 2
Embrace the Romance: Pets in Space 2
By: S.E. Smith, M.K. Eidem, Susan Grant, Michelle Howard, Cara Bristol, Veronica Scott , Pauline Baird Jones, Laurie A. Green, Sabine Priestley and Jessica E. Subject
Releasing October 10, 2017
Cats, Dogs and Other Worldly Creatures
Buy Links:
Amazon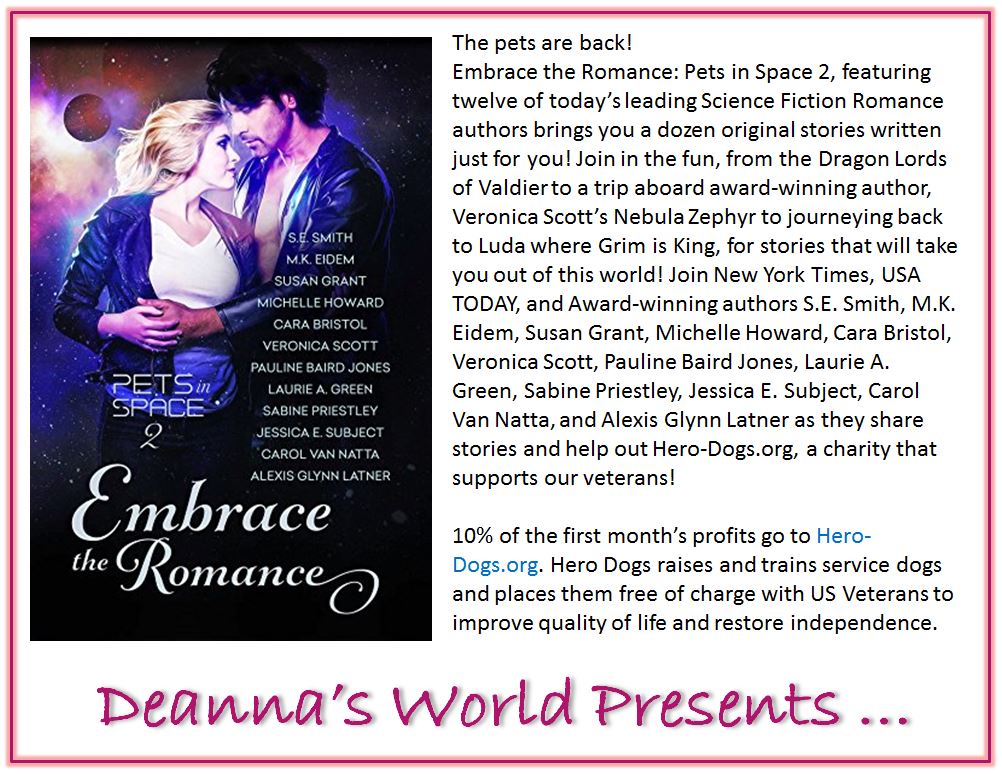 10% of the first month's profits go to
Hero-Dogs.org
. Hero Dogs raises and trains service dogs and places them free of charge with US Veterans to improve quality of life and restore independence.
Goodreads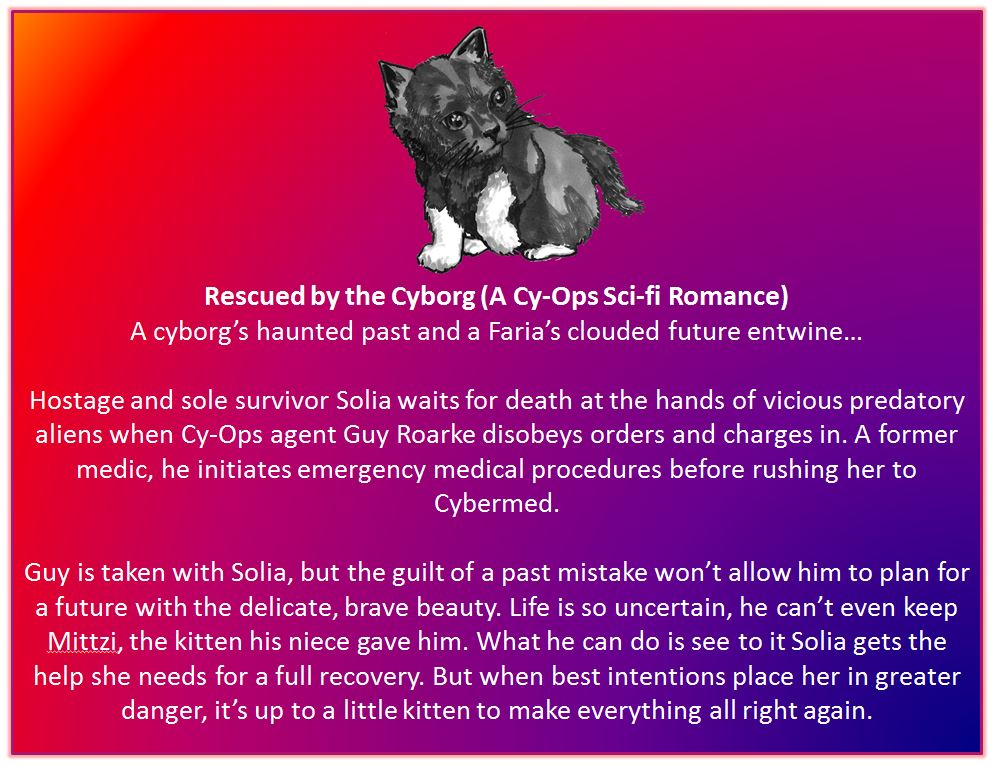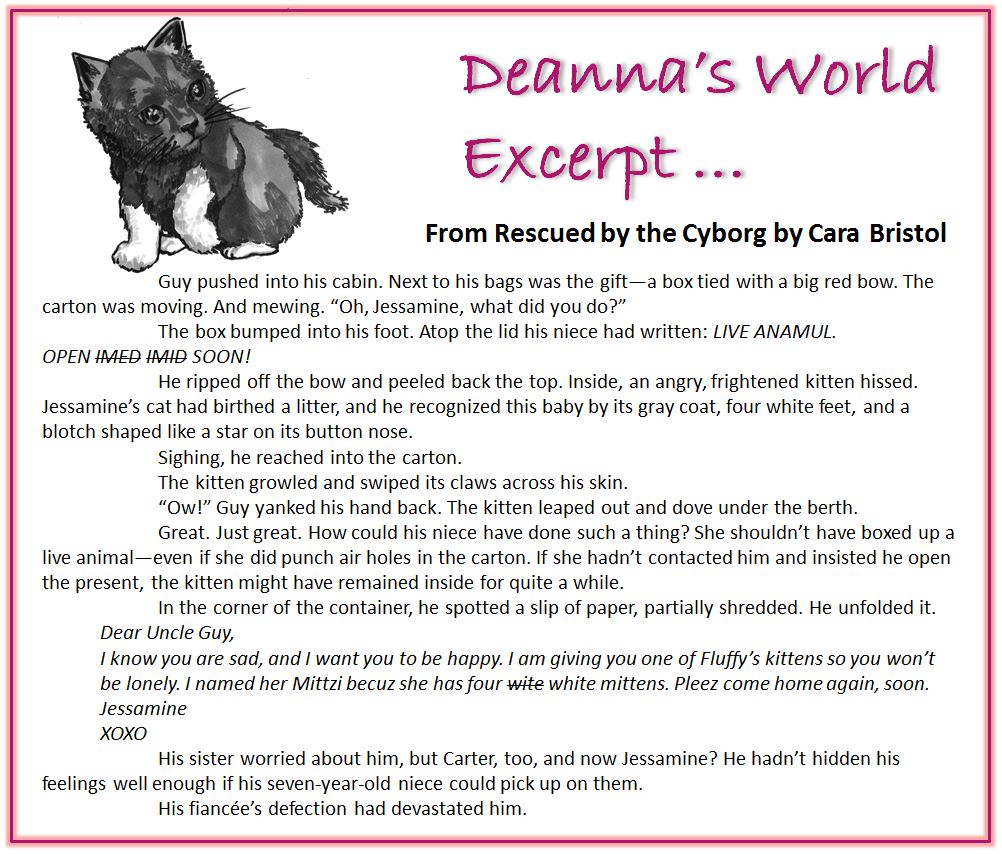 Author Info
Cara Bristol:
Website
-
Facebook
-
Twitter
-
Goodreads
-
Newsletter
-
Amazon
Find Deanna around SOCIAL MEDIA: