Forged In Fire (The Vessel Trilogy #1)
by
Juliette Cross
Purchase link:
Amazon
My rating:
Heat rating: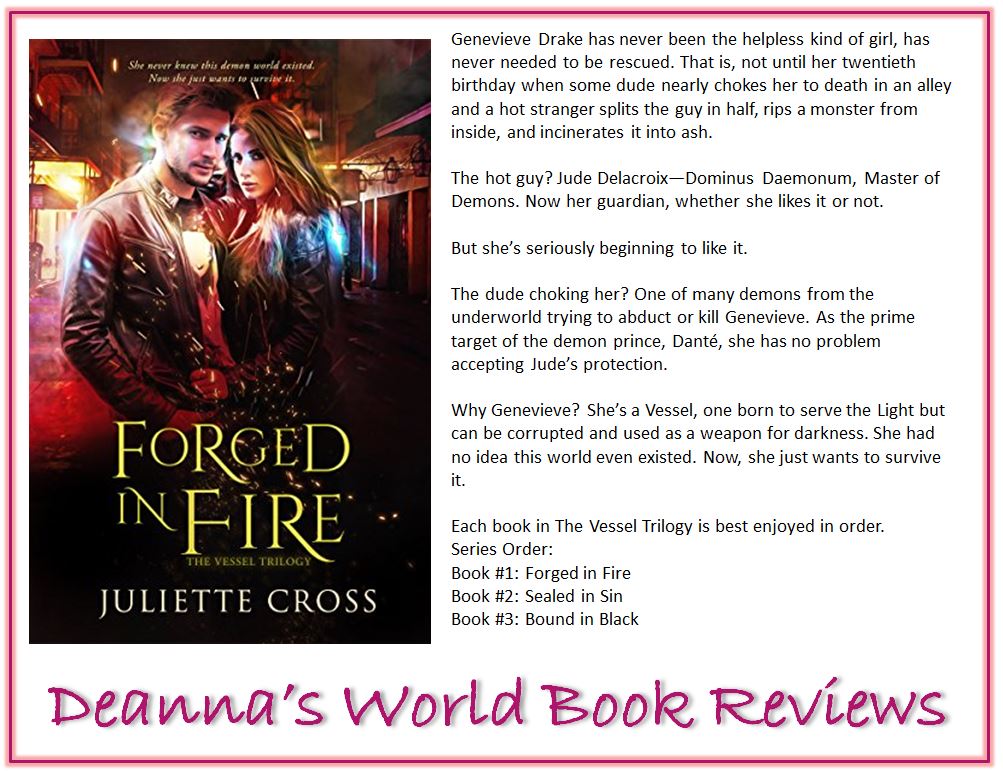 Forged in Fire is dark, edgy and intensely emotional. It will make your heart pound, your breath catch and your heart melt. If you want something which will captivate you from the first page, step into Juliette Cross' world of demons, and the men and women who hunt them.
I will be the first to admit I have a hard time with the themes of good vs evil where angels and demons are involved, where the story is mixed with a large dose of mythology and finds its basis from angels being cast out of heaven and becoming demons. Perhaps it is my rather conservative Christian upbringing where many Sundays were spent in church listening to the pastor breathe fire and brimstone down on us from the pulpit and then reading Frank Peretti's books like
This Present Darkness
and
Piercing The Darkness
. It's enough to terrify the living daylights out of an impressionable young girl.
All of the above taken into consideration, the basic theme of good vs evil in Forged In Fire makes it difficult for me to breathe when I'm reading it. It's gripping and it's intense. And when Gen descends into hell and we see first hand what a demon prince can do to a person and what he will do to possess a person, it terrifies me to the core. Kudos to Juliette for writing it so well. The demon/hell scenes were tough for me to deal with. Being tormented by a demon is no joke! Don't let my personal issues stop you from reading this book though because it is a splendidly written book and while there is an edgy darkness to it, there are also some brilliant moments of light which will melt the most hardened heart.
Juliette has the ability to write wonderful heroines. Gen is no exception. Gen is a 20 year old college student who gets attacked while out celebrating her 20th birthday. We later learn she is a Vessel, a source of power for good or for evil. Demons want her. It's not a good position to be in. Pile on learning about the supernatural world fast, upfront and personal, it's a lot to take in. Gen wavers between being sensible and being a typical 20 yo. She does some dumb things along the way, but she's also sensible enough to know when she's wrong and she admits it. I wasn't so keen on the typical 20 yo dumb things but Ms Cross manages to redeem her with her sensibility. Gen also matures rather rapidly throughout this story. She has to. She's dealing with some rather nasty creatures who either are trying to kill her or to possess her. Neither is a particularly appealing option. Gen is also a strong heroine. I love that she is strong, not in the sense of power (she has to grow into that) but in herself. She's had terrible tragedy happen in her life but she's survived and she's managed to come out of it a confident, level headed young woman. I admire that in her.
And Jude. Don't even get me started on Jude. Can there be a hero sexier than Jude? Okay, probably yes, but Jude! I loved Jude when I read
The Deepest Well
and I saw into some of his character there which I loved. I love Jude even more in Forged In Fire. He's dark, broody, intense and possessive. I adore how possessive he is of Gen, and how protective. We find out the reason for his protectiveness later in the story and truly, the reason is enough to melt your heart. All the moments when Jude talks to Gen, when he reveals his feelings for her and when he reinforces them each time he touches her, kisses her, it's not only his words but also his actions which make you think Gen is a lucky, lucky girl. Seriously, the first kiss, the first time Jude tells Gen how he feels about her, me, melted into a puddle of goo.
Juliette does a phenomenal job of showing you the depth of feeling between Jude and Gen. The emotion fairly leaps off the page with every word you read. As you read it, the words wrap you in a sense of breathtaking wonder. You don't need those three little words being uttered to know exactly what Jude feels for Gen and vice versa. It's there is every touch, every glance and every breath they take. Juliette manages to instill so much sexiness and sensuality into the story without having Jude and Gen go all the way. Of course, as compensation for all the sexual tension I expect them to be all over each other in book two!!
Oh, and special shout out to George. Every time there's mention of George and who he is in myth and legend, I get giddy with excitement. If you want to know more about George, read
The Deepest Well
. Another phenomenal book.
Fabulous start to the series, Juliette. I can't wait to read book two.
View all my reviews

The entire Vessel Trilogy and the prequel to the Dominion series:



Ab

out the author




Juliette Cross:
Website
-
Amazon Author Page
-
Facebook
-
Twitter
-
Pinterest
-
Goodreads
-
Newsletter
-
Amazon
Find Deanna around SOCIAL MEDIA: