The Ranger's Rules
by
Lily Harlem
Purchase link:
Amazon
My rating:
Heat rating: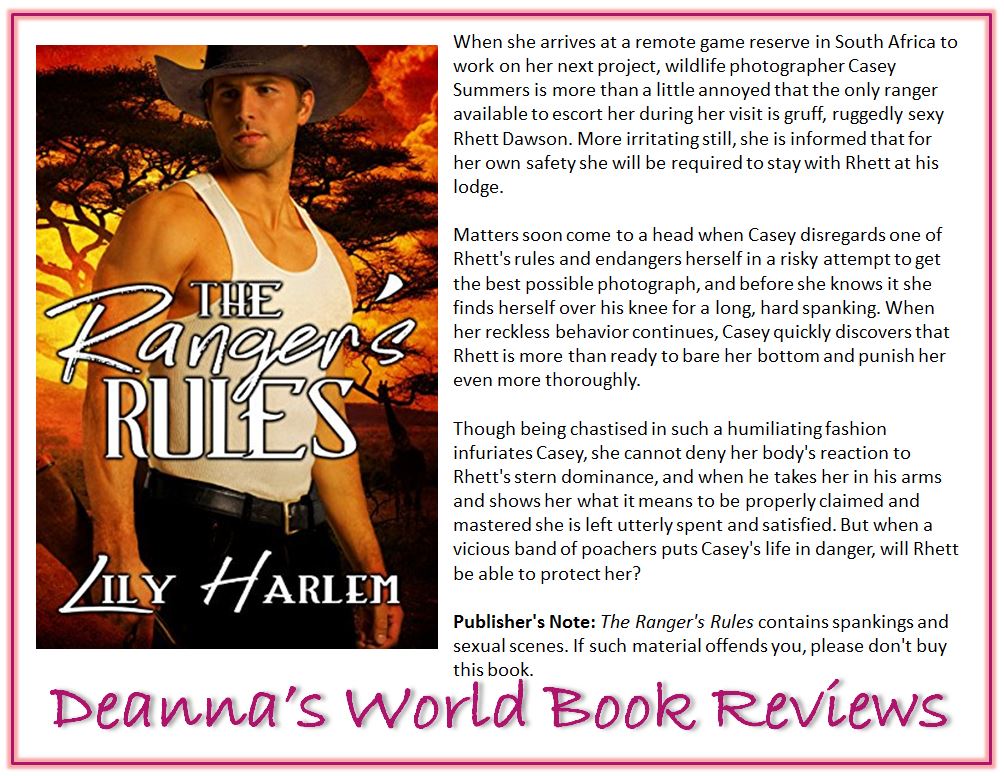 The Ranger's Rules takes you on an adventurous journey through the beautiful African safari, filled equally with wonder and danger, and a sexy, dominant ranger.
More than the sexiness of the story between Rhett and Casey, what struck me was the beauty of the African safari. You can tell from the descriptions that Ms Harlem has had first hand experience on safari. She has seen and felt the majesty of the wild animals up close and personal. I felt like I was transported to the safari myself while reading and it made me consider wanting to visit it myself even though I loathe traveling. I was particularly captivated by the various scenes viewed through the lens of Casey's camera and imagining the wonderful photographs she took while out traveling around with Rhett as he did his inspections of the reserve.
Rhett starts off the story being surly and gruff. There isn't a gentle bone in his body but he is kind and compassionate as displayed by the way he cares of his rescued animals. I loved Rhett's love and passion for the wildlife and the animal. He's very aware of his environment, its beauty as well as its dangers. Honestly, I didn't quite know what to make of him because he was such a taciturn guy. And rather liberal with his hanky spanky hands when he felt he was being disobeyed and Casey needed punishment. It's not till later as we learn more about his dominant side that we also see he's tender and caring.
The BDSM in this story was not overt and Ms Harlem takes us on a gentle ride into the realm with Casey's introduction to a man who likes to be called "Sir" and has a penchant for dominance and control. I liked Casey. While she inadvertently triggered Rhett's wrath by not being mindful of her own safety while out in the wilds of Africa, she's also brave and inquisitive. Like Rhett, she's a kind and caring soul, but also open-minded as Rhett gently initiates her into the world of BDSM.
A special shout out to Buddy, the super duper cute baby sevral. He was super adorable and I love animals in stories. Buddy was so skillfully woven into the story that I fell completely in love with him.
Although quick to become intense and heated, Ms Harlem made Casey and Rhett's relationship believable through their shared experiences and the dangers they encountered. I can always count on Ms Harlem to deliver a sexy and satisfying story.
View all my reviews
Ab

out the author






Lily Harlem:
Website – Blog – Twitter – Facebook – Facebook author page – Pinterest – Raw Talent – BritBabes – Hockey Romance – Newsletter subscription – Hot Ice – Google+
–
Harlem Dae – Goodreads
– Amazon
Find Deanna around SOCIAL MEDIA: