Blood Sacrifice (Kyn #2)
&
Blood Enemy (Kyn #3)
by
Mina Carter
Purchase link:
Blood Sacrifice (Amazon)
|
Blood Enemy (Amazon)
Overall series rating:
Heat rating: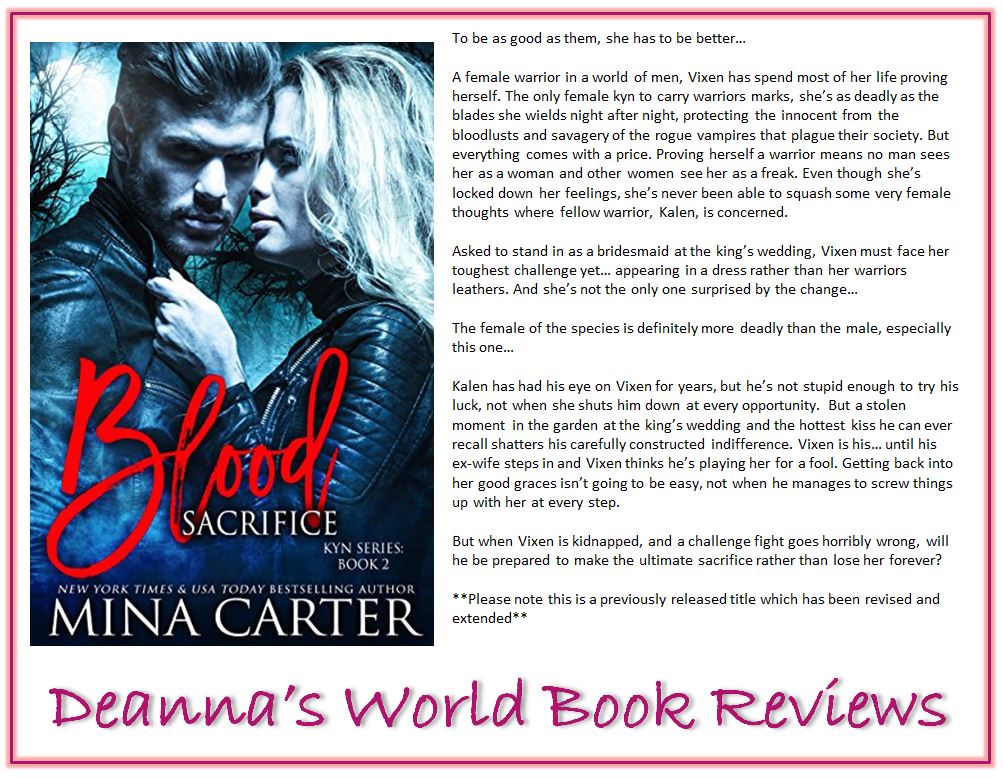 Blood Sacrifice is a heart pumping ride as two stubborn warriors find love through loss and sacrifice.
When I started reading this book, I was in a very cranky mood, having just DNF'ed a rather awful book. Perhaps starting this book (or any book for that matter) was not a good idea since I was feeling very testy. My temper was further strained by how horrible Kalen's ex-wife was. Man, what a horrible she-devil she was. She was a nasty piece of work. However, once I got past my bad mood, it was a thoroughly enjoyable read and classic Mina Carter.
Kalen is your typical kyn warrior. An alpha male through and through. He's also stubborn as heck and makes all the wrong moves along the way with Vixen even though he's been attracted to her for years but hides his feelings behind snarky comments and jibes at her. Underneath it all though, he's a man wary of love because of the way he was treated in the part - horrible ex-wife, remember? She really did a number on him, and he's unwilling to let himself be hurt by another woman again. Hence the cocky facade which rubs Vixen the wrong way.
Vixen may appear tough and capable on the outside, but inside, there's a soft core to her that is easily hurt and filled with pain from being treated poorly and shunned all her life. It doesn't help matters when others are mean to her, calling her names and being cruel. Again, like Kalen's ex-wife who says some really horrible things to Vixen causing her to misunderstand Kalen and leave in hurt and anger.
Ultimately though, both Kalen and Vixen are meant for each other because they are both honorable and protective of those they love. They were both in their own way willing to make the ultimate sacrifice for the other.
While I understood what stood in Kalen and Vixen's way to being happy, I sure wished the both of them weren't so pigheaded. They were both blinded by their own anger and misconceptions, and a pet peeve of mine ... an unwillingness to communicate with each other. There were times when I wanted to knock some sense into both their heads and yell at them to just talk to each other and work things out. Argh!
Overall, this was a very satisfying read. I thoroughly enjoyed the way Ms Carter brought them together and the ending was simply perfect. Feral's book is next, I think. I'm looking forward to reading that.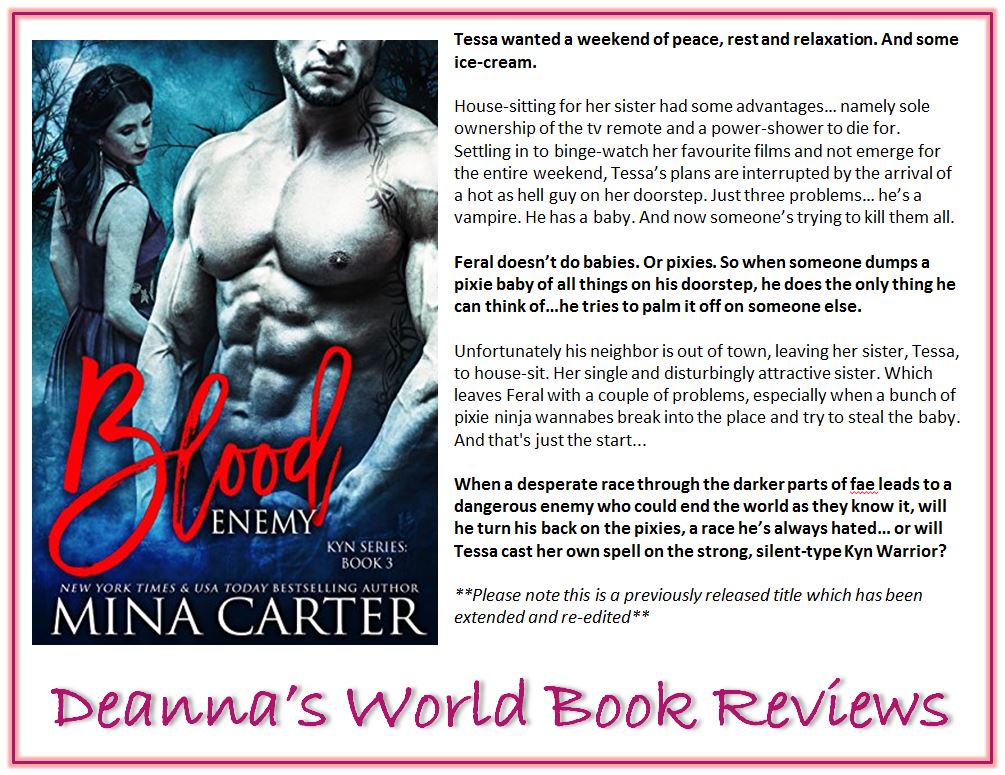 Blood Enemy is fast-paced, action-packed and full of sassy pixie and hunky vampire. It has the cutest opening scene involving a pink haired baby and a kyn warrior. It's absolutely adorable. And the action doesn't stop after that.
I am enjoying the kyn warrior world that Ms Carter has created, throw in some horrible pixies and a crazy fae and it's anything goes in this story.
I didn't know much about Feral from the previous books, only that he was Vixen's patrol partner when hunting rogues and he secretly had feelings for her. I felt bad for Feral at the end of Blood Sacrifice when we find out he's been harboring feelings for Vixen but those feelings were not returned. Then I fell for him when the opening of Blood Enemy had him dealing with an itty bitty cute little baby. Great, big, scary Feral with a baby is adorable. Feral is your typical bad boy. He's got badass down to an artform with this tough warrior persona and his shaved head. But beneath that tough exterior is a kind and gentle man with a heart of gold. You just want to be scooped up and wrapped up in those big strong arms of his.
Tessa was super easy to love. She was sassy, strong and brave. And even though she was a half pixie, Feral saw past that to the wonderful person that she is. Even when the odds were stacked against her, Tessa did her best to fight back and even kicked butt for a while.
The only lingering question I have about Tessa and Feral is that Tessa has essentially a human lifespan being half human, while Feral can live almost forever. I wonder if somehow Tessa lives longer because of her bond with Feral or what? It always irks me when I don't know if they get to live happily together forever or if one of them has a shorter lifespan and will die earlier. I wish this was explained better in the book. The romantic in me needs to know that one of them will not be left behind to mourn and grieve because of the whole different lifespan thing.
I'm wondering if there will be more kyn books as I'm really enjoying them.
View all my reviews
Other books in the series
About the author


Mina Carter:
Website
-
Facebook
-
Twitter
-
Goodreads
-
Amazon
Find Deanna around SOCIAL MEDIA: