Snow's Surrender (A Snow White Werewolf Tale #3)
by
Kristin Miller
Purchase link:
Amazon
My rating:
Heat rating: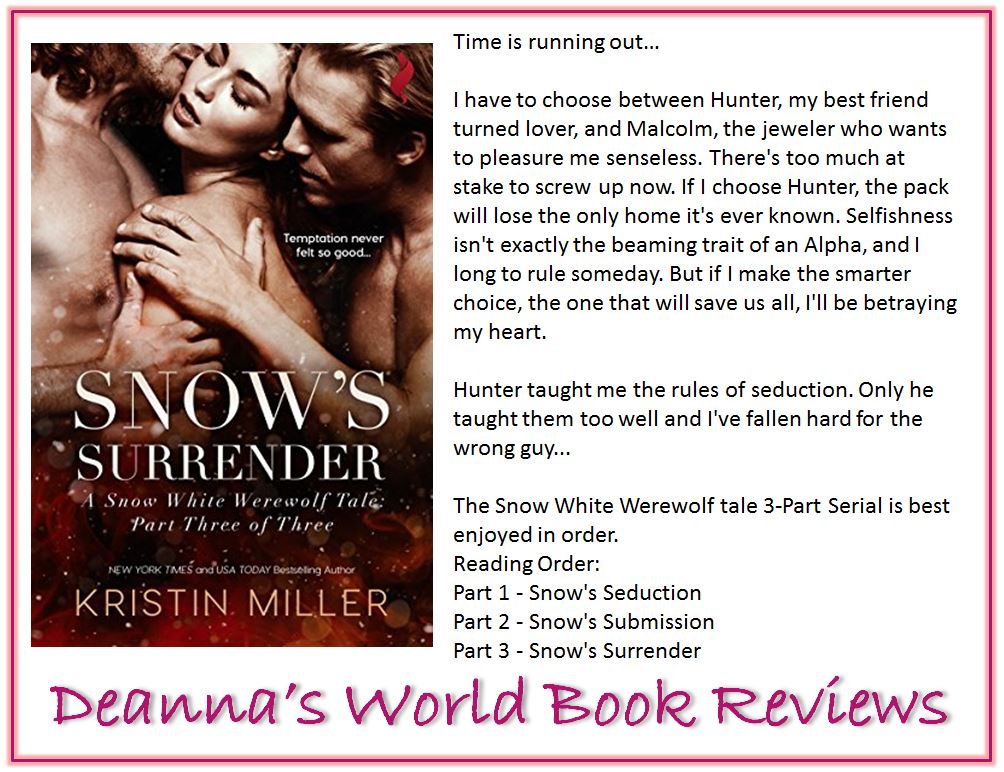 Snow's Surrender is the captivating and nail biting conclusion to the Snow White Werefolf series. In this installment, we see a lot more of the werewolves and what it means for Snow to be Alpha of the pack.
I'm glad I got this third part of the serial waiting for me when I finished Snow's Submission. By the time I finished part two, I really needed to know what was going to happen next between Hunter, Snow and Malcolm. Particularly Snow and Hunter. I was thrilled I could dive right in and find out.
I knew Snow's stepmother was up to no good and we find out what it is in this story. Wow! She's a selfish woman and a nasty piece of work, and while she makes herself to care for the pack, she's, in fact, greedy, selfish and self-serving.
I loved the fact that Hunter finally comes to his senses about Snow, and in this part of the serial, we see a lot of the Snow White fairy tale elements come through much stronger that in previous parts, with Hunter playing not only the role of the Huntsman previously, but also ending with the role of Prince Charming.
The action in the story also ramps up as Snow comes to realise what and who she really wants. It was wonderful to see Snow come into her own and become a more confident version of her earlier self. Still sweet and caring, but also stronger and surer of herself, knowing her own mind and heart.
The story does gloss over the punishment of the evil stepmother and I, for one, would have liked to know what happens to her and she got her just desserts ... because I'm bloodthirsty like that. :-)
Overall, I enjoyed this series. It sizzled with hotness and had great characters in Hunter and Snow. I also enjoyed the fairy tale retelling and picking out the elements from the fairy tale in the stories. I highly recommend this series for a quick, fun and sexy read.
View all my reviews
Ab

out the author




Kristin Miller:
Website
|
Facebook
|
Twitter
|
Goodreads
Find Deanna around SOCIAL MEDIA: