Viable Threat
Outbreak Task Force #1
By: Julie Rowe
Releasing May 22, 2017
Entangled Select Suspense
Buy Links:
Amazon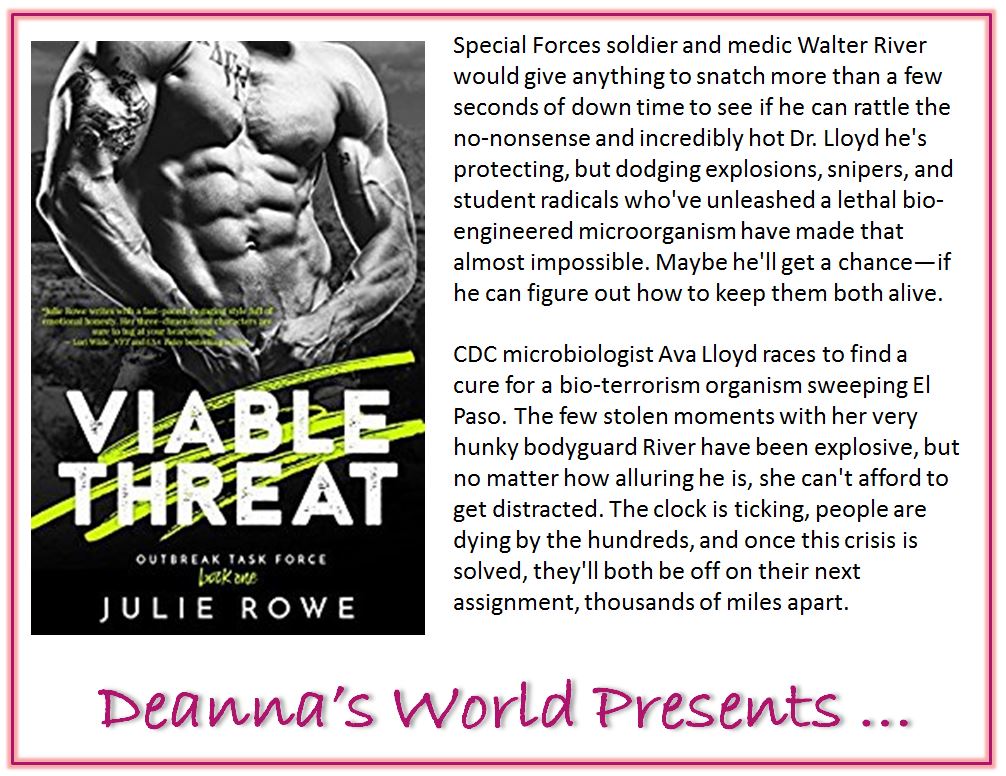 ---
Goodreads
|
Goodreads series
Author interview

I'm delighted to have Julie join me to answer a few questions for the blog. I absolutely adore this series, Outbreak Task Force and her previous series Biological Response Team so I'm excited to get an inside look at the process of how these books come to life. Please give her a very warm welcome ...
Thank you for having me here today!
What gave you the idea of having bioterrorism as the suspense background to your stories?
The biggest reason for using bioterrorism as part of the suspense is how fascinated and afraid the general public is of any infectious disease. Mention the word outbreak in the news and panic results, even to relatively small outbreaks. Ebola, for example, was completely overblown by the media. Ebola is relatively difficult to catch. It's less infectious than HIV. It spread so far and fast in Africa, in large part, because of poor sanitation and contaminated water supplies.

It's this fascination that inspired me to use bioterrorism in my stories.
Did you have to do a lot of research for your stories? Your handling of the diseases and their treatments, the way they spread, etc., come across as very believable?
I'm a lab technologist and I've worked in hospitals performing some of the testing I describe in my books. Though not currently working in the healthcare field (I'm a writer!), I use my laboratory background and experiences as fully as possible. I do consult current medical research, procedures, and processes to ensure the scenarios presented in my books are realistic and believable.

All too often, realistic and believable medical circumstances are mutually exclusive terms. People do dumb things that land them in medically embarrassing, or worse, situations all the time. Readers, however, don't like characters who are too stupid to live. So, I often have to scrap an idea based on an actual occurrence because no one is dumb enough to stick a light bulb up their butt right? Wrong!

I also work with my editor to create the best balance possible regarding the use of medical terminology, procedures, and information in my books. It really helps to have her objective opinion!
Can you tell us a little about your research process?
This is the fourth book of yours, though the first book in this new series, which features a deadly disease. How do you go about picking which disease to feature in each book?
A disease people have heard of.
A disease that can realistically appear in the setting.
A disease with a potential for a high mortality rate.
A disease that can be weaponized (manipulated in a lab to make it resistant to treatment and/or more contagious than it already is).

So, when I planned out this series, I picked five of my favorite infectious diseases (this doesn't sound creepy at all, right?) and moved them around until they each fit with a plot, setting, and characters of one of the books.
What is it about these books that excite you the most about writing them?
I love being able to incorporate the science with the suspense and action, and having strong, smart, geeks working in concert with soldiers/law enforcement. Respect is a constant theme in my books.

With this series specifically, I want to explore the difficulties soldiers and health care workers have after traumatic events. How they cope with the horrible things they've seen or done, and the internal work they have to do (which is really hard!) to create a new place for themselves in our often unforgiving society.
Will there be more stories in the Outbreak Task Force series? Who's book is next and can you tell us a little bit about it?
Yes, there are four more books and the next one features Smoke, who appeared as a secondary character in
Deadly Strain
,
Lethal Game
, and
Viable Threat
.
Smoke & Mirrors (working title) begins with Smoke arriving home in Small Blind, Utah, a place he hasn't set foot in since his daughter died two years ago. He's just left the Army and needs some time to get his shit together. When he arrives at his parent's home very early in the morning, he discovers a note asking him to sleep on the couch because a dude named Wili is visiting and sleeping in Smoke's old room.
It's a king-size bed, Wili can suck it up and move over. Smoke wakes up to discover that Wili is a woman and she's sleeping on his chest (oops!). Awkwardness ensues. :-)
(Deanna): Oh my! This sounds like an interesting start to the story. And I do adore Smoke. Can't wait!!

Author Info
Author Links:
Website
|
Facebook
|
Twitter
|
Goodreads

Rafflecopter Giveaway
(Any one book from Julie's back list and a $10 Amazon Gift Card)
You can find a list of all of Julie's books
here
.
Find Deanna around SOCIAL MEDIA: